How To Get CIBIL Score Corrected?
Having Incorrect information in CIBIL report can affect your credibility negatively. Learn the types of Errors needed to correct CIBIL report & solve other CIBIL issues at IIFL Finance!
23 Oct,2022
18:17 IST
83 Views
34 Likes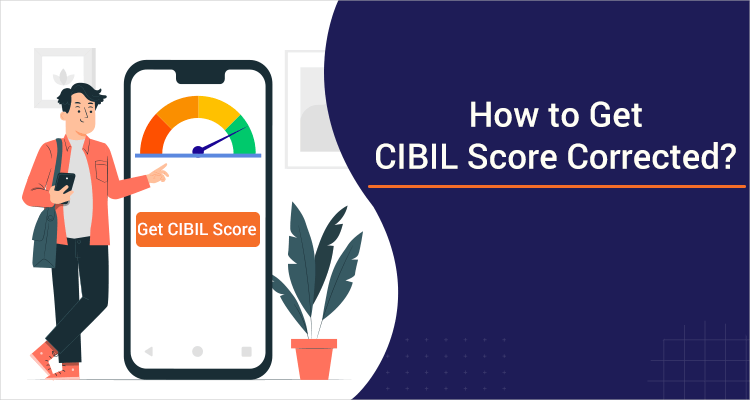 A CIBIL report provides an overview of all the loans sanctioned in your name by formal Indian lenders. A CIBIL score is a three-digit number that indicates your creditworthiness based on the elements of your CIBIL report.
Sometimes, your CIBIL report may contain errors that require correction. If you fail to do so, it may harm your CIBIL score, and you will have a tougher time getting credit in the future. This article explains the types of errors you can find in your report with
CIBIL report correction
tips.
What Are The Types Of CIBIL Errors?
The kind of errors you can find in your CIBIL report include the following.
1. Incorrect Personal Information
A CIBIL report may contain an incorrectly spelt name or incorrect PAN information. Sometimes, your address, age, and birthdate may also reflect inaccurate information.
2. Incorrect Credit Utilisation
CIBIL reports sometimes reflect higher debt amounts than what you owe. This phenomenon is possible when the lender does not share updated information with CIBIL.
3. Incorrect Overdue Amount
The overdue amount is the balance that you have to repay. CIBIL receives this amount from lenders. Sometimes, this amount gets reported incorrectly to CIBIL and is carried forward. This will result in an incorrect credit score and an incorrect CIBIL report.
4. Double Entry Of Accounts
Sometimes, CIBIL prints one loan/credit account multiple times on your report, which increases your active accounts. You will have a lower CIBIL score if you have more active accounts. The longer this issue goes unresolved, the worse your
CIBIL score
and credit eligibility. Thus, if you intend to take on any more credit in the future, it is imperative that you resolve this issue as soon as possible.
5. Unrecognisable Account
CIBIL may add a loan account to your report that does not belong to you. Alternatively, you may have been the victim of identity theft. If so, the inevitable default caused by the perpetrator will substantially reduce your chances of obtaining credit in the future.
You could suffer an enormous loss if you fail to address these discrepancies or inconsistencies. Upon spotting such errors, you must promptly file a dispute.
6. Incorrect Reporting of Active Accounts
You may still see an active loan on your CIBIL report even if you prepaid/closed it months ago. This phenomenon is possible when the lender does not inform CIBIL about the change. Active credit accounts play a significant role in calculating your CIBIL score. A low number of active loan accounts will increase your CIBIL score.
How To Correct CIBIL score?
Here are four steps you should follow for
CIBIL correction online:
1. Review Your CIBIL Credit Report
Obtain your credit score report and review it for errors before you begin the
CIBIL correction
process. You must first identify the error type to remove an entry from your CIBIL report.
2. Fill Out The CIBIL Dispute Form Online
It is necessary to file an online dispute with the credit bureau to remove a wrong entry from your CIBIL credit report. Visit their website and fill out the dispute resolution form there. To dispute information on your credit report, you must provide a 9-digit control number found on the report.
3. Verification and Processing Of The CIBIL Dispute Form
CIBIL will verify your conflict after you submit the online dispute form and contact your lenders who have lent you money. CIBIL cannot make changes without the approval of financial institutions. You can expedite the process by validating the dispute you have raised by providing supporting documents as evidence.
4. Wait For The Resolution
CIBIL typically corrects credit reports within 30 days of a dispute. CIBIL will email you as soon as they achieve a formal resolution. You can make a new request to CIBIL to remove the incorrect entry if you are unsatisfied with the solution. Don't forget to provide the details of your last dispute.
Obtain A Loan From IIFL Finance
IIFL Finance is a leading finance & investment services company specialising in gold loans, business loans, and
personal loans
in India. We provide secured and unsecured loans at an affordable rate for all your funding needs. Apply online in a few minutes and get your funds instantly.
Frequently Asked Question
Q1. Can CIBIL score be incorrect?
Ans. CIBIL score or credit report errors are rare, but they could occur.
Q2. Can you raise a CIBIL dispute offline?
Ans. You can submit a complaint offline by sending a letter to CIBIL's registered office in Mumbai. You must include all the essential details, such as the transaction ID, report order number, etc., and send the application to the CIBIL registered office address.
Q3. Can you raise multiple disputes at a time?
Ans. No. CIBIL does not yet provide this service. You can only rectify one field at a time. There is no way to raise a data inaccuracy issue with an ownership issue during a dispute.