What Are The Restrictions On Personal Loans?
It has never been easier for salaried borrowers to avail personal loan. Know the various restrictions you must know while getting personal loans!
27 Nov,2022
18:06 IST
11 Views
4 Likes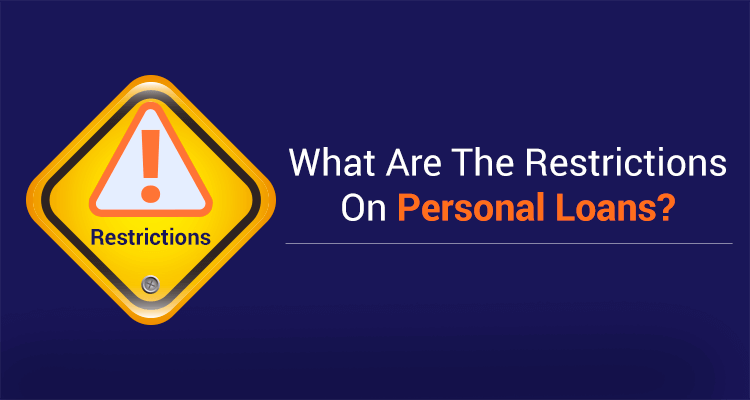 When one is short on money and needs to pay bills in a hurry, a personal loan can become a life saver. Personal loans are typically uncollateralized loans which can be availed without pledging any asset and offer flexibility in how the money can be used.
This flexibility is a major reason why personal loans have become among the most preferred methods for many people to finance their unforeseen or even planned expenditures.
This flexibility also makes personal loans different from some secured loans such as housing loans and car and bike loans, which have a specific purpose. So, while a home loan can be used only for buying a residential property and a vehicle loan can be availed only for repurchasing a two-wheeler or a four-wheeler, personal loans can be used for almost any purpose.
How Personal Loans Can Be Used
A borrower can use the money secured through a personal loan for almost anything, from paying a hospital bill to a kid's college fees to even an urgent house repair. The borrower can also use the money to go on an international vacation, purchase some fancy gadgets or home appliances, or contribute to a family wedding.
In short, there are not many restrictions on how the money from a personal loan can be used for.
But at times banks and non-banking finance companies place certain restrictions on how a borrower can use the money from a personal loan.
Here are a couple of things on which lenders typically put restrictions on a borrower when it comes to using the money borrowed as a personal loan.
Gambling and Betting:
Most lenders will typically not allow a borrower to use the loan money for gambling of any sort. This is especially true for those areas which prohibit gambling whether at a casino or otherwise.
As betting is also banned across India, a borrower will be strictly prohibited from using the loan money to invest in an illegal betting ring.
Setting Up An Illegal Enterprise:
Borrowers are not expected to set up an illegal enterprise with the money borrowed as a personal loan.
Apart from these handful of restrictions, there are no other curbs on how money from a personal loan can be used.
Having said that, such loans offer significantly more attractive interest rates than credit cards, making them a very tempting option for spending money beyond one's means. However, to be fiscally responsible and prudent, borrowers are often advised not to splurge the money borrowed as a personal loan.
Borrowers should also be extremely cautious of using the borrowed money to invest in stock markets, which are often volatile and any sudden drop in the markets can lead to a default.
Moreover, when one takes out a personal loan, he or she should ensure that they have the ability to repay it fully, with interest and within the tenor for which the money was borrowed.
Conclusion
As discussed, a personal loan can be one of the best and easiest ways to get ready money to pay off some urgent bills for which you may not have the financial resources ready at hand.
Lenders like IIFL Finance offer some of the most competitive rates of interest in the market when it comes to availing a personal loan. Moreover, good lenders like IIFL Finance allow you to apply for the loan online and from the comfort of your home, without even having to visit a branch.
But make sure that you do not use the money for gambling or betting or for any illegal activity that may be prohibited and which can then land you in a spot of bother.