Can Self-Employed Persons Avail Personal Loans Without An ITR?
Sure, it is possible for a self-employed persons to avail a personal loan without an ITR. Checkout the tips & eligibility to get a personal loan Now!
24 Aug,2022
06:34 IST
1781 Views
78 Likes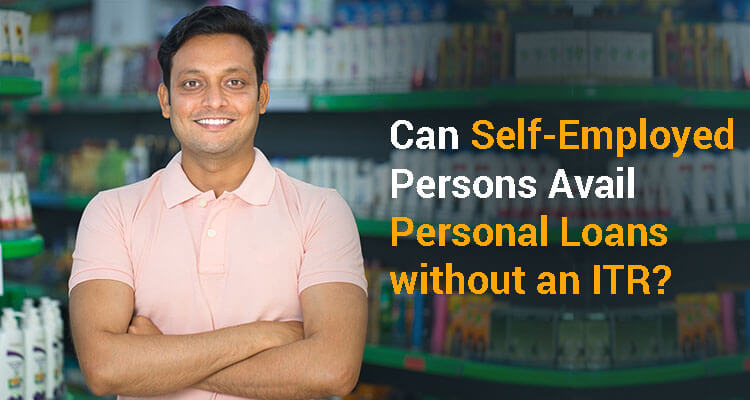 A personal loan can be helpful for various purposes, including home repairs, medical expenses, weddings, and more. However, the eligibility for personal loans varies, depending on whether you're a salaried or self-employed individual.
A self-employed applicant often has to undergo a lengthy documentation process to qualify for a credit line. Unlike salaried employees, self-employed individuals do not have a regular income and may pose a greater risk to lenders.
One difference in the eligibility criteria is that most self-employed individuals cannot obtain a personal loan without an ITR. However, there are other ways you can get a personal loan.
Tips To Get A Personal Loan For Self-Employed Without ITR
1. Choose A Secured Loan
A personal loan is an unsecured loan, which means you don't have to pledge assets to obtain funds. However, self-employed individuals without an ITR may need collateral to secure a loan from banks or NBFCs.
It may be risky for lenders to provide money without any proof of income, but you can minimize their risk by borrowing against assets.
2. Clear All Your Dues On Time
You can get a personal loan without providing ITR if you have a good credit history. For example, if you own a credit card, you should have a record of paying your bills on time.
3. Maintain A High Credit Score
Lenders feel more confident about your timely payment of EMIs when you have a high credit score. If you have a low credit score, your loan application may get rejected, or you may get a loan, but with an extremely high interest rate.
Conversely, if you have a high score, you are eligible for a large loan amount at low-interest rates. A way to increase your score is to make timely payments, keep your credit utilization ratio low, and make EMI payments on time.
4. Establish A Good Relationship With The Lender
If you have a long-standing relationship with a particular bank or NBFC, you may have a better chance of obtaining a loan for self-employed people without proof of income. You may not be required to provide your income tax return documents to lenders based on your past relationship.
What Are The Documents Required To Apply For A Personal Loan?
To apply for an online loan with IIFL Finance, you will need the following documents:
• A selfie
• Address proof (Aadhar card/Driving License)
• ID proof (PAN Card)
• Six to twelve months of CA/SA Bank Statement
How Can One Apply For A Personal Loan Online?
IIFL Finance makes it easy to apply for a personal loan.
Step 1: Click the "Apply Now" button on the personal loan page.
Step 2: Enter the required information and verify the OTP sent to your mobile device.
Step 3: Use your credit score to determine loan eligibility.
Step 4: Create a mandate and get your desired amount within eight hours.
Get A Personal Loan From IIFL Finance
IIFL personal loan scheme allows you to receive up to 5 lakh in your account within a few hours. The process is hassle-free and requires minimal documentation.
As a trusted brand with a large customer base, IIFL Finance personal loan offers one-stop solutions to all your capital requirements. You can use the loan for a domestic or international vacation, for a wedding, to buy the latest gadget, or a vehicle, or to pursue higher education.
Frequently Asked Questions
Q1. Can a salaried individual get a personal loan without an ITR submission?
Ans. Yes, you can apply for a personal loan without submitting your ITR. Many lenders in India only require you to provide proof of your identity, income, and address to process a loan.
Q2. How long does it take for personal loan approval?
Ans. If you submit all the required documentation and details correctly, your personal loan can be approved in a few hours.