Tips To Improve Personal Loan Credit Score
Lenders use credit scores to assess a borrower's capacity to repay a loan. Read on to know the 6 tips to improve your personal loan credit score at IIFL Finance.
2 Nov,2022
10:02 IST
16 views
8 Likes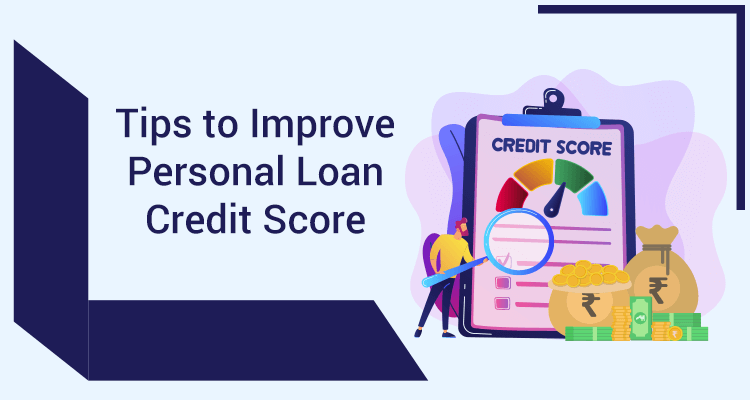 A personal loan is among the best solutions available if a person doesn't have enough money in hand to meet any personal requirement. This could be for expenses that suddenly crop up, such as hospitalization due to an illness or an accident, or lifestyle-related expenses such as festival shopping or a foreign holiday.
A personal loan is not just among the simplest forms of borrowing money, but also one that doesn't require the borrower to provide any collateral to the lender. However, since there is no collateral, lenders prefer to give personal loans to consumers that have a solid credit history to minimize their risk.
A good credit history not only improves the chances of availing personal loans, it also makes the process faster. More importantly, most lenders will set the rate of interest on personal loans based on the credit score.
Credit Score
After reviewing a borrower's prior loans and repayment history and current open loans, independent organisations such as TransUnion CIBIL, Experian, and Equifax calculate the borrower's credit score. This score is a three-digit number that goes from a low of 300 to a high of 900.
A higher score shows the borrower's strong history and ability to repay loans. A lower score serves as a warning to the lender that granting a loan may be riskier.
Good And Weak Scores
A credit score of 750 or above shows that the borrower has a great payback history and is therefore optimal for advancing collateral-free personal loans. Even a score of 700-750 indicates that the chances of a default by the borrower are low.
A score from 600-700 lowers the chance of quick processing of personal loans and the lenders may charge a higher rate of interest from such borrowers.
People with credit scores of 600 or below may find it challenging to obtain loans. There are nonetheless some workarounds to overcome this. When granting loans to borrowers with lower credit ratings, a majority of lenders also take into account additional factors such as job security, a guarantor with a high credit score and proof of extra income such as rental money. Lenders may also seek a collateral.
Ways To Improve Credit Score
Prospective borrowers with a low credit score can work to progressively raise the score through various methods.
Here are some of the ways to improve credit score for personal loans:
• Make sure you pay all your EMIs and dues on credit card on time.
• If you have a credit card, then make sure that you pay not just the minimum dues, but the full outstanding amount, that too on time.
• The number of loans and the amount of outstanding loans must be in sync with your income.
• Don't exhaust all the available balance on credit card. Ideally, keep monthly borrowing on credit card at less than 33% of the total limit. And, don't have too many credit cards.
• There's a chance that the credit report may contain information that was incorrectly recorded or overlooked favourable information. Borrowers should point out any discrepancy to have the score adjusted. It is vital to keep oneself informed about their credit score on a regular basis.
• Apply for the loan jointly with someone who has a better credit score. The lender will still receive its money back even if one applicant defaults because both applicants are accountable for repayment.
Once a person has improved the credit score, they can hope to get the best interest rates on any future personal loans they may take.
Conclusion
Credit scores are used by lenders to assess a borrower's capacity to
repay a loan
. The best rates are available to those with strong scores, while lower scores may result in higher interest rates. By timely repaying your debts, including interest, and by adhering to no-delay and no-default policies, you can steadily raise your credit score.
Once your credit score has adequately increased, you can get personal loans at significantly lower interest rates than you would have otherwise.
If you are looking for a personal loan, you must approach a reputed lender or a non-bank lender such as IIFL Finance.
IIFL Finance provides personal loans via a fully online process that makes application, approval and disbursement easy and quick. It offers personal loans ranging from Rs 5,000 to Rs 5 lakh for tenors that can go up to three and a half years. More importantly, IIFL Finance provides the most competitive interest rates to people with strong credit scores and easier repayment terms than most traditional banks.