Personal Loan Vs Credit Card Loan - Which One Is Better?
You can borrow money from lenders on your credit cards or with personal loans. Read on to know whether personal loan or credit card loan is better at IIFL finance.
28 Nov,2022
09:18 IST
19 Views
2 Likes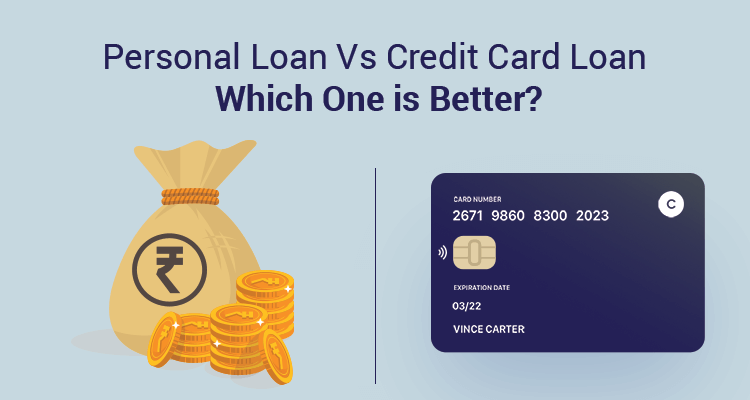 Most people break into their savings when they need immediate access to funds. Although saving money takes time, urgent financial needs can instantly drain your savings. Hence, applying for a loan from a trustworthy financier is wiser than liquidating your assets during financial emergencies.
You can borrow money from financial institutions on your credit cards or with
personal loans.
Although they are unsecured loans, they are different in particular ways. Here's the difference between
personal loans vs loans on a credit card.
What Is A personal loan?
Personal loans are unsecured loans useful for various purposes, from medical expenses to expensive purchases to vacations and even debt consolidation. You can repay these loans through monthly instalments based on your preferred repayment term. You don't have to pledge any collateral for a personal loan, making it easy to borrow funds and meet your financial needs.
What Is A Credit Card Loan?
A credit card loan is only available to holders of credit cards. These loans are a specific portion of your credit card limit. Credit card loans are similar to personal loans because borrowers can decide how to spend their borrowed funds.
A Personal Loan Vs Credit Card Loan
Personal and credit card loans differ significantly on the following parameters:
| | | |
| --- | --- | --- |
| Basis of Difference | Personal Loan | Credit Card |
| Eligibility | Lenders accept applications from non-customers. | You must be a select credit cardholder to qualify |
| How to avail? | Any financial institution can provide you with a personal loan | You can only get a credit card loan from your credit card company |
| Procedure for Borrowing | By submitting an application to a bank or NBFC with documentation | By accepting or applying for a pre-approved offer from a bank |
| Disbursement | A lump sum payment made to a customer's savings or current account or via check | In the form of a check or credited directly to a savings or current account (if it is the same bank) |
| Approval Time | 3-5 business days | Within 24 hours |
| Repayment | In the form of EMI payments to the bank | The amount of the EMIs is added to the monthly credit card statement for the period stated |
| Tenure | From one to five years | From one to five years |
| Borrowing Limit | The bank will calculate the amount based on proof of income | Provider-approved limits apply |
| Interest Rates | Starting at 10.50%; depends on credit history and income | Generally higher than personal loans; may vary from bank to bank as well as customer to customer |
| Documents | A proof of identity, proof of address, and proof of income are required | There is no need for additional documentation |
Credit card loans have fewer options for borrowers. In contrast, borrowers have many options when obtaining personal loans. After assessing the market for the best offers, interest rates, tenure, and foreclosure options, they can choose a lender.
High-interest rates may prevent a person from borrowing the required amount or will strain their pockets later. If you consider taking out a loan, whether a personal loan or a credit card, you should do so with prudence.
Loan On Credit Card vs Personal Loan - Which One Is Better?
Despite being unsecured, both loans cater to different customer needs. It is better to choose these based on your purpose.
Credit card loans may be the right option if a small amount will meet your needs. However, a credit card loan requires a good pre-approval offer. Personal loans are a better option if you need a larger sum of money. The credit card limits the amount the borrower can borrow, and the repayment guidelines are strict.
Credit cards offer small payments at high-interest rates, but personal loans offer higher loan amounts with more flexibility in repayment terms.
Take Advantage Of IIFL Finance Personal Loan
IIFL Finance offers comprehensive and customised personal loans. The
disbursement process of our personal loans
is fast, and we offer loans up to Rs 5 lakh.
You can apply for the loan online or visit your nearest branch to verify your KYC information. We also have a personal loan calculator to estimate your repayment obligations. Apply for your ideal personal loan today!
FAQs
Q1. Will personal loans affect my credit score?
Ans. Making timely and consistent payments on your debt can improve your credit score if you take out a personal loan. You can suffer credit damage when making late payments are reported to the credit bureau.
Q2. Which is better: a credit card or a personal loan?
Ans. It depends on your needs. A credit card loan is a better option when you need small loans for a short period. The amount is credited against the balance credit limit on your card, making it an instant funding option.
Personal loans are a better option when you need a larger amount of money. These loans allow borrowers to apply for higher loan amounts with flexible repayment options.