Do You Need To Mortgage An Asset To Take A Personal Loan?
There are various misconceptions when it comes to personal loans. One such myth is needing to mortgage an asset while taking personal loans. Click here to get more info!
15 Jun,2022
05:21 IST
106 Views
130 Likes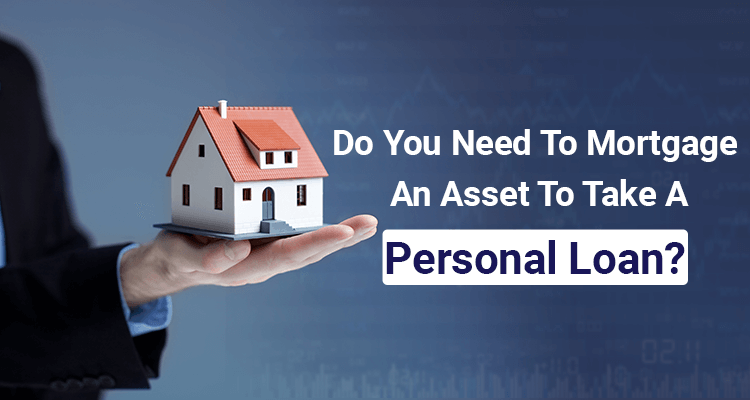 One can borrow money for a variety of reasons and via multiple loan products. These loans can have very different amounts, including some that have a value of as low as Rs 1,500 and as high as crores of rupees.
These loans could have very different payment periods, starting with a few months to several years. Given the loan product and other terms, they carry very different interest rates and so the equated monthly instalments (EMIs) one has to pay periodically also varies accordingly.
Types Of Loans
Secured Loans:
In simple terms, secured loans are offered by lenders after keeping something of value as a collateral. Money is lent after discounting part of the assessed value of the mortgage in the case of secured loans.
Unsecured Loans:
In contrast, unsecured loans are borrowings that do not involve anything as a security with the lender. The loans are given based on the lenders' assessment of the repaying capacity of the borrower, including the monthly income and other parameters. The unsecured loans have a higher risk for the lender and so they carry higher rate of interest.
Why Take A Personal Loan
If someone needs money to meet a short-term need, a
personal loan
is one of the easiest forms of borrowing. These loans help a borrower avoid the obligation of asking money from family and friends and freedom from such embarrassing situations.
Some people tend to use their credit card as a borrowing or credit mode. However, the interest rate charged on a credit card is much higher and one ends up paying a larger sum as interest.
Until a few years ago, taking a personal loan was a time-consuming process, but this has changed significantly now.
If a would-be borrower does not own any asset or does not want to mortgage his personal items such as a gold jewellery or house and still want to borrow, a 'personal loan' is the only option.
Who Should Take A Personal Loan?
Those who are just starting a job and do not have enough savings
Those who are facing a short-term cash flow problem
Those who do not own any house, land or gold jewellery
Those who own gold jewellery or other assets but do not wish to mortgage it
How Does Personal Loan Work?
The amount of money one can avail via a personal loan and the interest one has to pay via EMIs are dependent on various factors.
Lenders decide these loan terms based on one's creditworthiness and that, in turn, is dependent on
the credit score of a person
. A higher credit score, which falls in the range of 300-900, provides better terms of loan. So, it is easier to borrow if one has a credit score of 700 and above. It doesn't mean one cannot take personal loans if the score is lower, but the charges one would pay would be higher in such a case.
The credit scores are provided by specialised agencies who take into account various aspects like monthly income, past credit behaviour and other parameters.
Personal Loan—Myths And Realities
There are many
misconceptions about taking personal loans
. The most common myth is that one needs to mortgage something to avail a personal loan. This is not true.
Personal loans are unsecured and that's one reason they carry a higher interest rate than that for secured loans of personal nature like a gold loan, for instance.
Conclusion
Personal loans are a form of unsecured loans and thus do not require any security. Lenders lend money on the basis of their assessment of the repayment capacity of a borrower without any mortgage or security/collateral.
The interest rate charged by lenders such as IIFL Finance for personal loans is much lower compared to what credit card companies ask for.
So, if a borrower does not have or does not want to mortgage any personal items and still wants to avail a loan, a personal loan is the easiest and best form of borrowing. Moreover, lenders like IIFL Finance approve such loans in just a few hours with minimal paperwork and offer plenty of flexibility in repayment.