How Quickly Can You Get A Personal Loan?
You are in danger of falling into a debt trap, & thinking of how to get an instant loan to climb out of it. Read to know the tricks to get personal loan quickly!
19 Nov,2022
16:42 IST
15 Views
6 Likes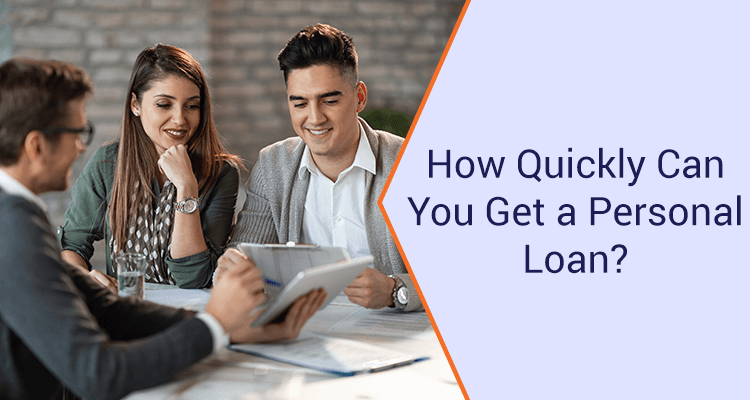 A personal loan is one of the quickest ways to borrow money in case of any emergency or to meet any other need that requires cash immediately. Personal loans don't need collateral or security and usually can be taken with little documentation.
It has no end-use restriction, meaning the amount borrowed can be utilised for any reason, be it large medical expenses, a family vacation, or even to clear existing debt a person may have.
Getting a personal loan approved and disbursed usually involves the following steps:
• Checking the borrower's eligibility
• Checking the credit score
• Document submission and verification
• Approval of the loan
• Disbursal of the loan
The time taken to approve a personal loan may vary from lender to lender. Nowadays most lenders use modern methods, including online application and submission of documents, to process personal loans quickly.
Personal loans can take from a day to around a week for approval once all the documents are in order and the lender is convinced that the borrower is eligible for the loan.
Factors Affecting Personal Loan Application Times
The speed with which a personal loan is approved and disbursed depends on several factors such as the borrower's age, income statement, and CIBIL score, etc.
If a person decides to apply for a personal loan in a bank that they already hold an account in, then the loan approval and disbursal might be quicker as the lender might already have the necessary documentation needed to process the loan. Non-account holders would need to go through a longer verification process which would increase the time taken to disburse the loan.
Besides banks, several non-banking financial companies (NBFCs) also offer personal loans. NBFCs follow similar procedures for sanctioning and disbursing the loan, but may be quicker than most traditional banks.
Borrowers should ensure that their information submitted in the application is true and verifiable. Applications with inaccuracies can take much longer and could even be rejected.
The borrower's CIBIL score plays a crucial part in the
loan approval process
. The CIBIL score is basically a summary of a person's credit rating, history and report. The score is between 300 and 900.
Generally, those with a CIBIL score of higher than 750 are seen in good stead and are offered better rates. Those with lower CIBIL scores can still get personal loans but at a higher interest rate. There are no hard and fast rules as to how low a score can be, but the higher the score is, the better the chances of approval and lower interest rates.
The verification procedure depends on the documents provided by the borrower and, therefore, all of the information given needs to be up to date and in order. Borrowers also need to ensure all of their KYC (Know Your Customer) documents are updated and complete.
All of this is done as a personal loan is unsecured and a lender needs to ensure that the person applying for a personal loan will not delay or default on the payments.
Once the borrower's documentation is in order and the lender has verified the application, loan disbursal shouldn't take more than a few days.
Conclusion
If the borrower has a high credit score and their documents are complete and in place, the application process shouldn't take more than a few days with a good lender. Some lenders even provide loans within 24 hours.
At IIFL Finance, executives make it really easy for you to avail a personal loan and then to repay it. The company processes a personal loan application submitted online within minutes and, and once the documents are verified, transfers the cash into the borrower's account within a day.
Not only can you
apply for an IIFL Finance personal loan online
and submit all documents with ease, you can also repay online, and flexibly at that. On top of all this, you can also avail several value-added services. And not to forget, you also get the most competitive interest rates in the market.