Get To Know Your Rights As A Personal Loan Borrower
Every borrower enjoys certain rights in case of loan default. IIFL Finance helps to explain the rights as a personal loan borrower in detail. Click Here!
28 Oct,2022
11:33 IST
5 views
2 Likes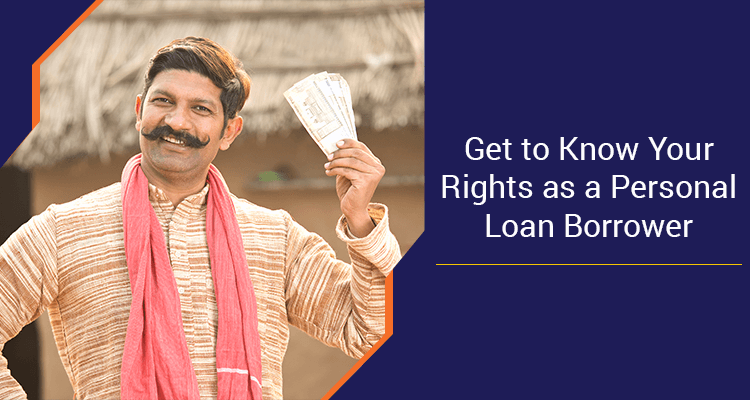 When uncertain expenses create a hurdle in your routine life, even the most effective financial plans turn futile. Investing all your savings in tackling unplanned expenses can leave you empty-handed. In such situations, seeking personal loans from banks and NBFCs can be more feasible.
Personal loans are known for their simple lending procedures. These collateral-free loans help you pool funds from trusted financial institutions at affordable rates. You can use a personal loan for various personal and non-personal reasons, such as funding your child's education, renovating your house, or hiring seasonal staff for work expansion.
However, before applying for a personal loan, you must understand the rights of a borrower.
Essential Rights As A Personal Loan Borrower
• Right To Know The Loan Contract Terms
You must be aware of the loan terms before signing the agreement. The financial institution presents a written document highlighting essential pointers related to the contract, including
• The total loan amount sanctioned
• The fixed interest rate
• Repayment scheme–starting and ending instalment date
• List of options available for loan consolidation
• Fees related to the personal loan sanction and the charges applicable in case of repayment failure
• Any other fact associated with the personal loan that the financial institution may deem fit
• Right To Disclosure Of Charges
Lenders must fully disclose all fees and expenses associated with personal loan processing to borrowers to ensure fairness and transparency. You also have a right to seek disclosure about the following.
• Refundable charges in case of non-sanction of the personal loan
• Fees waiver in case of loan prepayment
• Fines charged for default in repayment
• Information about any interest reset clause
• The processing charge must be declared in the loan application forms, per RBI regulations, and displayed on the banks' websites for all loan products
• Right To Avoid Insurance Cover
Per RBI guidelines, banks and
NBFCs
cannot compel you to buy loan insurance coverage. Also, the financial regulator refrains lenders from pressuring borrowers to buy insurance from a preferred insurance portal. You can choose or avoid it depending on your budget and requirement.
• Right To Timely Loan Decisions
Before making a credit decision, financial institutions scrutinise client documents with diligence and efficiency. Sometimes, they exceed the time limit for completing loan application procedures. In this case, you have the right to question the personal loan provider about the delay.
• Right To Know The Reason For Rejection
Financial institutions can reject a loan application because of improper documentation or weak credit history. However, it is your right to know the reason for such rejections. The lender must communicate the primary grounds for a loan application's denial in writing by the lender within a timeframe listed in their guidelines.
• Rights In Case Of Repayment Default
In the case of unsecured personal loans, you get to avail of three rights in case of repayment default.
• Right To Proper Notice:
The lender should inform you about the repayment lapse through a notice. You have a right to know when your loan turned into a Non-Performing Asset. The lender should give a sufficient notice period.
• Right To Be Heard:
You should get a fair chance to present your case before the lender takes strict action for payment faults.
• Right To Ethical Treatment:
The financial institution cannot pursue
loan repayment
by excessive harassment. They are not permitted to intimidate or make obtrusive calls.
Get Your Ideal Personal Loan With IIFL Finance
Personal loans help you avoid those unplanned financial crunches that can otherwise disrupt your routine work. Various platforms offer personal loans at affordable rates. If you want to
borrow a personal loan
, IIFL Finance can be your best resort. Our online platform facilitates swift and secure personal loan sanctioning. You can access easy personal loans with minimum paperwork, low-interest rates, and flexible repayment schedules with IIFL Finance.
FAQs
Q1. Is credit score necessary for personal loans?
Ans. Personal loans are unsecured loans. Thus, your credit score plays a determining role in personal loan sanctions. An impressive credit score can help you get hefty loans at low-interest rates.
Q2. What is the interest rate charged on personal loans?
Ans. The rate of interest on personal loans varies from lender to lender. Financial institutions can charge interest rates between 10.5% and 26% for personal loans.