Everything You Need To Know About Guarantors In Personal Loans
Are you planning to become a personal loan guarantor? Before signing up as a guarantor, you must read this article to know the details about being a guarantor!
8 Dec,2022
09:54 IST
21 Views
6 Likes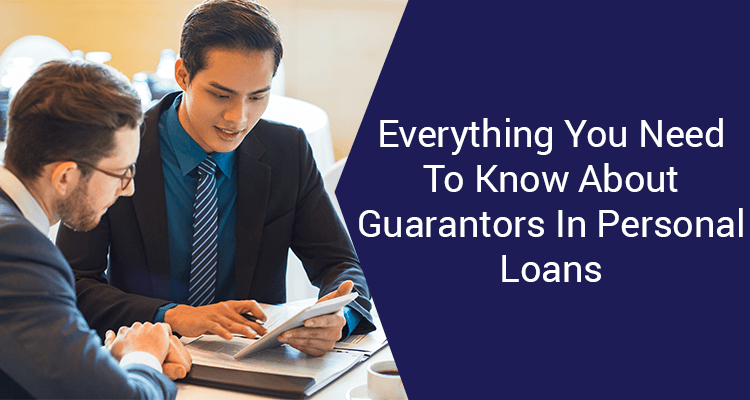 Financial emergencies arrive unannounced and can create a financial burden. Fortunately, there are better options than dipping into hard-earned savings or selling long-term investments. A personal loan from lenders such as banks and NBFCs allows you to cover personal expenses. However, when getting the loan approved, the lender may ask you to present a loan guarantor, or a friend or family member may ask you to be their loan guarantor.
The Need For A Loan Personal Guarantor
When you apply for a personal loan, lenders require you to fulfil a set of eligibility criteria such as a CIBIL score, minimum monthly salary, employment or self-employment proofs, etc. Since a personal loan is an unsecured loan product, you do not need to pledge an external asset as collateral.
In the absence of collateral, it becomes risky for a lender to provide the loan amount as the institution cannot retrieve the outstanding loan amount in case of default. Hence, lenders only offer personal loans to individuals who fulfil personal loan eligibility.
However, an applicant may have all the factors in the eligibility criteria but fail to fulfil one or two. In such a case, lenders provide flexibility to get a loan approved through a third-party individual who can take responsibility for repayment if the existing borrower defaults on the loan repayment. Thus, through a loan guarantor, lenders ensure that they can mitigate the chances of failed loan repayment.
Who Is A Loan Guarantor?
A loan guarantor is an individual who agrees to take responsibility for the primary borrower if they default on the loan repayment. Upon default of repaying the loan, the lender shifts all the repayment obligations onto the loan guarantor, who becomes equally responsible for paying off the outstanding loan amount.
Suppose you agree to become a loan guarantor. You are legally bound to pay the outstanding loan amount to the lender through EMIs if the primary borrower defaults on the repayment. Many people agree to become loan guarantors, believing their responsibility is limited to ensuring that the debtor pays his EMIs on time. However, a loan guarantor is bound to pay the loan amount if the debtor defaults, which impacts their credit score and loan eligibility.
Personal Loan Eligibility For A Loan Guarantor
Similar to the
personal loan eligibility
for an individual to get their loan approved, the lenders have also set eligibility criteria for loan guarantors. If you want to be a loan guarantor for a friend or family member, or if you want someone else to be your loan guarantor, consider the following possible eligibility criteria.
• Credit Score
The CIBIL score is a three-digit evaluation out of 900 that determines your creditworthiness before offering the loan amount. For a loan guarantor, the lender must have a credit score above 750 out of 900. If your score is lower than 750, the lender can ask you to have a loan guarantor with a higher score to get the loan approved.
• Monthly Income
When you execute a personal loan application, lenders review your financial condition through your monthly income to ensure you earn enough to repay the loan amount. Hence, lenders require a guarantee that the borrower must have minimum monthly earnings adequate to pay for the monthly cost of living and the loan repayment.
The minimum monthly salary requirement is Rs 22,000 but can go higher depending on the place of residence. If you do not have such an income, you must get a loan guarantor who earns Rs 22,000 to get a personal loan.
• Credit Utilisation Ratio
It is the ratio of revolving credit you use against the available credit limit. Lenders prefer to offer the loan amount to applicants with a lower CUR, as it depicts that they don't have to rely majorly on credit to pay for general expenses and have a stable financial situation. If your credit utilisation ratio is high, the lender might ask you to apply for the loan with a co-applicant or loan guarantor with a lower CUR.
Some Other Requirements For Personal Loan Guarantors
Apart from the above general requirements, lenders have included other conditions for loan guarantors in the
personal loan eligibility
criteria.
• The loan guarantor must have a minimum age of 18 years.
• The loan guarantor must have all the documents the lender requires for completing KYC.
• The loan guarantor must have a prior personal relationship with the borrower to influence them to make timely payments to the lender.
• Before becoming the loan guarantor, the loan guarantor must know all the loan factors, such as personal loan interest rate, loan amount, and loan repayment tenure.
Avail Of An Ideal Personal Loan From IIFL Finance
IIFL Finance provides comprehensive and customised personal loans to fulfil your capital requirement. You can use the personal loan calculator to determine your repayment obligations. The loan offers instant funds up to Rs 5 lakh with a quick disbursal process and affordable
personal loan interest rates.
You can apply online or offline by visiting IIFL Finance nearest branch.
FAQs:
Q.1: Can I take a personal loan from IIFL Finance with a low credit score?
Ans: Yes, you can take a personal loan from IIFL Finance with a low credit score if you present a co-applicant or a guarantor.
Q.2: Does being a loan guarantor affect the credit score?
Ans: When you become a loan guarantor and the borrower defaults on the loan repayment, you are legally bound to repay the outstanding loan. If that happens, it affects the credit score based on the repayment time.
Q.3: What is the loan tenure for IIFL Finance personal loan?
Ans: When taking a personal loan from IIFL Finance, borrowers can choose from a loan tenure between 3 - 42 months.