Personal Loan Eligibility: What Is It, How It's Calculated, and How To Improve It
It is imperative for borrowers to meet the eligibility criteria set by lenders for quick approval for the loan amount. Know the personal loan eligibility here!
27 Oct,2022
18:39 IST
50 Views
21 Likes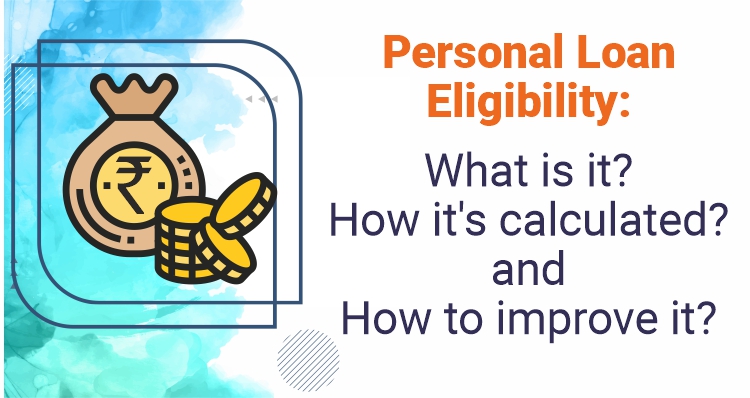 The demand for personal loans continues to rise owing to the long-lasting sinful impact of the COVID-19 pandemic. Considering personal loans are one of the most flexible unsecured types of loan, they have become the choicest option during financial emergencies. Furthermore, unsecured personal loans grew by 13.2% as on July 2022. An additional perk is that you can use the amount for anything, from medical emergencies, weddings, travel expenses, or unsolicited expenses.
However, like other loans, you need to fulfil the
personal loan eligibility
to acquire these funds.
What Are The Personal Loan Eligibility Criteria?
A personal loan is an amount you borrow from the lender to finance unexpected expenses, pay off debt, buy vehicles, etc. You can avail of a loan from a bank or an NBFC. While the
personal loan eligibility criteria
change according to the lender, the common factors are as follows.
1. CIBIL Score:
The CIBIL score determines your creditworthiness. Thus, it plays a crucial role in
personal loan eligibility.
Lenders prefer a CIBIL score of 700 and higher to qualify for a personal loan.
2. Age:
Your age must be 19 - 65 years. Lenders verify your age while submitting identity proofs like your Aadhaar Card, PAN Card, etc. However, this age range differs from lender to lender.
3. Profession:
Lenders want to ensure that you have a regular income source to repay the loan. Thus, knowing your profession becomes crucial. In this regard, you must be a salaried or self-employed individual to qualify for the loan.
4. Minimum Monthly Requirement:
While this may change depending on lenders, for a
personal loan application with IIFL Finance
, the monthly income of a salaried individual must be over INR 15,000, and the minimum balance of a self-employed applicant must be greater than or equal to INR 8,000.
5. Pending EMIs:
To be eligible for a personal loan, you must not have any pending EMIs in the last six months.
How To Improve Your Chances Of Getting A Personal Loan Approval?
Now that you know
how to calculate personal loan eligibility
, here's how you can improve your application approval chances.
1. Improve Your CIBIL Score:
Timely EMI payments and keeping your credit utilisation to less than 30% can help you maintain a healthy CIBIL score of 750 and above.
2. Lower Your Monthly Debts:
Try to keep your existing monthly debt below 50% of your monthly income. A debt above this level might let the lenders think of the probability of your creditworthiness of repaying the loan on time.
3. Decide An Optimum Loan Amount:
Applying for the right amount is essential to approve your loan application. You can use a
personal loan eligibility calculator
to know the eligible loan amount based on your monthly income, existing debts, and other relevant factors.
Avail Of A Personal Loan With IIFL Finance!
IIFL Finance offers competitive interest rates and instant loan approvals. The entire process, from application to disbursement, is 100% online. Apply for an
IIFL Finance person loan
today and join the league of 6 million+ happy customers!
Frequently Asked Questions
Q.1: What are the minimum and maximum amounts I can get in a personal loan?
Ans: IIFL Finance offers a minimum amount of INR 5,000 up to INR 5 lacs if you are eligible for a personal loan.
Q.2: How to apply for an instant personal loan?
Ans: With everything getting digital, you must fill out the online application form, submit your KYC and other documentation, initiate and complete E-Nach and wait for the lender to disburse your loan amount.