What Are The Differences between Two Wheeler Loans and Personal Loans?
The best option between the two loans depends on the borrower's situation. Read on to know the difference between a 2-wheeler loan and a personal loan at IIFL Finance.
21 Dec,2022
18:00 IST
1235 Views
745 Likes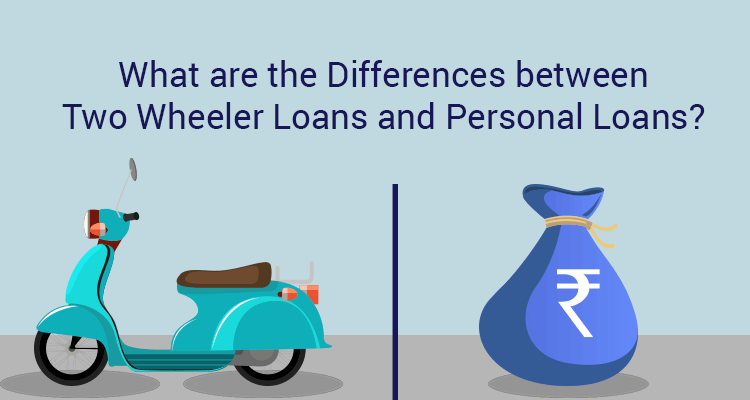 People often turn to banks, NBFCs, or online lenders to fulfill their financial needs–some out of desperation, while others out of wise financial decisions. Sometimes, it can be challenging to differentiate which loan to avail of and when. Here's the difference between a two-wheeler loan and a personal loan.
What Is A Personal Loan?
A
personal loan
is helpful for various purposes. You can use it to consolidate your debts, renovate your apartment, or plan your dream wedding. Banks, NBFCs or credit unions offer
personal loans.
Like any other loan,
personal loans
must be paid back over time, usually with interest.
What Are The Differences Between Personal Loans and Two-Wheeler Loans?
Avail of a
personal loan
to cover emergencies without a reason for the loan. On the other hand, two-wheeler loans are an easy option for those who want to purchase the two-wheeler of their choice. Significant differences include the following.
• Interest Rate:
Personal loan interest rates are higher than motorcycle loan interest rates. Therefore, you should use them only in emergencies.
• Loan Amount:
Maximum personal loans available are Rs. 5 lakhs, and a two-wheeler loan range between Rs. 25,000 to Rs. 25 lakh per your requirement. The vehicle's value decides the bike loan amount, and a fixed down payment is associated with these loans.
• Approval Time:
Personal loans are usually approved within 24 hours, while bike loans take 4-5 business days.
• Eligibility Criteria:
Personal loan eligibility criteria
differs from a bike loan. You can check your bike loan eligibility. Documents required for a personal loan include pay-slips for the last six months, bank statements for the previous six months, proof of address, and proof of identity.
Documents required for a motorcycle loan include identity proof, address proof, pay-slips for the last three months, bank statements for the previous three months, and income tax returns for the last two years.
Know more about personal loans vs two-wheeler loans in the subsequent sections.
Personal Loan vs Two-Wheeler Loan
| | | |
| --- | --- | --- |
| Parameter | Personal Loan | Bike Loan |
| Use case | For any legal activity | Specifically used for purchasing a two-wheeler |
| Loan amount | Depends highly on the lender. It can range between Rs.5,000 to Rs. 5 lakh | Depends on the bike's price |
| Down payment/ collateral | No down payment or collateral is required | Lender might ask 10-12% down payment, and the bike in question is considered collateral |
| Interest rate | Starts at 16% p.a. (vary from lender-to-lender) | Starts @9.55% p.a. (vary from lender-to-lender) |
| Loan tenure | Typically, up to 5 years | May extend up to 7 years |
| Eligibility criteria | Relaxed | Stricter |
| Disbursal time | Approval and disbursal can be completed in less than 48 hours | May take up to a week |
Which Is A Better Option Between A Personal Loan and Two-Wheeler Loan?
Personal loans are easy, but interest rates can be higher than bike loans. Bike loans have longer repayment terms, but the bike may remain in the lender's possession unless you make payments.
The best option between the two depends entirely on the borrower financial situation. For example, a personal loan is better if you need urgent credit to buy a bike with minimal paperwork. However, a bike loan might be a good choice if you want a more extended repayment period and don't want to provide collateral (the bike in question).
Know your financial situation and goals clearly to make an informed decision.
Avail Of A Personal Loan From IIFL Finance
IIFL Finance provides safe, quick, and hassle-free loans at affordable rates. The processes are swift, with minimal paperwork, instant transfers, competitive interest rates, and flexible repayment schedules.
So, avail yourself of the benefits and apply for a personal loan with IIFL Finance today!
Frequently Asked Questions
Q.1: What minimum down payment is required for a two-wheeler loan?
Ans: Based on the lender, the down payment can range between 10-30% of the two-wheeler's value.
Q.2: How is a personal loan different from a two-wheeler loan?
Ans: A personal loan is an unsecured loan that is applicable for any purpose. A two-wheeler loan is specifically designated to purchase a two-wheeler that typically acts as collateral in the loan.
Q.3: When should I opt for a personal loan?
Ans: You can apply for a personal loan for any purpose and at any time. You can take a personal loan to consolidate your other debts, plan a wedding, cope-up with an emergency, or buy a motorcycle. You must do a cost-benefit analysis and know your financial conditions and goals to choose between two types of loans that serve the same purpose.