Can I Use A Personal Loan For Anything?
A personal loan can be used for just about anything. Here is a complete guide to help you know where personal loans can be used!
3 Dec,2022
18:02 IST
12 Views
3 Likes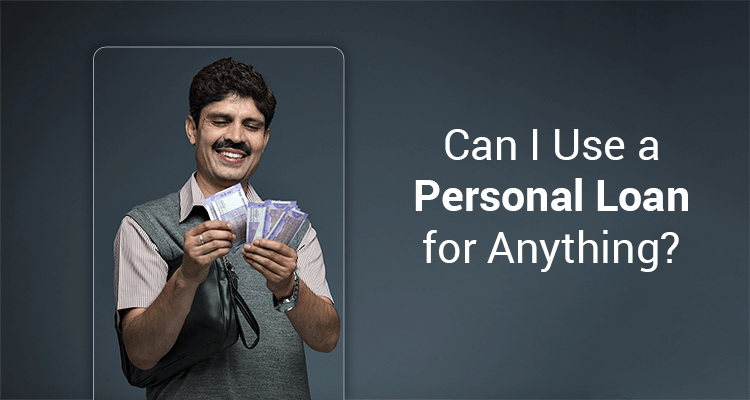 A personal loan is a loan that requires no collateral or security and is offered with minimal documentation. It can be used for just about anything legitimate purpose and can be a viable option in various ways. There are largely no end-use restrictions for legitimate purposes and so this loan offers a lot of flexibility in the way it can be used.
Most personal loan applications these days are processed quickly and funds are disbursed faster. On the flip side, as the personal loan unsecured, it carries a rate of interest higher than secured loans such as a car loan or a home loan.
Here are some situations where a personal loan can be used:
Medical Emergency:
Medical procedures are expensive and can take a serious toll on an individual's finances. Unfortunately, many people can't afford to save for emergencies, and may need a personal loan to pay for medical bills. Even if a person has a medical insurance, it may not always cover all expenses. This is when one can take personal loans.
Wedding:
Weddings are a grand affair in India. Most people dream of a perfect wedding, but funding them is not easy. A personal loan is quite helpful when celebrating the special day in style is high on priority. It can also be useful in buying wedding related items such as jewellery, and other expensive goods.
Debt Consolidation:
Debt consolidation is one of the most common reasons for personal loans. When an individual runs up a balance on credit cards, it can be difficult to manage the bills. A personal loan can streamline the payments into one monthly bill. A
personal loan
can also save on interest. People who refinance high-interest credit card debt can save money with a lower rate on personal loans.
Relocation:
Shifting to a new home is exciting but need quite some money. From payment to packers and movers to customizing the new house according to one's needs can be expensive. A personal loan can take care of any urgent expenses in such a situation.
Renovation:
A personal loan can be used in renovating a home or a workspace. This would cover expenses towards repairing, expanding and bringing new furniture. Often, the actual cost of renovating the home exceeds the budget as various miscellaneous expenses crop up during the course of work being done. A personal loan can help fill the gap.
Vacation:
A personal loan is a beneficial option to fund a vacation. Very often, a family goes for an unplanned vacation. With expenses for such a vacation not budgeted, a personal loan can be helpful in managing expenses on travel and hotels, and shopping.
Education:
Education is increasingly getting expensive. Even though most banks and NBFCs offer education loans, the process of getting one approved could be time consuming. A personal loan, which is disbursed quickly, has a rate of interest not too higher from education loan. Also, if an individual is looking to take some online courses or develop a new skill, a personal loan can be a good option.
Buying Appliances:
The cost of owning new electronic appliances, including smartphones, are getting higher. Most banks and NBFCs offer personal loans to fund them. Even as credit cards offer reward points on converting those purchases into EMIs, it's better to buy them on a personal loan which has a lower rate of interest than most credit cards.
Down Payment:
Home loans and car loans are the best option to own a dream house or a new car, respectively. However, the only sore point is the amount of down payment that requires deep savings. With prices of a house and car running into lakhs and crores of rupees, the amount required for down payment also rises proportionately. In such a scenario, a personal loan is an easy way to meet the funding shortfall.
Conclusion
A personal loan can be used for almost anything — that's why it's categorised as "personal". However, a personal loan must be used judiciously and repaid on time to avoid a burn on the credit score. Personal loans are helpful in consolidating debt and making major purchases, but this financial resource must always be utilised responsibly.
A borrower must also compare the rate of interest of various banks before applying for a loan. At IIFL Finance, the interest rates on personal loans start from as low as 11.75%. Also, the application for the loans is processed within five minutes and without any extensive documentation.