Want To Manage Big Spends? Top 5 Reasons To Get A Personal Loan
Manage big expenses with ease by getting a personal loan. Know how a personal loan can help you reach your financial goals!
20 Jan,2023
10:56 IST
2639 Views
1275 Likes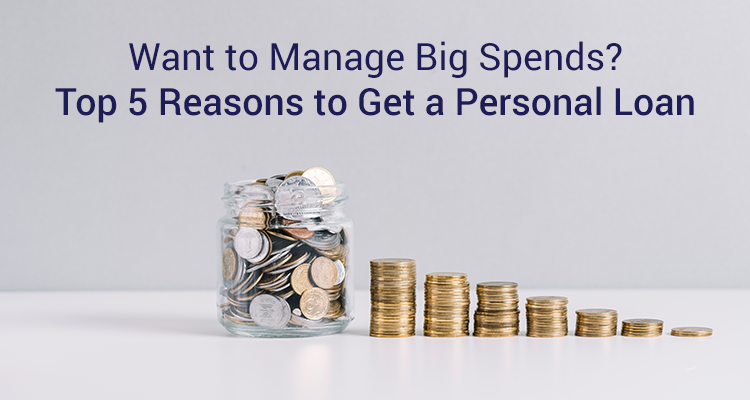 Getting personal loans as a means of financing is a popular option for many Indians. The popularity of these loans is primarily due to the ease of accessing and obtaining them.
With a personal loan online lender, you can get these loans instantly through your smartphone. Personal loans work well for various financing needs due to their many benefits. Here's why you should get a personal loan for big-ticket expenses.
Reasons You Should Get A Personal Loan For Your Expenses
1. Supplies Ample, Unrestricted Sanctions
You can borrow a considerable amount with a personal loan in India without any restrictions on its use. Several lenders offer up to Rs 50 lakhs of funds, depending on your needs. Whether upgrading your home with new appliances and furniture or financing your extravagant wedding, it helps you fund your big purchases.
You only need to install a dedicated personal loan app to choose the right lender and apply for a quick and easy personal loan.
2. Simplifies Access To Funds
You can apply for a personal loan without pledging any valuable assets as collateral. With zero risk to your assets, a personal loan is an excellent financing tool for big-ticket purchases.
Lenders will, however, need to consider your profile, your credit score, and your financial history before they approve you. Keep your credit score at 750 or above to qualify for this easy loan.
3. Serves As An Instant Funding Solution
The ease of availing of a personal loan makes it an ideal choice for financing large purchases. However, it can also be useful in emergencies, such as medical procedures as it requires minimal paperwork and can be disbursed quickly.
It's easy to get a personal loan via an app without submitting lengthy paperwork. You simply need to fill in the required details online, attach your KYC and financial documents to the app, and you're ready to go!
After the lender verifies your documents, you get the loan approval within minutes. You will also receive your loan amount within 24 hours so you can handle urgent needs quickly.
4. Offers Flexible Repayment Solutions
Several banks and non-banking financial companies offer personal loans that you can repay over 1 to 5 years, with some offering short-term loans repaid in 2 to 3 months. Compare the options to find the one that best fits your budget.
Online EMI calculators help estimate your EMI based on your repayment window. You can select a tenure that best suits your needs and make smart decisions regarding the loan amount.
5. Provides You With Affordable Funding Options
Based on your credit score and eligibility, most lenders offer you attractive interest rates on personal loans. Comparing various lenders will allow you to choose the one offering the most competitive rates. You can plan your finances easily this way. Pick a lender that charges low processing fees, EMI bounce fees, and prepayment fees.
The right lender can help you manage your wedding expenses or renovate your home without worrying about interest rates.
Things To Consider Before Taking Out A Personal Loan
Personal loans are debts since you borrow money to repay over time. A personal loan allows you to receive a lump sum of money upfront for an anticipated large expense. You pay the loan in installments over an agreed-upon period in exchange for convenience and the ability to pay your expenses.
Besides repaying your loan amount (the principal, in the financial world), you need to repay interest (which makes it profitable for the bank to loan you the money). As a result of these interest payments, you will have to pay the personal loan with considerably more money than you received at the beginning.
There are other trade-offs, too, other than interest payments, when you get a personal loan. You will need to pay origination fees upfront for most personal loans. Taking out a personal loan can also affect your credit score, so it's worth considering if you plan on applying for a home loan or auto loan later.
Avail Of An Ideal Personal Loan From IIFL Finance
With IIFL Finance, you can receive a comprehensive and customised personal loan to meet your capital needs. The personal loan calculator can also help you figure out your repayment obligations. Whether you want to apply for the loan online or offline, you can visit IIFL Finance website or the nearest branch and verify your KYC details in minutes. Apply today!
Frequently Asked Questions
Q1. What's the best reason to apply for a personal loan?
Ans. One of the most common reasons to borrow money is to consolidate multiple debts.
Q2. Can you get a personal loan without income proof?
Ans. Proof of identity, address, and income, are required to obtain a personal loan from most lenders. However, some lenders offer online personal loans without income proof but require collateral.