How To Get A Personal Loan In 5 Easy Steps
Are you in need of instant money? Personal Loan can help you to avail funds quickly with little or no documentation to fulfil your dreams. Read to know!
22 Jun,2022
10:54 IST
131 Views
36 Likes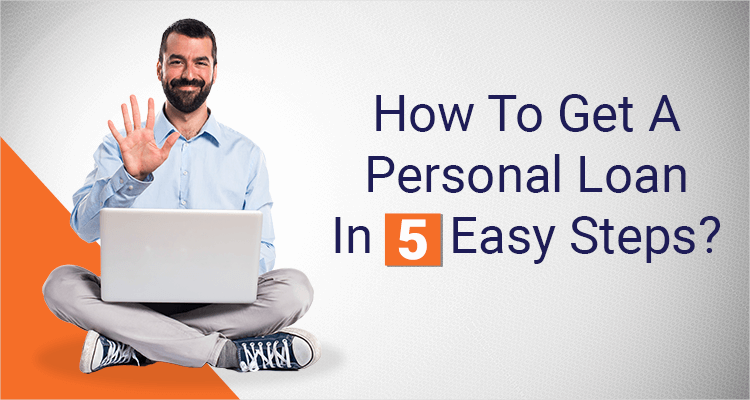 The thing about financial emergencies or cash crunches is that they occur without prior intimation. They could suddenly leave you destitute to meet the expense and in need of an urgent sum of money. This is where learning how to get a personal loan proves beneficial.
What Is A Personal Loan?
This is an unsecured type of loan with the flexibility of use. The personal loan application process is simple. Being an unsecured loan means that the lender (banks or NBFCs) doesn't look for collateral to grant the loan. However, it considers your creditworthiness to disburse the personal loan amount. The lender will also check your basic eligibility for a personal loan based on your monthly income.
If you're wondering how to get a personal loan, here are the 5 steps to help secure a personal loan:
1. Fill Out The Form
Once you decide to avail of a personal loan, begin by filling out an application for a personal loan at a bank or NBFC online or at a respective branch. This is where you input the details of your identity, address and income. When you approach a popular NBFC such as IIFL Finance online, the process is less cumbersome as you can be assured of instant disbursal.
2. Verify Your Information
Once a bank or NBFC receives your application, they verify all your professional and personal details. However, if you hold an account at any bank and apply for a personal loan there, the verification process is quicker. All your financial details and payments need scrutiny from the lender's end to process a personal loan.
3. Complete Your KYC
Once all your essential details pass through the verification stage, your KYC or Know Your Customer documentation will have to be presented to the lending authority. You might even have uploaded these along with the application form earlier. Sometimes, lenders prefer sending an executive to your residential address for verification.
4. Address Verification
Once the executive visits your home, they will verify all the information you provide on the application form. If you are self-employed and have a separate office space, the agent might visit the space to confirm.
5. Checking Your Credit Score
After all verification processes are done, the lender will look at your credit score based on your past repayments, income, or IT returns. Lenders usually charge a processing fee during the loan disbursal process. Once you pay the same, the loan is credited to your bank account within three to five working days.
Get A Quick Personal Loan With IIFL Finance
Discuss the loan amount the lender disburses, the related EMIs, tenure for repayment and the like. Ask all your doubts before applying for the loan.
Once the primary verification and documentation are complete, lenders such as IIFL Finance disburse personal loans quickly as per your credit score. The minimum required score is 750. Check out your loan eligibility when searching for how to get a personal loan on the website of lenders such as IIFL Finance.
FAQs
Q1. Can I Use The Personal Loan Amount For Any Purpose?
Ans. Yes, there is no end-use binding on the loan amount. You can use the personal loan amount on a wedding or even medical bills.
Q2. Can I Prepay The Loan Before The Tenure Is Over?
Ans. Yes, you can do so. Discuss with the IIFL Finance representatives and understand if there are any prepayment penalties apply.
Q3. What Is The Interest Rate On A Personal Loan?
Ans. The interest rate for your personal loan varies based on your credit score. The minimum interest rate on an IIFL personal loan is 11.75%.