Tips To Improve Personal Loan Credit Score
Credit score is very important to obtain a personal loan, lenders consider the credit score before providing a loan. Read to know about the tips to improve credit score.
14 Nov,2022
12:35 IST
2 views
2 Likes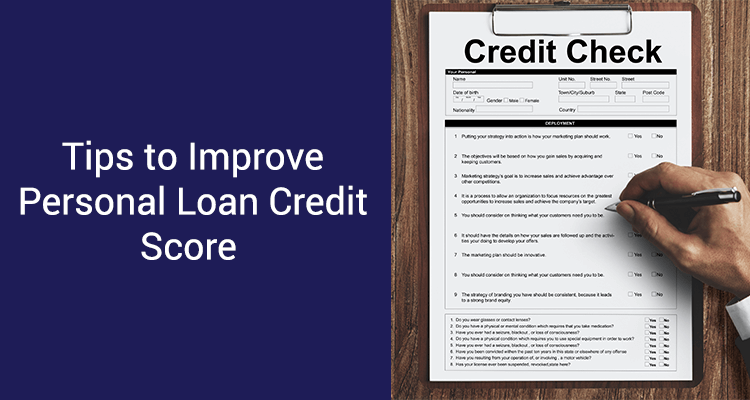 A credit score proves your ability to repay a loan. It indicates your creditworthiness to financial lenders. A good credit score increases your chances of securing a loan, but a poor score will make the loan application process challenging. Lenders will consider you more responsible if your credit score is 750 or higher.
The perks of a high credit score include the following.
• Low-interest rates
• Reduced paperwork
• Additional benefits such as flexible loan tenures and EMI options
How To Improve Your Credit Score For Personal Loans?
• Frequent Credit Report Checks
Timely checking of your credit report is crucial to raise your credit score. It will help you find any discrepancies in your credit report. You must verify that this report is free from errors, as your credit score depends on the data given in this credit report.
• Effective Utilization of Available Credit
Your credit utilisation level shows the degree of used credit against the total credit balance. According to analysis reports, loan takers should aim to keep their initial credit utilisation score at or below 30%. Then, with time, you should reduce it to 10% or less to create a positive imprint on your credit score.
• Payment of Existing Loans
Payment history is an essential element considered by credit rating agencies to ascertain your credit score. Late interest payments or multiple outstanding loans can lower your credit score. You can set payment alerts or choose the auto-debit option to ensure timely EMIs payments on or before the approved loan period.
• Intelligent Credit Planning
A messy history of non-repayment makes you a defaulter and restrains banks from sanctioning loans. Thus, it is apt to have a well-planned strategy for loan management even before applying for one. You should also have a steady income flow to manage your personal loans.
• Debt Consolidation
Debt consolidation is a potent option if you have more than one personal loan. It works like an umbrella that converts all your liabilities into one. This step also shrinks your loan burden quickly. In addition, once you repay your loan, it improves your credit score. You can also opt for balance transfers, shifting the unpaid loan amount to another lender offering a low-interest rate.
• Manage Hard Inquiries
The two main categories of credit inquiries are hard and soft inquiries. Soft inquiries comprise borrowers' self-checks, checks by permitted employers or clients, or credit card companies. Soft inquiries do not affect your credit rating. On the other hand, mortgages, vehicle loans, and new credit card applications involve hard inquiries. Several hard inquiries affect your credit score as lenders consider it an indication of financial issues.
Credit scores are essential in determining your status to avail of a loan. It takes a lot of effort, punctuality, and proper repayment schedules to improve your credit rating. Follow the steps given above to lift your credit ratings easily.
FAQs:
Q1. What are the factors affecting credit scores?
Ans. Income, savings, or assets do not impact your credit score. However, your credit score depends upon your repayment behaviour and credit history. These two factors combined categorise you into a good or lousy debtor in front of the financial lenders.
Q2. What is a good credit score?
Ans. A credit score of 750+ is a good credit score that makes you a reliable borrower in the eyes of lenders. If you have a score between 700 and less, lenders tend to increase their scrutiny checks and the interest rate before sanctioning a loan.