Personal Loans: How to qualify for it?
Thinking to apply for personal loan? Here are the common requirements that financial institutions look at when evaluating loan applications. Read to know Now!
30 Dec,2021
15:20 IST
1277 Views
310 Likes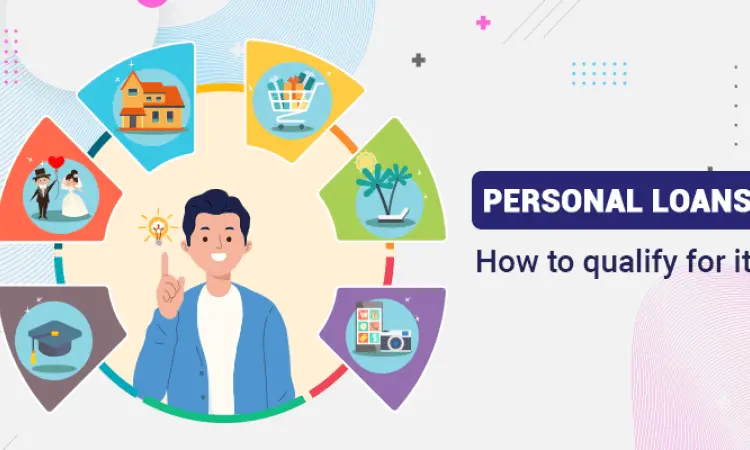 You can avail of personal loans for a host of reasons ranging from managing unexpected emergencies like medical expenses to fulfilling your dreams like funding a dream vacation, wedding arrangements, higher education, and more.
A personal loan gives you the liberty to use the sanctioned amount to meet your financial obligations and lifestyle aspirations.
In 2020, applications for personal loans rose by nearly 48% to Rs. 39,700 crores as more borrowers realise its value and utility. Moreover, digital-first financiers like IIFL Finance strive hard to make personal loans accessible instantaneously online, making it one of the fastest ways to get funds.
How does personal loan work?
Personal loans are notable for their versatility and simplicity. Personal loans are typically unsecured, so the borrower need not provide any collateral. Given that these loans can be used for many purposes, from paying off debts in the past to planning for the future, the sanction terms are open-ended with no restriction on the end use of funds.
Some of the terms involved in personal loans are:
Loan Tenure:

The number of years it takes to repay the loan

Rate of Interest:

The interest rate which the borrower needs to pay over and above the loan amount

EMI Amount:

The monthly payment (principal+ interest) which needs to be paid.
If the user qualifies the eligibility criteria, they receive the application form to fill and apply for a personal loan.
When to apply for a personal loan?
Improve credit score: One of the best reasons to apply for a personal loan is straightening out the credit score. Borrowers can take a personal loan and ensure timely repayment to improve the credit score.
Pay off household expenses: Whether it is a home renovation, or buying household appliances, white goods, or even paying bills like credit card bills taking a personal loan is always a good idea, and additionally, the borrower can enjoy tax deductions.
To make instant purchases: Want to shop for something online or book that travel with friends instantly? Personal loans can be used to finance such purchases. Additionally, personal loans can help bridge gaps in cashflow closer to month end before the next salary is credited.
Some of the factors to qualify for a personal loan are:
Good Credit score
A good credit score plays a significant role in getting an instant loan application approved. The main factors considered while calculating a credit score are repayment history, credit utilisation, and a borrower's debt-to-income ratio. Borrowers punctual in the repayment of their past loans will enjoy faster approvals on their applications. Credit scores can range between 300-900, and lenders generally prefer sanctioning personal loans to borrowers with a minimum score of 700.
Some of the ways to improve credit score are:
Ensuring complete repayment of previous loans before applying for a new loan and making timely payment of interest to reflect on the credit score positively.

Complete payment of credit card bills, existing EMIs instead of just the minimum required amount will help avoid a mountain of debt caused due to accrued interest on the outstanding loan amount.

Ensuring that only 30%-40% of the credit limit is utilised to boost creditworthiness.
Income
Income is another important factor for determining loan eligibility. The more the earnings, the higher is the possibility of making timely repayments. For a self-employed person, the minimum annual income requirement for a loan is slightly higher than for a salaried person.
When the borrower takes a loan, the borrower must repay loans in the form of EMIs. Sufficient income means having adequate funds for basic household necessities, lifestyle expenditures, and paying the EMI. For easy processing of loan applications, the total monthly EMIs must not be over 35% of monthly income.
Whatever the salary range, the Fixed Obligations to Income Ratio (FOIR) must be low. To lower FOIR, it is always better to find an additional source of income or clear existing EMIs. Lowering FOIR will increase the chances of being eligible for instant online loan applications.
One tip to keep in mind while applying for a loan is to mention all sources of income, including rental, part-time and freelance income. This will also show that the borrower can repay the loan with enough earnings from various sources.
Good Banking Track record
Optionally, customers can upload 3 months bank statements to prove their banking track record. Monthly statements demonstrate a user's credit and debit transaction history which help lenders observe repayment track record and average balances maintained.
IIFL provides personal loans up to 2 lakhs approved within 2 minutes. Click here to know more.
Not applying for multiple loans
When a borrower applies for a loan, the lender raises an inquiry with the credit bureau about the risks involved in a borrower. These formal inquires, known as hard inquiries, are listed in the borrower's credit report. To not cut a sorry figure in the eyes of the lenders or come across as credit-hungry, borrowers need to avoid multiple loan applications and stick to one application at any given point in time.
Necessary Documents
The approval of a personal loan application depends a lot on providing the right and relevant documents supporting the information provided. Checking the lender's website and preparing all the documents for the loan application well in advance before applying for the loan will smoothen and simplify the loan application process.
IIFL Finance requires just three documents for processing loan applications - a selfie, a government-issued ID proof for eKYC, and address proof.
Some of the other factors to qualify for a personal loan are
The borrower should be between 19 to 65 years of age.

Should have a monthly income of at

least 25,000.
Whether the personal loan is used to get through a time of stress or to pay for a joyous occasion, it can be a great tool to plug gaps in the cash flow and maintain a steady lifestyle. Download the My Money app to obtain a personal loan, know more about managing your personal finances and accelerate your wealth creation efforts. By regularly monitoring income sources and expenditures, borrowers can pre-empt the need for personal loans and keep a line of credit handy to meet life's ups and downs with effortless ease.