Why Should You Choose A Personal Loan Over A Salary Advance Loan?
A personal loan is better than a salary advance loan to raise capital. Read on to know why you should choose personal loan over salary advance loan!
30 Nov,2022
11:57 IST
64 Views
10 Likes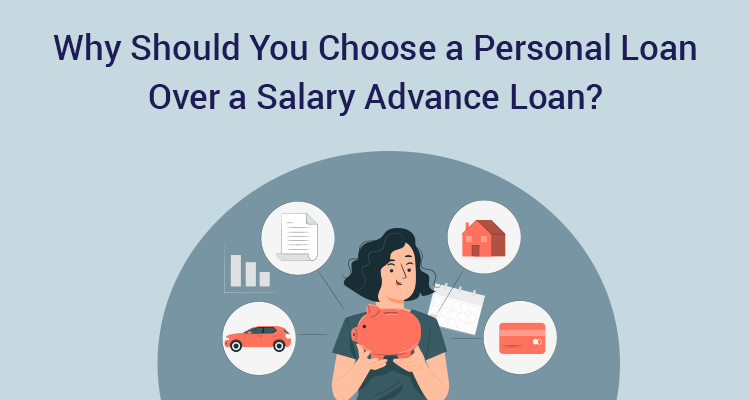 Sudden personal expenses, such as marriage, education, etc., may surface. But, you need to raise the required capital if you have inadequate funds. One of the best options to procure funds in such a case is through credit products such as personal loans. However, it can be unclear for salaried employees to choose between a personal loan or a salary advance loan.
What Are Personal Loans?
Personal loans are financial products that allow individuals to raise funding from lenders such as banks and NBFCs to cover their expenses, such as education, car, home renovation, marriage, vacation, etc. A
personal loan
is an unsecured loan with no need to pledge any asset as collateral. Like other loans, the borrowers are legally liable to repay the principal amount and interest to the lender within the loan tenure.
What Are Salary Advance Loans?
Employers offer a
salary advance loan
if the employee is low on cash and wants to cover a personal expenditure. They approve such loans based on the employee's next month's salary, where the amount becomes collateral with the employer.
Suppose the employee fails to pay the EMI within the loan tenure. In that case, the employer has the legal right to seize the salary payments to recover the outstanding loan amount. Salary advance loans are an add-on service a company's employer provides to employees. However, a company may not have the policy to provide such a service.
Why Should You Choose A Personal Loan Over A Salary Advance Loan?
If you are looking to raise immediate capital, a
personal loan
is a better product than a
salary advance loan
due to the loan structure. It is wise to compare both products based on the following factors.
• Eligible Candidates
You are eligible for a personal loan as a salaried employee or a self-employed individual. However, employers offer them only to their full-time employees in a
salary advance loan.
It means that if you are self-employed, you are not eligible for a salary loan.
• Rate Of Interest
A
salary advance loan
is an add-on benefit that employers offer. This loan may not be the core business activity of companies; it comes at a higher interest rate than any other loan for personal expenses. The interest on salary loans ranges between 25-50% as an annual percentage range, whereas personal loans start as low as 11.50%, making
personal loans
a more affordable credit option.
• Loan Tenure
The longer the loan tenure, the lower the EMIs you must pay. However, salary loans have a shorter loan tenure of between 12 and 15 months. On the other hand, loans for personal expenses provide better repayment options as the loan tenure ranges between 12 and 60 months.
• Collateral:
Personal loans
are unsecured and offer better prospects to borrowers as they do not have to pledge any asset as collateral. You won't have any valuable assets in a cash crunch and require your salary at a particular date. However, when you take a salary advance, the employers keep the next month's salary as collateral. If you default, you may lose the entitlement to your future salaries, increasing the financial burden.
Which Loan Facility Should You Take To Get A Loan?
Based on the above factors, it is evident that a
personal loan
is better than a
salary advance loan.
With a
personal loan,
you do not have to pledge your salary or any other asset as collateral and take a loan with a lower interest rate than employers offer.
However, you must compare both products before choosing one as every employer has different terms for the salary. At the same time, every lender also offers distinct personal loan terms.
Avail Of An Ideal Personal Loan From IIFL Finance
IIFL Finance provides comprehensive and customised personal loans to fulfil your capital requirement. You can also use the
personal loan calculator
to determine your repayment obligations. The personal loan offers instant funds up to Rs 5 lakh with a quick disbursal process. You can apply for the loan online or offline by visiting IIFL Finance nearest branch and verifying your KYC details.
FAQs:
Q.1: What is the interest rate on IIFL Finance personal loan?
Ans: The interest rate on IIFL Finance personal loan starts at 11.75%.
Q.2: What are the minimum and maximum loan tenure for IIFL Finance personal loan?
Ans: The minimum loan tenure is 03 months, and the maximum is 42 months for IIFL Finance personal loan.
Q.3: How much time does it take to disburse IIFL Finance loan amount?
Ans: The lender disburses the loan amount within 24 hours into the borrower's bank account.