When To Use A Personal Loan And When To Avoid It
Personal loans come in handy while facing any financial difficulty. Know when should you take personal loans & when you must avoid taking them!
26 Oct,2022
18:33 IST
9 views
2 Likes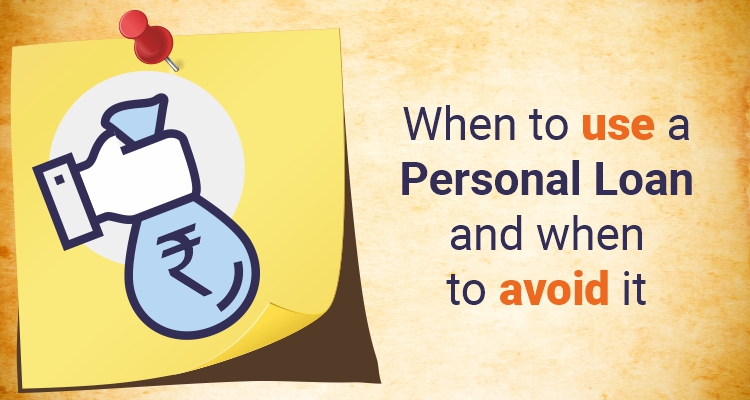 The extended effects of the pandemic have left many people struggling to make ends meet. In such situations, personal loans fulfil emergency cash needs without restrictions on how you use them. From planning a wedding to medical emergencies, a personal loan can help you whenever you are short of funds.
What Is A Personal Loan?
Personal loans are a means of borrowing funds without collateral. It is available digitally without a rigorous application and review process. Secure loans offer lower interest rates and have mandatory collateral requirements, a work history, good credit, and the ability to repay. Personal loans have slightly higher interest rates and do not require much documentation.
What Can You Use A Personal Loan For?
A Loan for personal use
can be for various purposes, as there is no restriction on where you use the amount. Some of the common uses include the following.
1. Utility Bills and Daily Expenses:
Personal loans help you meet daily expenses and allow you to repay them at your convenience.
2. Emergencies:
Personal loans ensure you have adequate cash in hand to deal with medical, travel, or any unforeseen expenses.
3. Refinancing:
If you have small additional loans with higher interest rates, you can use personal loans to pay off those loans to avoid paying multiple high-interest rates.
4. Education Fees:
Suppose you are a salaried professional and paying for your education. In that case, a personal loan can help you pay tuition fees as it offers flexibility in repayment without impacting personal financial goals.
When To Avoid A Personal Loan?
Situations in which you should avoid
applying for a personal loan
include the following.
1. Gambling
Applying for personal loans only to gamble it away is illegal and may not be advisable, given the uncertainty of personal financial gain or loss. Gambling personal loan funds are expensive and a punishable offence by the law.
2. Substitute For Savings
A short-term personal loan can help you rebuild your safety net during unexpected debt and manage expenses until your next paycheck. However, you cannot substitute it with regular savings. Interest rates on personal loans are nominal but higher than on secured loans.
Loans for personal use
can be expensive without the discipline to pay off debts on time.
3. Investing In The Stock Market
Taking a
loan for personal use
to invest in the stock market may not be the best option. The outcome of such investments is uncertain and may add to your debt. Additionally, you may incur interest on your loan as an additional cost.
Avail Of A Personal Loan With IIFL Finance
IIFL Finance is one of the leading personal loan providers in the country, with the best rates and instant loan approvals. IIFL Finance serves over 6 million happy customers with their loan requirements. The entire process, from loan application to loan disbursal, is completely online, and you will receive the loan amount within 24 hours of approval. Apply for an IIFL Finance personal loan today!
Frequently Asked Questions
Q.1: Is a good CIBIL score necessary for a personal loan?
Ans: Yes. As it is an unsecured loan, your credit score is the primary factor needed to qualify for the loan.
Q.2: What are the things to know before applying for a personal loan?
Ans: The factors to consider before applying for a personal loan include:
• Interest rate
• Processing fee
• Repayment flexibility
• Lender's customer service