What Is Video KYC & How Can You Avail It For A Personal Loan?
Learn about the concept of video KYC and how it can make availing a personal loan easier. Find out how to avail a personal loan using video KYC and the documents required for it!
23 Jan,2023
11:30 IST
2407 Views
603 Likes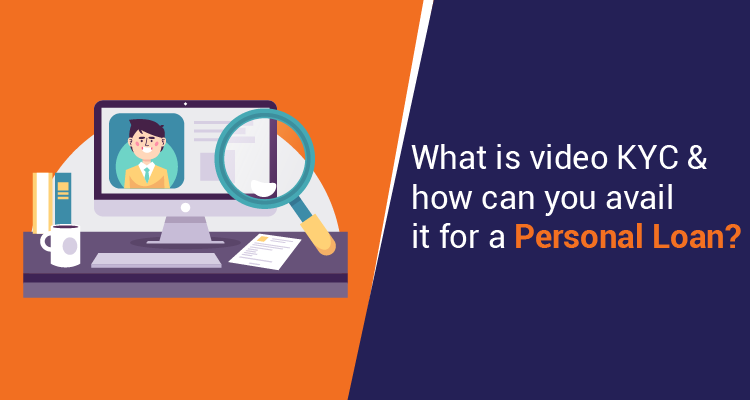 With technology's integration into finance, India has successfully transitioned to a digital economy, positively impacting many facets of life. Customers no longer need to visit a bank to obtain funding through a loan. With the introduction of video KYC, the Reserve Bank of India (RBI) has streamlined its KYC process. You can complete your loan application from any location at any time through a video call.
Here's what you need to know about video KYC, the process of video KYC for a personal loan and its benefits.
What Is Video KYC?
Video KYC, or the video-based customer identification process (V-CIP), is a method through which lenders verify customers online in real-time to establish their identity. The process involves taking the borrower's live picture via the webcam of the desktop/laptop or the front-facing camera of their mobile phone, together with a digital copy of their Aadhaar.
Video KYC is more accurate and technologically advanced than the traditional KYC process. It requires advanced technological tools for tracking the user's location in real-time, enabling audio-visual interaction based on their consent, and storing the data securely.
Additionally, the lender needs a trained workforce to conduct the video KYC verification process. Fortunately, the process has become easier for borrowers. It's now possible for them to complete KYC verification without visiting a branch!
Why Is KYC Important?
The RBI introduced Know Your Customer (KYC) in 2002. The service assists financial institutions in authenticating and verifying the identity and address of their customers. Doing so helps prevent individuals from performing illegal activities, such as money laundering.
Video KYC Process: How Does It Work?
Here are the steps involved in video KYC.
Step 1 – The first step is to complete your Aadhaar-based KYC. On the link provided by the lender, you need to enter your Aadhaar number. You will also need to enter the OTP you receive on your mobile device.
Step 2 – You will receive an email and an SMS with the joining link for KYC from the lender.
Step 3 – You will be directed to the banking authority that verifies KYC by clicking the link.
Step 4 – Answer the officer's questions and provide the necessary documents during the call.
Step 5 – After that, the authorised person will take a photograph of you.
You will receive a notification within a week regarding the lender's approval of your personal loan online application once your video KYC is complete.
Requirements For Video KYC Verification Process
Video KYC requires the following:
• Computers with webcams, such as smartphones, laptops, and desktops
• High-speed internet with no interruptions
• An area with a plain background that is well-lit for video calls
• A black pen and a blank sheet of paper
• Documents related to KYC and other valid documents
With the above requirements, the customer must be present in India when the video KYC verification process is conducted. They should not use a proxy, VPN, or static IP during the entire process, as it could lead to KYC application rejection.
Precautions While Undertaking Video KYC Process
Due to increased online frauds and scams, you should take the following precautions when performing video KYC.
• Don't click the joining link unless it comes from an authentic source. Among other things, RBI restricts using third-party apps for video KYC, such as WhatsApp, Facetime, and Skype.
• When performing video KYC, you should never display your Aadhaar or its number during the video call. During the first step of the process, the lender already authenticates it.
• Before starting the video KYC exercise, ask for the officer's identity card or note down the employee ID.
• Neither banks nor lenders ask for passwords. Do not send emails, texts, or video calls with critical credentials.
Benefits Of Video KYC Verification Process
1. Faster KYC Completion:
The lender records all KYC data within 5 minutes without you visiting the branch office.
2. Completely Paperless:
Because KYC is entirely digital and paperless, there is a huge saving in terms of time and cost.
3. Remote Customer Onboarding:
Lenders can onboard customers even if they don't have a physical location where they can offer their services.
4. Superior Customer Experience:
The video KYC ensures a seamless onboarding and engagement experience.
Get A Personal Loan Online From IIFL Finance
IIFL Finance offers customised
personal loan
products. With over 25 years of experience, you will get the best loan options through a seamless application process. With our system, you can raise immediate funds of up to Rs 5 lakh, which will be approved within five minutes and disbursed within 30 minutes after approval. Apply today!
Frequently Asked Questions
Q1. Is Aadhaar compulsory for video-KYC?
Ans. As per the RBI guidelines, Aadhaar is not required for video-KYC. It is also possible to use other officially recognised documents that contain the required information. However, to sign up, you will need to provide your Aadhaar number. A UIDAI OTP will be used to verify this.
Q2. Can the video KYC be done using FaceTime or Whatsapp?
Ans. No, any third-party video application is not allowed for video KYC.
Q3. What happens if internet connectivity problems or other problems interrupt video KYC?
Ans. Such cases will result in restarting the video-KYC process.