What Is The Processing Fee For A Personal Loan?
Planning to get a personal loan but don't know much about processing fees? Get to know the latest processing fees and charges involved in getting a personal loan. Read Now!
29 Sep,2022
11:12 IST
68 Views
34 Likes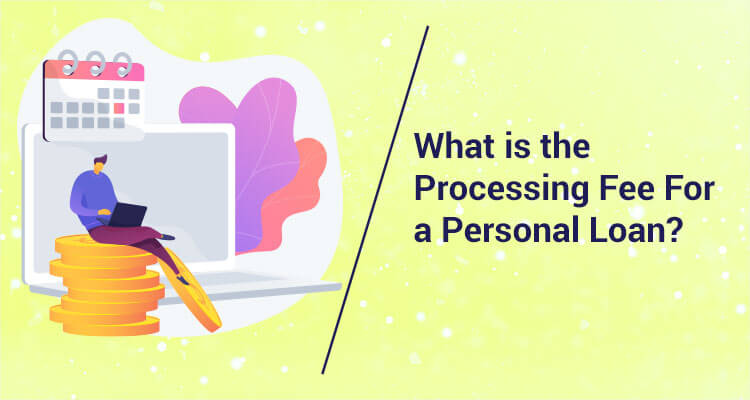 Individuals take personal loans when they do not have enough savings or liquidity to pay for a specific personal expense or emergency. Such loans do not have end-use restrictions on the loan amount, which borrowers can use without specifying the purpose. Like other types of loans, personal loans also require the borrowers to repay the principal amount and interest to the lender within the loan tenure.
However, apart from the interest amount, the personal loan process also includes multiple other charges that the lender levies on the borrower for rendering various services. One such noteworthy fee is the Processing Fee. If you are looking to avail of a personal loan, it becomes vital to understand
what is the processing fee for a loan
, as it can increase your payable amount over and above the principal amount.
What Is The Processing Fee For A Personal Loan?
Lenders offer personal loans to a borrower to ensure they have enough capital to cover their expenses. However, numerous steps are involved in sanctioning and disbursing the loan amount into the borrower's bank account; one of them is loan processing.
This step is where the lender processes the loan application of the borrower and reviews all their documents and information. Furthermore, loan processing involves going through administrative systems to create a legal contract between the lender and the borrower.
A
personal loan processing fee
is a charge levied by the lender on the borrower to recover the administrative costs of processing the loan application of the borrower and creating a legal loan contract. Generally,
a personal loan processing fee
is a percentage of the loan amount offered by the lender to the borrower and can range between 2%-4% of the sanctioned amount. However, after the introduction of GST, lenders are legally liable to charge GST on the loan processing fee.
Personal Loan Without Loan Processing Fee
Lenders requires borrowers to pay the loan processing fee for every personal loan product. However, they can waive the loan processing fee entirely or partially. It ensures the borrower does not have to pay a higher amount while availing of a personal loan. Lenders can waive off the loan processing fee in the following instances:
• Festive Offers:
During the festivals, the demand for personal loans is higher than usual as citizens have higher expenses. The higher demand for personal loans increases the competition among lenders, who may waive off the loan processing charges to attract customers.
• High CIBIL Score:
Lenders prefer to provide personal loans to individuals with a CIBIL score equal to or higher than 750 out of 900. Suppose the borrower has a high CIBIL score and fulfills the personal loan eligibility. In that case, lenders may waive the loan processing fee to ensure that the borrower takes the personal loan from their institution. The lender does this as they can offer a loan to a creditworthy borrower with lesser chances of defaulting on the loan.
Avail Of A Personal Loan With IIFL Finance.
You can analyse and compare
personal loans
from various lenders based on how much they charge and how they can affect your finances while taking the personal loan. IIFL Finance is India's leading financial services company that provides comprehensive and customised personal loans to fulfill your capital requirement. You can also use the personal loan calculator to determine your repayment obligations.
The personal loan offers instant funds up to Rs 5 lakh with a quick disbursal process. You can apply for the loan online or offline by visiting IIFL Finance nearest branch and verifying your KYC details.
FAQs
Q.1: What is the loan processing fee for an IIFL Finance personal loan?
Ans: IIFL Finance loan processing fee ranges from 2%-4%+GST.
Q.2: Do I need collateral to take a personal loan from IIFL Finance?
Ans: No, you do not need to pledge any asset as collateral to take a loan from IIFL Finance.
Q.3: How much loan amount can I take from IIFL Finance as a personal loan?
Ans: You can take a minimum amount of Rs 5,000 and a maximum amount of Rs 5,00,000 through IIFL Finance personal loan.