What Is The Debt-To-Income Ratio (DTI), And How To Get It Right?
What is DTI for personal loan? Read to know the complete steps to calculate debt to income ratio & how it is important for personal loan approval!
19 Aug,2022
12:01 IST
48 Views
83 Likes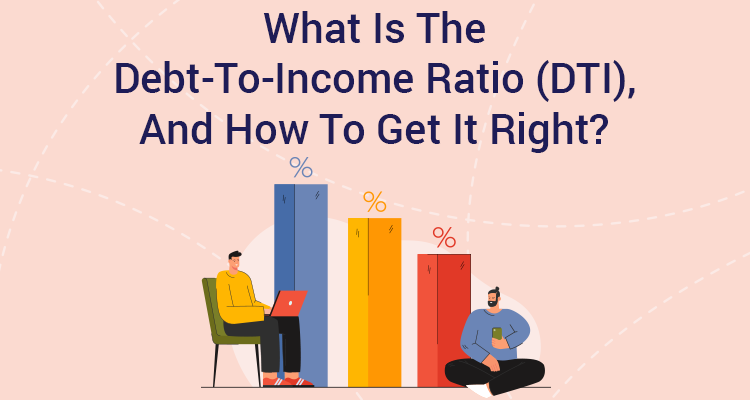 When applying for a personal loan online, you may come across many new terms, including DTI or debt-to-income ratio. This article explains the definition of the debt-to-income ratio and how it affects your personal loan application process.
What Is The Debt-To-Income Ratio (DTI)?
The DTI ratio determines your debt repayment capacity based on your monthly income. If you have a high DTI ratio, your chances of loan approval decline. However, a low DTI ratio signals your creditworthiness and improves your chances of loan approval.
When you check the loan amount qualified using the personal loan eligibility calculator and apply for a personal loan online, you must ensure you have a lower DTI.
Why Do Lenders Value The DTI Ratio?
A lender will use the DTI to evaluate your ability to repay the loan. This ratio assures them that you will not default on EMI payment in the most usual circumstances. It offers a peek into your creditworthiness too.
Calculating Debt To Income Ratio
You can calculate your debt-to-income ratio by dividing all your debt, including loans and credit card dues, by the gross income you earn every month (after tax deductions).
The formula is as below:
DTI = Gross Monthly Debt / Gross Monthly Income * 100
Where
Gross Monthly Debt = an aggregate of all your monthly debt payments
Gross Monthly Income = your income in hand per month
IIFL Finance offers a personal
loan eligibility calculator online
to help you calculate your personal loan eligibility limit, which also factors in your DTI. When you apply for a personal loan online at IIFL, you will get assured round-the-clock assistance, seamless processing and minimal paperwork.
How Can You Use DTI For Personal Loans?
It would be prudent to track your DTI before you apply for a loan. It allows you to analyze your credit risk and learn whether taking a loan is the best choice. The DTI helps you make informed decisions around debt management too.
Ideally, a DTI between 21 and 35 per cent is considered ideal from the lenders perspective. If the DTI lies between 35 and 60 per cent, there are chances of loan approval but with a relatively higher interest rate. Applicants having more than 60 percent DTI might find it very tough to get loans sanctioned.
For example, consider Mr Amit, who wishes to take a personal loan and earns an annual income of Rs. 10,00,000. His current debt includes a home loan of Rs. 40,000 and an auto loan of Rs. 20,000.
His computed DTI ratio is as follows:
Gross Monthly Income: 10,00,000/12 = 83,333
Gross Monthly Debt: 40000 + 20000 = 60,000
The DTI ratio will be (60,000/83,333)*100 = 72%
As this ratio is way above the limit approved by most lenders, he can try to improve it before applying for a personal loan.
Improving Your DTI—4 Tips To Get The Ratio Right
The first step to better financial planning when considering taking on debt is monitoring your DTI ratio. As you see a rise in income and plan on taking a loan, recheck your DTI ratio. Follow these tips if you have a high DTI:
1. Delay a big purchase unless it is essential.
2. Increase EMI payments and try paying off an existing loan quicker than its full tenure.
3. Avoid taking on debt until you hit a DTI figure below 35 per cent.
4. Try and enhance your monthly income.
FAQs
Q1. Is DTI a substitute for credit scores?
Ans. No, the DTI ratio is used along with your credit score to judge the creditworthiness and risk involved with a borrower.
Q2. Can I calculate DTI at home?
Ans. Yes, you can. Simply divide your debt liabilities by your overall income to determine your DTI ratio.