Looking For An Emergency Loan? Try IIFL Finance
You can now avail emergency personal loan online to fulfill your urgent financial requirements. Know the 5 ways to avail personal loan here!
4 Nov,2022
17:26 IST
10 Views
5 Likes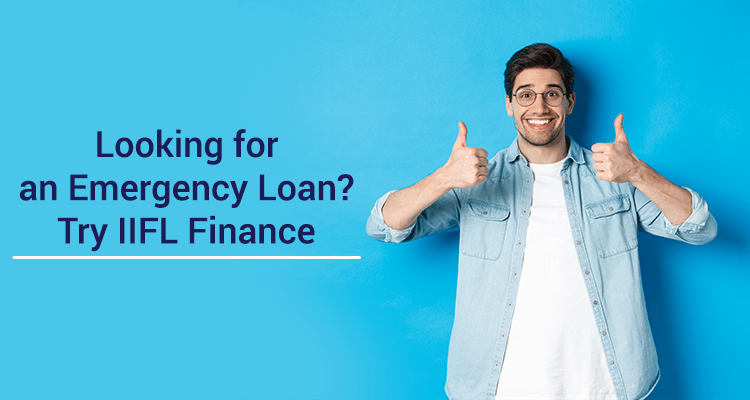 An emergency can strike anytime and leave one in a tough situation as the costs can be prohibitively high for most people. Such an emergency can be anything from a medical exigency or an unforeseen increase in wedding expenses to paying for higher education to unexpected home repairs.
In times of emergencies, a person who may be short of money can find himself or herself high and dry. A personal loan comes in very handy in such situations as it can be applied for online and does not need any collateral.
Here are five ways in which a personal loan can help one in an emergency.
1. Urgent Home Repairs:
Often, people need to go in for urgent home repairs either because their homes have been damaged by a natural or man-made disaster or a part of the house has been damaged or because they have a family function or a wedding coming up, for which they need to spruce up their abode.
In such situations, a personal loan can provide quick cash for such repairs. Instead of digging into savings or investments, a person can opt to take out a personal loan to pay for such repairs and renovations.
2. Medical Expenses:
Medical expenses can completely drain one's finances out especially if a family member or close relative is suffering from a serious ailment and needs an emergency surgery or hospitalisation. In such situations, the cost of medication, doctor's consultation, surgery, and post-hospitalisation care can be prohibitive for most middle-class Indians who often do not have any form of medical insurance. In such a situation, a personal loan can help pay for the expenses or at least ease someone's finances out a fair bit.
3. Wedding Expenses:
An Indian wedding is a costly affair. A big fat Indian wedding can end up costing a bomb and stress anyone's finances out. In such a situation, a
personal loan
can bail the family out so that they can make the best of such a joyous occasion and not have to worry about money and miss out on the fun.
4. Higher Education:
The cost of higher education has been going up staggeringly. Quite often, an education loan may not be enough or may not cover every aspect of higher education like expenses incurred other than tuition fees, cost of food and travel and other sundry expenditures. Indian parents looking to send their children to a foreign country for higher education can avail meet these expenses via a personal loan.
5. Consolidating Debt:
A person looking to consolidate their several loans into one loan at a lower interest rate can opt for a personal loan. A personal loan can be helpful not only in paying off the EMI but also reduce interest outgo, as certain other debt products such as credit cards carry extremely high rates of interest.
Why IIFL Finance
A personal loan from a reputed lender like IIFL Finance can be taken out quickly and can also be repaid online without the borrower even having to visit the company's branch.
Here are the key reasons why IIFL Finance is a great option for people looking to take out a personal loan:
1. Digital Application Process:
Prospective borrowers need not visit the IIFL Finance branch to avail a personal loan. They can submit their application online, in just a few clicks. They can also upload the required documents online. The loan is also disbursed online and the repayments can be made digitally, too.
2. Customisation:
IIFL Finance customizes personal loans to help borrowers deal with emergency situations. Whether it is a wedding, home repairs or a surgery, IIFL Finance can tailor its loan according to the borrower's requirements.
3. Competitive Interest Rates:
IIFL Finance provides loans at the most
competitive rates of interest
in the market. And if the borrower has a high CIBIL score, the interest rate is the lowest.
4. Good Customer Service:
IIFL Finance provides great customer service to borrowers and has well-trained customer service representatives to help existing or prospective borrowers. It also offers several valued-added services.
5. Repayment Flexibility:
IIFL Finance offers the borrowers
several options to repay the loan
. These include internet banking and through third-party payment apps such as Paytm, PhonePe and Google Pay.
Conclusion
Needless to say, a personal loan can come in very handy in several emergencies that can come unannounced. To deal with such crises, it is important for the borrowers to connect with a lender that not only approves the loan quickly and conveniently but also doesn't try to take advantage of the borrowers' situation at a delicate time.
IIFL Finance offers a fully online and a hassle-free experience to avail a personal loan. It also offers several value-added services as well as complete customer support, to help make your experience as seamless as possible.