Using A Short-Term Personal Loan To Close Other Loans
Learn how to use a short-term personal loan to help you manage debt and close out other loans. Read to know how to get the most out of your loan!
12 Jan,2023
09:11 IST
1638 Views
826 Likes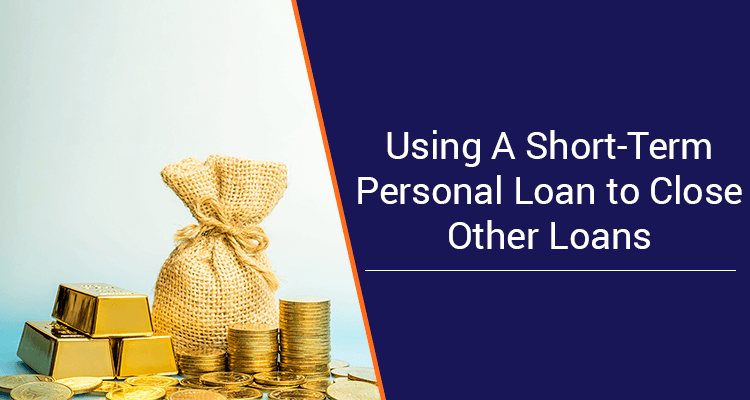 Personal loans are typically unsecured loans that do not require the borrower to put up any collateral with the lender as security. Personal loans, however, can also be secured in some ways. A person can obtain a secured personal loan by offering the lender a valuable asset as security. Lenders have the right to seize control of the pledged asset in the event of a default and recoup all or part of their investment.
Unsecured personal loans are riskier for lenders to issue because they don't require any form of security. As a result, these loans have higher interest rates than personal loans with collateral and other collateral-backed credit products such as home loans and auto loans. However, unlike a home loan or an auto loan, a personal loan does not have any end-use restrictions. This means a personal loan can be used for any legitimate purpose, from buying expensive gadgets or appliances to going on a vacation and from paying off medical bills to children's college fees.
A personal loan can also be used to repay other outstanding debts. But since personal loans carry a higher interest rate compared to some other loans, one must first try and use alternative means of payment before taking out the loan. There are a few factors one should consider before deciding on closing other loans via a personal loan.
Repaying Credit Card Debt
A credit card provides instant credit as long as one is capable of paying the minimum amount due every month. But the interest rate charged on the credit card is very high.
The interest rates on personal loans are typically lower than those on credit cards. In some cases, personal loan interest rates are virtually half that of credit card rates. However, one must research and compare the annual percentage rates (APR) of various loans offered by a number of different lenders. One can save a substantial saving of money each month with a reduced APR.
Consolidation Of Various Loans
In case one has a number of loan accounts, such as a gold loan, an education loan, a car loan, it can be difficult to keep track of all repayments. Without a proper schedule for payment, this may lead to missing an EMI. Therefore, for ease of operations, one may opt for a single personal loan to repay other loans. Making a single payment each month will be simpler to administer and easier to remember than paying from several different sources.
Freeing Up Assets
A personal loan, which can be availed without collateral, may be used to free up assets pledged to take out a car loan or gold loan. These freed-up assets may be used in the future to raise large funds again in case of emergency.
Improving Credit Score
The credit score is an important factor in availing any kind of loan. It takes into account a person's credit history and discipline and repayment capacity based on which the lender can determine the quantum of loan and rate of interest it wants to offer the borrower.
The presence of a number of loan accounts may weigh on the credit score of a borrower. Therefore, one might opt to consolidate the various accounts by taking up a single short-term personal loan to repay other loans and close those loans accounts. Repayment of other loans ahead of time and subsequently repayment of the personal loan may help to improve the credit score of the borrower.
Conclusion
Opting for a personal loan to repay other debts depends on numerous factors. Since situations may differ in each case, one must carefully study all options before taking any decision.
Loans with collaterals usually carry a lower interest rate. Therefore, one should weigh the options before closing any such loan account, as the personal loan may be more expensive to repay given the higher interest rate it carries. But a personal loan can be used to pay off costlier loans such as credit card debts.
Banks may provide lower borrowing rates, but often have more rigorous eligibility requirements and a longer approval procedure. In comparison, NBFCs such as IIFL Finance provide an easier process for personal loans with only the most basic documentation that can be completed online.
IIFL Finance processes a personal loan application within a few minutes and offers competitive interest rates. If the loan application and documents check out, the company credits the money into the borrower's account within 24 hours.