Can't Qualify For A Personal Loan? - 4 Alternatives You Must Try
Personal loan provide quick funds to pay for various expenses. Get to know the 4 alternatives you must try when you can't qualify for a personal loan!
25 Oct,2022
20:09 IST
11 views
2 Likes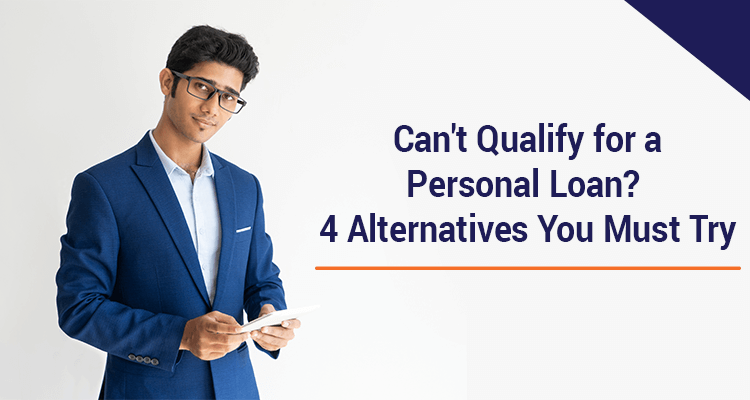 Personal loans provide quick funds to pay for various expenses, from essential expenditures to medical emergencies. Many lenders prefer creditworthy applicants or consider asking for collateral like a house or car in the absence of a good credit score. But what if you don't have a good credit history or an asset to pledge to qualify for personal loans?
This article specifies the alternative routes to consider when applying for a personal loan.
What Are The Criteria For A Personal Loan?
While
personal loan eligibility
changes depending on the lender, some fundamental
criteria for the personal loan
include the following.
• The age of the applicant must be between 21 years to 65 years
• The applicant must have a regular source of income via salary or self-employment
• A CIBIL score of 750+ or an equivalent credit score is the most desirable.
However, if you fail to fulfil the lender's eligibility criteria, you can try a few alternatives mentioned below.
Alternatives To Personal Loan
1. Follow A Budget
Pooling in extra cash from your existing budget can eliminate the personal loan requirement. You can start a side gig to earn more income, save on existing bills, and ask creditors or billing companies for interest-free payment plans to avoid applying for a personal loan.
2. Turn To Family Or Friends
Asking for money from any family member or a close friend is one of the cheapest loan options. No credit checks or credit reports are required, but you may need to consider additional planning.
A proper plan includes loan amounts, interest rates, repayment terms, and more to eliminate the guesswork. An informal credit agreement between you and the lender is sufficient for small loans. However, larger loans may require a formal contract.
3. Opt For A Secured Loan
If you fail to fulfil the criteria for
personal loans
, you can opt for a secured loan. A secured loan is where you pledge any asset to avail of a loan. These assets can be gold, insurance, property, or even your mutual funds.
4. Building Your Savings Over Time
Savings is an interest-free way to pay for emergencies and expenses. Saving for three to six months of your income is a good practice, but even a few hundred rupees in savings will help cover most unexpected expenses.
Avail Of A Personal Loan With IIFL Finance
Now that you know how to qualify for a personal loan, apply for a personal loan with IIFL Finance. IIFL Finance is a leading personal loan provider in the country. Get approval within a few hours, with disbursals between 24-48 hours of application approval.
Check our website's detailed personal loan eligibility or visit your nearest branch. With the most competitive interest rates, IIFL Finance can be the best solution to your capital requirements.
Frequently Asked Questions
Q.1: How to qualify for a personal loan?
Ans: Apart from the lender-specific requirements, some fundamental criteria for personal loan eligibility include the following.
• The applicant must be aged between 21 - 65 years
• Applicant must be salaried or self-employed
• A CIBIL score of 750+ or an equivalent credit score
Q.2: What are the minimum and maximum loan tenure?
Ans: IIFL Finance offers a personal loan for a minimum of 3 months and a maximum of 42 months.