Steps To Verify Your Lender Before Taking Personal Loan
Wondering on how to take a personal loan? IIFL Finance provides a 6 steps that will help you to verify the lender before taking a personal loan!
27 Sep,2022
09:17 IST
14 views
5 Likes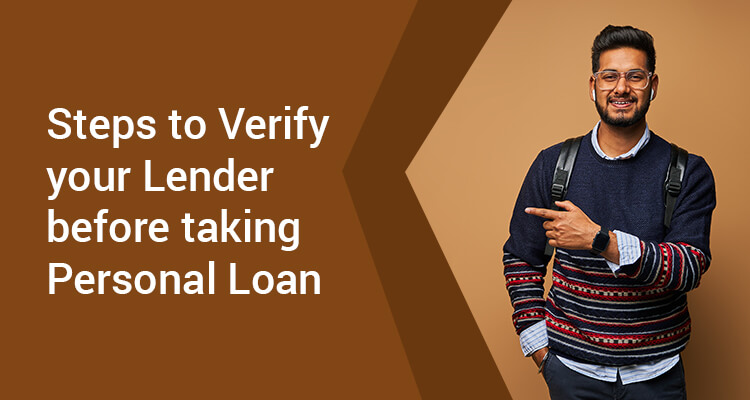 In times of financial crisis or cash crunch, personal loans can be a lifesaver. The availability of different personal loans from banks and non-banking financial companies has improved how you can obtain one. However, not all lenders are reliable, as some charge high interest rates or may not even be legitimate. You can verify the lender of your online personal loan by following these steps:
1. Learn About Your Lender
Before
taking a personal loan,
borrowers should know their lender for a safety check, just as lenders perform Know Your Customer (KYC) upon each application.
Find out if a company is registered with the RBI. An RBI-licensed lender must follow strict guidelines and abide by a code of conduct to provide borrowers with the best possible service. Unless the RBI approves, a lender is unlikely to be authorised and not bound by the same privacy rules as RBI-approved lenders.
2. Make Sure You Check Your Lender's Website
Legitimate
personal loan
lenders should have an updated website with relevant company information. It may consist of their certificate of registration (CoR), a company identification number (CIN), or information about the product and services they offer.
Mobile loan apps that lack a website in their name are not trustworthy. Additionally, you should check the URL for HTTPS even if the website is listed. Reliable lenders ensure that their website's connection is secure. Cybercriminals cannot steal data from such websites because they shield their customers' identities.
3. Identify Grievance Redressal
You can also check their website to see if they have a Grievance Redressal Mechanism listed so you can identify legal lending apps with RBI registrations. Verified lenders must comply with several regulations regarding KYC and collection practices to protect their customers.
4. Check The Loan Approval Procedure
Unauthorised lending apps often offer to skip crucial steps in the loan approval process to attract users. For example, beware of apps that advertise "quick approval of personal loans without income proof or PAN Card." All such "too good to be true" practices are a red flag.
5. Check For Your Lender's Physical Address
Each lender must have a physical address, a telephone number, and an email address. There is a good chance that your lender is a fraud if you can't find any of these essential details.
6. Check The Reviews
The last thing you should do is examine the review section of the lender's app on the App Store or the Play Store. it will give you an idea of what previous/current borrowers experience with the lender. Additionally, it is essential to download the app from an app store, not the lender's website.
Get A Personal Loan From IIFL Finance
Apply for a
personal loan with IIFL Finance
, one of India's most trusted lenders, and fulfill all your financial dreams. IIFL allows you to raise funds instantly at attractive, affordable, and low-interest rates. Wondering how to take a personal loan? You just need to visit IIFL Finance website and follow three simple steps!
FAQs
Q1. What are the documents required for a personal loan?
Ans. For a personal loan from IIFL Finance, you need the following documents:
• Selfie
• Address proof (Aadhar card/Driving License)
• ID proof (PAN Card)
• 06-12 months CA/SA Bank Statement
Q2. Can you use a personal loan for business purposes?
Ans. You can use a personal loan for almost anything, including funding for your business.