Pre-Qualified Personal Loans – Check Eligibility and Process
Discover the process and benefits of pre-qualified personal loans. Learn how to check your eligibility and understand the requirements for approval!
19 Jan,2023
10:34 IST
2759 Views
1468 Likes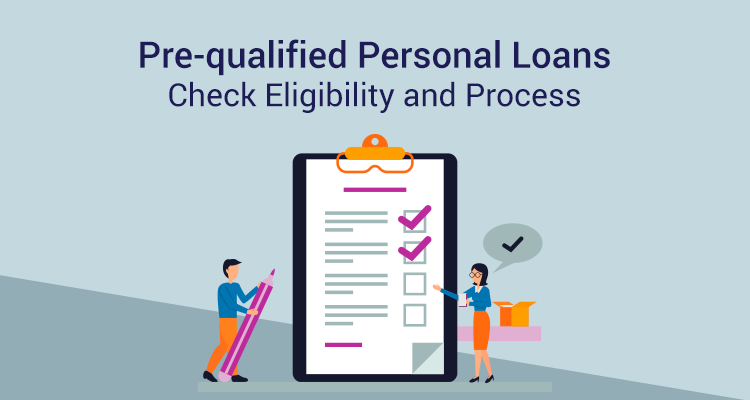 Personal loans are sanctioned by banks and other financial institutions to individuals who need easy access to money. Most banks and NBFCs permit borrowers to get personal loans without any collateral, and this is why there has been a steady rise in the number of personal loans in India. While dealing with personal loans, one is likely to come across the term pre-qualified loans.
What Are Pre-Qualified Loans?
Pre-qualified loans are loans offered by creditors to customers based on their creditworthiness. Pre-qualified or pre-approved loans are mainly offered via conventional mail, phone or email. If customers choose to apply for the pre-screened offers, the loan application will likely be approved without a hitch. Sometimes to attract customers lenders may even offer special discounts on pre-approved personal loans. These offers could include waiving the processing fee or reducing the interest rate for a limited period.
This type of loan facility is offered by many banks and NBFCs to grow their loan books. Since these loans are generally offered to people with good credit scores, these usually carry lower interest rates than that offered to regular customers. The rate of interest differs from bank to bank and it is advisable to check for the interest rates before borrowing.
The biggest advantage of pre-approved personal loans is that an existing customer of a particular financial institution can get the loan amount disbursed within a day into their account. Hence, these loan offers prove in handy at times of a financial crisis. But pre-qualified offers do not indicate guaranteed funds. It may change as per the customer's credit profile, which may cause lenders to revise their pre-approved offers.
Eligibility For Pre-Approved Personal Loans
A good credit history and repayment record are needed to be eligible for the instant loan facility. Sometimes banks may pre-approve a loan if one has previously taken out loans and has repaid them on time.
Generally, lenders use technology to check parameters like credit score, credit history, bank balance, and income details of customers, and then select people for the exclusive deals. There are also a few banks that may offer pre-approved loans to someone with no credit history if they have a stable income source and enough savings.
An important thing to note is that though pre-qualified may seem to be the same as pre-approved, there are some differences between the terms. A pre-qualification is the first step of a pre-approval. In pre-qualification the borrower can either consult the lender or use specific digital tools to know whether they qualify for the loan. On the other hand, a pre-approved personal loan is an instant loan which is provided to existing borrowers after assessing their profile.
Pre-approved loans are valid only for a certain period and must be applied within the specified time frame to be eligible for the special discount. Another important thing to note is that mostly bank offers are available for existing customers, though certain lenders may make pre-approved offers to new customers as well.
Applying For Pre-Approved Personal Loans
Usually, banks and NBFCs offer such loans on the customer's online account or mobile application. In some cases, bank executives may call to inform about the offer. Individuals who need urgent cash can check with the lender if a pre-approved loan offer is available on their account. Alternatively, they can log into their internet banking account to confirm eligibility.
Customers willing to take a pre-approved loan must fill the application form, mentioning the required loan amount and the desired repayment tenure. Lenders may ask for documents to confirm income and KYC details. After the verification is completed by the lender, the loan amount is credited into the bank account.
Conclusion
Several banks and NBFCs offer pre-approved loans to customer's with exceptionally good credit profile against zero collateral and basic documentation. Like any other loans, all pre-approved loans must be repaid in equated monthly installments (EMIs). So, if one intends to avail a loan based on the pre-approved offer, one must be aware of the terms and conditions as well as the charges levied by the lender.
IIFL Finance offers personal loans at attractive terms and interest rates to customers. These loans come with flexible end-use and thus, can be taken to meet any personal or business needs. Moreover, IIFL Finance personal loans come with flexible repayment options that help borrowers to clear their outstanding dues without any hassles.