Personal Loan For Salary Of Less Than Rs 15,000
A monthly income of 15000 falls under the high risk category for lenders. Read on to know how much personal loan you can get for 15000 salary!
30 Oct,2022
12:27 IST
4606 Views
9 Likes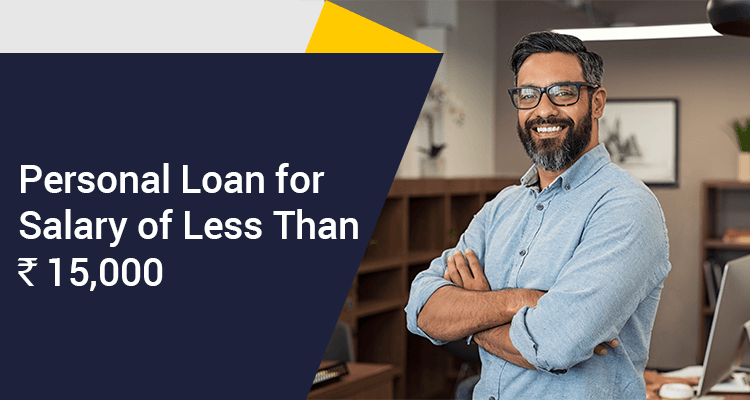 With a share of over 25% in the overall credit basket of the banking system, personal loans are one of the most popular debt products in India. Banks and non-banking finance companies offer easy personal loans to those with a decent credit repayment history and a minimum monthly salary of Rs 15,000.
That leaves us with a question whether lenders offer personal loans to those with salary less than Rs 15,000? What should such people do in case they need money in an emergency?
While most banks have kept the threshold salary level to offer a personal loan at Rs 15,000 per month, there are a few lenders including NBFCs that offer personal loans to those with lower monthly income. As there is no collateral required for personal loans, lenders consider the low-income category a risky asset and offer them loans at high rate of interest.
A quick scan of websites of banks and NBFCs will show results of estimated rates of interest, tenure and EMIs for loans to those with a salary of less than Rs 15,000. Remember, while the income one earns is a primary factor for determining the eligibility for personal loans, lenders also give weightage to a strong credit score.
How Much Personal Loan Can One Get?
Broadly, banks and NBFCs would offer personal loans up to Rs 150,000 for those with salary of less than Rs 15,000 per month. However, some lenders may offer even higher amount based on some factors, including other sources of income such as rent etc.
Lenders calculate loan eligibility based on income and repayment potential of the customer. They would ideally want the net repayment to be within 50% of the net monthly income. This implies that their total credit card and existing EMI obligations, including that of the proposed loan, should not exceed 50% of the borrower's total monthly income.
Simultaneously, the borrower must also have a strong credit score, preferably 750 or above.
Rate Of Interest
Depending upon the applicant's profile, lender may charge anything between 11% and 35% as the rate of interest. Lenders offer personal loans at a higher rate of interest to those who fall under the high-risk category.
Other Charges
Apart from interest, a borrower would also be needed to pay a processing fee of 0.5-6.0% of the total amount of loan. In addition, banks levy fees towards documentation and amortisation schedule. The lenders also charge a late payment fee and penal fee, compounded monthly.
Banks may also charge a fee in case a borrower wants to change the mode of repayment at a later stage or swap the post-dated cheques with a new one. Also, the lender may not give a prepayment option or may charge a fee towards loan foreclosing.
Conclusion
A monthly income of less than Rs 15,000 falls under the high-risk category for larger banks, and hence they are wary of lending to this segment. However, there are NBFCs and smaller banks that do lend to this segment.
It is, therefore, important for an individual under this category to keep a strong credit score. A borrower in this segment should check the rate of interest and eligibility conditions of lenders before initiating the application process.
The borrower also needs to look at lenders that are flexible with their payment mechanism and foreclosure costs.
At IIFL Finance, personal loans up to Rs 5 lakh can be availed on a rate of interest at 11.75-28.00% per annum.
Personal loans create a financial obligation on the borrower for its repayment within the loan tenure. Hence, it is important to have more than one means to repay the EMIs. Apart from the monthly debit from the account, IIFL Finance offers the borrowers options to repay the loan EMI online, or through its app or a payment wallet.