Personal Loan For Chartered Accountants
Personal loan approval process for chartered accountants is quick and simple. Read on to know the 4 steps to get personal loan for chartered accountants!
1 Nov,2022
12:17 IST
75 Views
12 Likes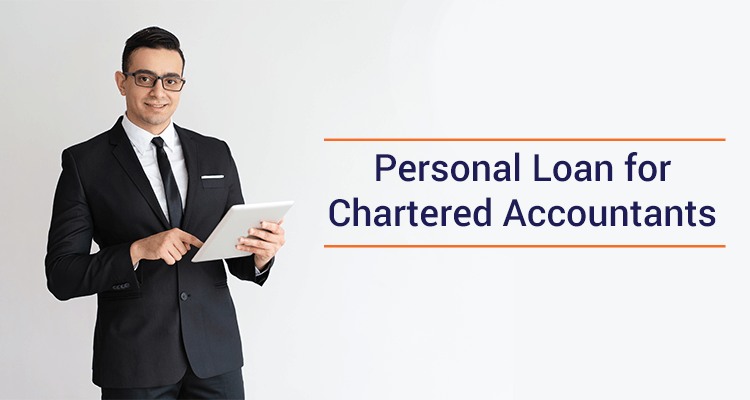 Chartered accountants are typically well-paid in India. But every once in a while, anyone can run into a cash crunch. Personal loans are one of the easiest ways to get funds for any urgent need, such as unexpected medical expenses or even non-urgent matters such as a vacation, or to renovate the house or finance children's education.
Whatever be the need, personal loans can help with that, as they are free of end-use restrictions. Also, like people from any other professionals, chartered accountants, too, get personal loans without any collateral.
Let us have a look at what lenders look at before giving personal loan and how chartered accountants can meet these norms:
CIBIL Score:
Personal loans are free of collateral and hence risky for lenders. Most banks and non-banking finance companies (NBFCs) look at the borrower's credit score before giving a loan. The CIBIL score is arrived at after reviewing a borrower's repayment history and open loan accounts. This score is a three-digit number that goes from 300 (the lowest) to 900 (the highest). A higher score shows the borrower's strong history and ability to repay loans, while a lower score alerts the lender that authorizing a loan to the applicant may be riskier.
Chartered accountants should ensure that they have no default or delay on repayment of installments on loans. They should also ensure that their open-loan-to-earnings ratio is not very high.
Income:
A regular income is another criterion for assessing the creditworthiness of a borrower. Here, documents such as salary slips are handy to show the repayment capacity to lenders. While chartered accountants employed with accounting firms can show salary slips, those have their own practice can submit documents such as bank statements, invoices, and tax returns as proof of regular income.
Type Of Employer:
Most lenders prefer employees with the government, public sector units (PSUs), top companies, and professionals such as doctors and chartered accountants for personal loans. This gives the lenders assurance of the stability of the borrower's organisation and repayment ability of the borrower.
Chartered accountants are already among the preferred customers of banks and NBFCs for personal loans due to high repayment capacity.
Steps To Get Personal Loan
Fill Up Loan Application:
Online
personal loan applications
are quite easy to complete. The only thing the borrower needs to do is fill out a form on the lender's website or mobile application. This can also be done offline at the branch office of the lender. The borrower must provide his or her basic information such as name, date of birth, address with supporting documentation, bank account information, Aadhaar and PAN card numbers, and information about the employer or business, if self-employed such as chartered accountants. Each lender may have slightly different requirements.
Submit Documents:
A lender may request the borrower to provide proof of income, income tax returns, bank statements, and information about any other existing loans in order to assess the borrower's creditworthiness. These specifications could change from lender to lender and depend on the loan amount requested.
Loan Offer:
A loan offer is made once a lender has verified that the applicant is creditworthy and qualifies for a loan. The borrower can obtain a better interest rate if their credit rating is on the higher side.
Disbursement:
Once the borrower accepts the loan offer, the funds are transferred to the bank account that was provided during the loan application process.
Conclusion
The personal loan approval process for chartered accountants, like in the case of most professionals, is quick and simple. Additionally, many lenders can create loans with flexible repayment plans connected to the chartered accountant's invoicing cycle. Chartered accountants can choose a lender that offers a quick process for sanctioning the loan at a competitive rate. They only need to keep the essential paperwork ready.
If you are a chartered accountant looking for a personal loan, you should approach a reputed lender or a non-bank lender such as IIFL Finance. IIFL Finance offers faster approvals and disbursement. It offers personal loans up to Rs 5 lakh at attractive interest rates. Moreover, IIFL Finance provider greater flexibility than most traditional banks that allows chartered accountants to repay the loan according to their cash flows.