How To Get Personal Loan Against Cash Salary (Simple Five Ways)
Seeking to get a personal loan on a cash salary? If yes, then you must read this article to know how to get a personal loan without a salary account.
21 Oct,2022
17:14 IST
19 views
12 Likes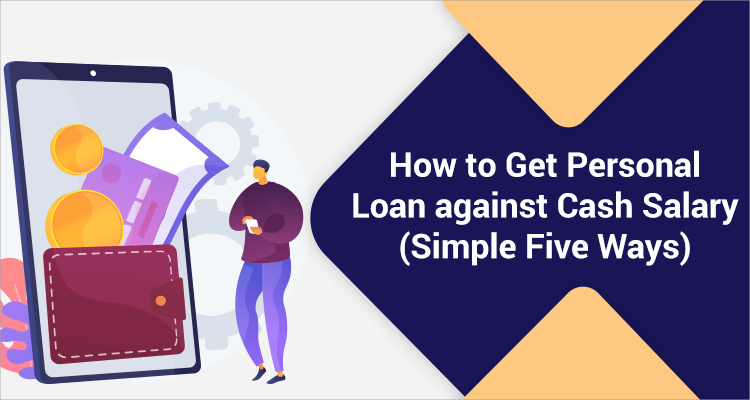 A personal loan is one of the most versatile ways of getting ready cash when one falls short of money. Not only can a personal loan be availed without any collateral, the application process is also quick and easy. And once a borrower's documentation and other important details are in order, the money can be disbursed to their account in no time.
Moreover, there are no restrictions on how the borrower can use the money. They can, for instance, use it to pay off a medical bill or school or college fees or for that matter even a wedding expense that had not been budgeted for. They can also use the money to splurge on the latest gadgets or to go on an international vacation.
A personal loan is offered based on the borrower's creditworthiness and credit score, or the CIBIL score, which tells the lender if the person has the ability to repay the loan or if he or she could end up delaying repayment or even defaulting on the loan.
Apart from one's credit history a key factor that often determines whether a borrower's
personal loan application
gets accepted or rejected is their proof of income.
While most employers credit salaries into their employees' bank accounts and issue salary slips, it is possible that some employees are paid in cash, for a part or the entirety of their salary, and that they do not get any salary slips that they can show as proof of income.
Not having a salary slip does not, however, mean that a person cannot get a personal loan. Quite a few lenders have now begun offering personal loans to people who cannot furnish salary slips and do not have salary accounts.
So, a person who cannot furnish a salary slip or does not have a salary account can get a personal loan by giving one or more of the following documents as income proof:
Bank Statements:
A person getting a cash salary may deposit it in his or her savings bank account and may withdraw from that account. So, a savings bank account statement can serve as a proof of income that can be submitted while applying for a personal loan. Most lenders typically require a bank statement of the last three months to process a personal loan application.
Income Tax Returns:
A borrower's income tax returns, too, can serve as a proof of income. A regular taxpayer should have no problem in getting a personal loan even if they get paid in cash but show that as income while filing their annual income tax returns.
Letter From Employer:
Even if one is paid in cash, a letter from the employer attesting the borrower's salary could serve as proof of income. Such a letter would need to be on the company letterhead and have its seal as well as the signature of a person authorised to attest the borrower's salary and status of employment.
Offer Letter and Salary Vouchers:
A borrower can also produce their company's offer letter as supporting proof of income, although the letter by itself is not sufficient to prove that the money was indeed paid by the employer and that the borrower has a regular source of income. So, if someone is paid in cash, they should ask their employer for salary vouchers for three to six months. These vouchers, along with the offer letter, can serve as a proof of income.
Loan Against Investments:
A borrower can also get a personal loan by pledging some of their investments like fixed deposits, gold, mutual fund units and shares. This will, however, be a collateralized loan and not uncollateralized like most personal loans usually are.
Conclusion
As is evident, even if you get paid in cash,
getting a personal loan
should be no problem for you, especially if you approach a well-established lender like IIFL Finance.
As long as you can submit any of the above-mentioned proofs of income and satisfy a lender that you have the ability to repay the loan, you should be able to get one at the most competitive interest rates in the market.
IIFL Finance offers an instant personal loan of up to Rs 5 lakh through a fully online application, which is processed within five minutes and the amount is disbursed within 24 hours.