Parameters To Consider When Comparing Personal Loans
Due to the multiple options, it becomes crucial to compare personal loans. Read on to know 4 parameters to consider when comparing personal loan at IIFL Finance.
28 Oct,2022
19:22 IST
6 views
2 Likes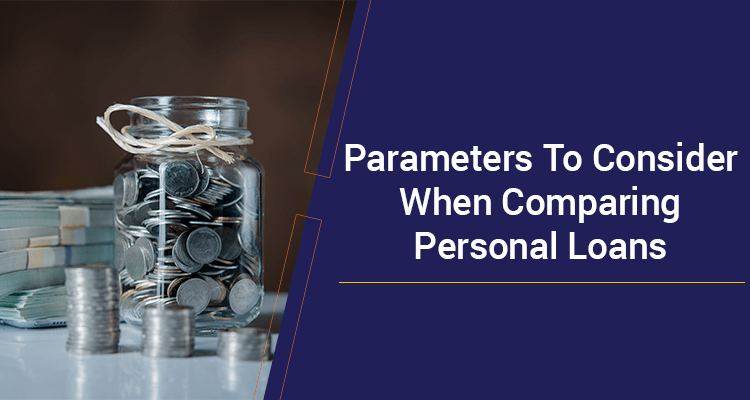 The demand for personal loans continues to rise as it allows the borrower to fulfil a wide range of funding requirements. You can use a personal loan for medical emergencies, wedding planning, or other expected or unexpected expenses. This article highlights the parameters to consider for personal loan comparison.
Parameters To Consider When Comparing Personal Loans
Personal loans are one of the easiest and fastest ways to fulfil various expenses. Numerous banks and NBFCs offer different personal loan schemes. Due to the multiple options available in the market, it becomes crucial to
compare personal loans.
1. Personal Loan Interest Rate
The interest rate is the cost you pay to borrow money. Hence, it becomes essential to
compare
personal loan interest rates
. Shortlist a few lenders with the most competitive rates and approach them. Too many inquiries can make lenders suspicious, leading them to contact the credit bureaus to verify a prospective applicant's credit history. It can affect your creditworthiness.
2. Type Of Lender
Various banks and NBFCs offer personal loans. Typically, banks offer lower interest rates and higher payments but involve more hassle and time to pay off the loan. Hence, if you need funds urgently, NBFCs may be your ideal choice. They charge higher interest rates, but the documents required are quickly verified online through data analysis, social media mining, and other digital means.
3. Hidden Or Additional Charges
Personal loan comparison
also includes comparing additional or hidden fees that may add to the overall cost of the loan. A processing fee is one such cost and may vary by lender. Please note that lenders may be able to waive (or reduce) some of these additional charges upon request. Such fees may include advance fees, late fees, administrative fees, attorney fees, and collection costs. The surcharges range from 1% to 3% of the total loan amount.
4. Loan Tenure
Choosing the wrong tenure can lead to financial difficulties later and increase the risk of default. You must evaluate different tenures and EMI options to determine the best one based on your income, needs, and repayment ability.
In addition to the above points, knowing the entire application process in advance is crucial to estimate the time taken for documentation processes and loan disbursals.
Apply For A Personal Loan With IIFL Finance
IIFL Finance is one of the leading
personal loan
providers in India. It provides the most competitive rates and approves loans instantly. You can complete the entire process online, from loan application to loan disbursal, in 24-48 hours. IIFL Finance has served over 6 million happy customers with their loan requirements. Apply and join them today.
Frequently Asked Questions
Q.1: What is loan insurance?
Ans: Lenders force borrowers to take insurance policies along with their loans, regardless of whether the loan is secured or unsecured. It protects the lender from the risk of loss in the face of unforeseen circumstances. However, the premiums are high, further driving up the borrowing cost. If insurance is required, choose a policy that offers maximum coverage at a reasonable premium.
Q.2: Is pre-payment allowed for personal loans?
Ans: Certain lenders may allow prepayment of the loan amount based on the terms with a pre-payment penalty. If you want to pre-pay the loan before the loan tenure ends, check if your lender allows it.