Need 30000 Personal Loan Immediately? Learn to Apply.
If you need a 30000 personal loan immediately, this article provides tips and an application guide to help you get approved quickly. Read Now!
17 Feb,2023
10:47 IST
2803 Views
1048 Likes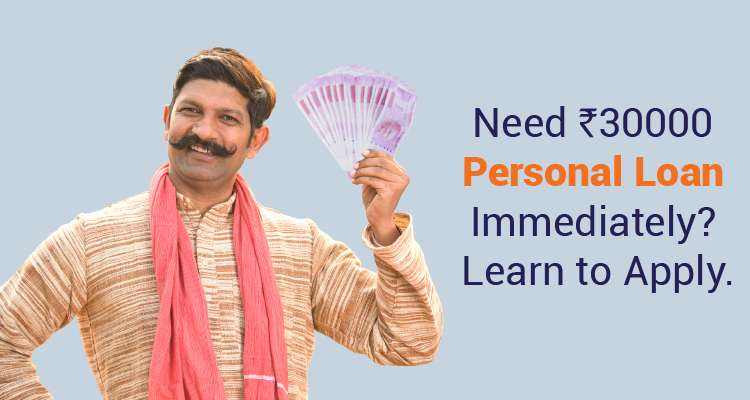 Applying for a personal loan can be daunting, especially when you need funds urgently. A personal loan can provide funds to pay off debts, make home improvements, or cover unexpected expenses. However, applying for a personal loan can be confusing and time-consuming, especially if you are unfamiliar with the procedures and requirements.
This article will guide you through applying for an INR 30,000 personal loan and provide you with tips to help increase your chances of getting approved.
Determine Your Eligibility Criteria
If
you need a 30000 loan urgently
, you must determine whether you fulfil the eligibility criteria for a personal loan. Most banks and financial institutions in India require borrowers to meet specific eligibility criteria, which include the following.
• Age:
You must be at least 21 years old and not older than 60 years old at the time of loan maturity.
• Income:
You must have a stable income and repay the loan monthly.
• Employment:
You must be employed in a permanent or semi-permanent job or have a steady source of income.
• Credit History:
You must have a good credit score and a clean credit history.
Choose A Lender
Once you have determined your eligibility criteria, you must choose a lender offering low-interest personal loans. You can compare different lenders and their loan products online or visit your local bank or financial institution.
Additionally, you must gather all the required documents before starting the application process. They may vary depending on the lender, but some standard documents include the following.
• Identity Proof:
PAN card, Aadhaar card, passport, or driving license
• Address Proof:
Aadhaar card, passport, driving license, bank statement, or utility bill
• Income Proof:
Salary slip, Form 16, bank statement, or ITR
• Signature Proof:
PAN card or passport
• Loan Application Form:
You can either get the form from the lender or download it online.
Fill out the application form accurately and truthfully. False information can lead to loan rejection. Therefore, provide complete details on income, expenses, debts, and credit history. Submit the form and required documents in person at the lender's branch or online for efficient processing.
Wait For Approval
Once you have submitted the application and required documents, you must wait for the approval. Depending on the lender, the approval process may take several days to a week.
Get The Loan
You will receive the loan amount in your bank account if your loan application is approved. You will also receive a loan agreement that you need to sign and return to the lender.
Tips To Increase Your Chances Of Getting Approved For A Personal Loan
If you need an instant INR
30,000 loan
in India, you can follow these steps to increase your chances of being approved.
1. Improve Your Credit Score:
A
good credit score
is essential to get your personal loan application approved. You can improve your credit score by paying your bills on time, reducing your debt-to-income ratio, and avoiding applying for multiple loans at once.
2. Provide Proof Of Income:
Lenders review your income to determine whether you can repay the loan. Provide bank statements or salary slips to show your steady source of income.
3. Choose The Right Lender:
Some lenders are more lenient and offer loans to people with lower credit scores, while others have stricter eligibility criteria. Choose a lender that's right for you.
4. Apply Online:
Applying for a personal loan online
is convenient, fast, and straightforward. Online lenders have a more automated process, and you can get an instant loan decision.
However, if your credit score remains below the eligible level, the options may be limited. However, two options may help increase your chances of being approved for a loan: providing collateral or finding a co-signer.
Collateral refers to assets such as a car, real estate, or jewellery you pledge to the lender as security for the loan. If you default on the loan, the lender can seize the collateral to recoup their losses. Providing collateral can increase your chances of being approved for a loan, as it reduces the lender's risk.
A co-signer is a person who agrees to repay the loan if you are unable to do so. They are essentially responsible for the loan with you. If you have a co-signer with a good credit score, it can increase your chances of being approved for a loan, as the lender will see that there is someone else who can repay the loan if you default.
However, while providing collateral or finding a co-signer can increase your chances of being approved for a loan, it's not a guarantee. Do your research and carefully consider the terms and interest rates of the loan before deciding.
With these tips, you can get the funds you need quickly and easily.
Avail Of A 30000 Instant Loan With IIFL Finance
We offer a range of
personal loan
products that cater to the diverse financial needs of individuals. The loan application process is straightforward, and the loan disbursal is quick. With competitive interest rates, flexible repayment options, and a supportive customer service team, IIFL Finance makes it convenient for you to get the funds you need. If you need a personal loan, consider applying from IIFL Finance and experience the benefits of responsible borrowing.
Frequently Asked Questions
Q.1: Can I get a personal loan of 30000?
Ans: Yes, you can quickly get a 30000 personal loan if you are eligible and have the documents ready.
Q.2: I need a Rs. 30000 loan urgently, how can I get it?
Ans: If you want a 30000 loan, you can check the eligibility criteria with the bank or NBFC, submit the required documents, and wait for approval. Your loan amount will be credited to your bank account soon.