The Average Credit Score For Personal Loans
Wondering what credit score you need to get approved for a personal loan? Learn about the average credit score for personal loan approval here!
31 Jan,2023
10:03 IST
3637 Views
1691 Likes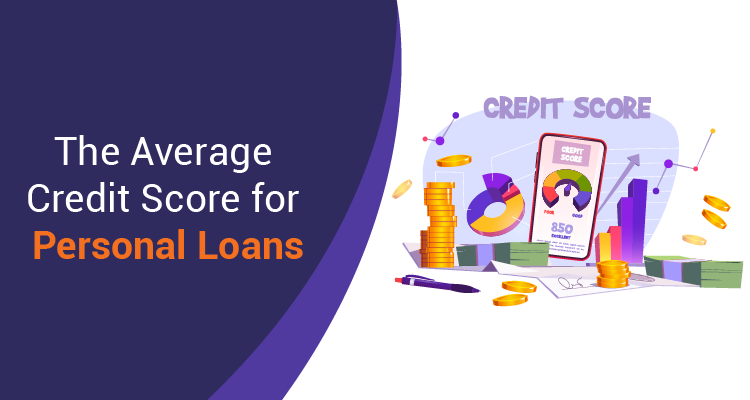 A personal loan is an unsecured credit facility provided by financial institutions based on criteria like employment history, income level, profession and credit score. It can be used to cover a number of personal expenses like home renovations, wedding, vacations, medical expenses etc.
These loans are different from other loans like car loans or home loans, which are used to fund specific expenses. Nowadays, an increasing number of people are applying for personal loans to meet their expenses. The main reasons for the increasing popularity of personal loans are:
• They are collateral-free
• They require only a handful of documents
• The processing time is faster
• They can be used to meet any financial obligation of the borrower
Personal loans can vary greatly when it comes to their interest rates, fees, amounts, and repayment terms. Since, these loans are collateral-free the lender checks the credit history of the borrower before assigning the loan. The credit history of an individual is reflected by the credit score. Hence, a good credit score will help an individual to get a personal loan faster and at an affordable rate of interest.
What Is A Credit Score?
A credit score is a three-digit number indicating a person's creditworthiness or the ability to repay debt. The higher the score, the better the borrower looks to potential lenders. It is based on the person's repayment history and credit records across different loan types and credit institutions.
In India, there are four major credit information companies licensed by the RBI that provide credit scores. These are TransUnion CIBIL, Experian, Equifax and CRIF Highmark.
The credit score ranges from 300 to 900. Broadly, the scores can be categorized in the following ranges:
NA/NH: It stands for 'Not Applicable' or 'No History'. This implies that the borrower has no credit history. This could be because the person have never taken a debt in the past nor used a credit card.
Poor (300-549): This implies that the borrower did not pay off loans and credit card dues on time. Getting a loan with this score is difficult as the borrower is at a high risk of defaulting.
Average (550-649): This score makes the chances of getting a loan slim. Most lenders avoid giving credit to people with this score range. The lenders who approve a loan may charge comparatively higher interest rates. Borrowers fall in this range if they fail to pay their credit card bills and loan repayments on time.
Good (650-749): This indicates good credit behaviour to financial institutions. A loan application may be approved quickly. However, some lenders may still charge high interest rates.
Excellent (750-900): This implies that the borrower pays all credit card dues and loans on time. An applicant with this score has a greater chance of getting the loan approved at the best interest rates.
Ways To Improve or Maintain Your Credit Score
In case you do not have a good credit score, you can always work to progressively raise the score through various methods. Here are some of the ways to improve or maintain credit score for personal loans:
• Make sure you pay all your EMIs and dues on credit card on time.
• In case you possess a credit card, then make sure that you pay not just the minimum dues, but the full outstanding amount, that too on time.
• The number of loans and the amount of outstanding loans must be in sync with your income.
• Don't exhaust all the available balance on credit card. Try not to exceed 30% of the credit limit on the credit card. And, don't have too many credit cards.
• There's a chance that the credit score may contain information that was incorrectly recorded or favourable information that was overlooked. It is vital to keep oneself informed about their credit score on a regular basis.
• Apply for the loan jointly with someone who has a better credit or CIBIL score.
• Once a person has improved the credit score, they can hope to get the best interest rates on any future personal loans they may take.
Conclusion
The credit score is one of the most important parameters lenders consider while approving a personal loan. So, a person must maintain a good credit score. There are various ways to improve and maintain a good credit score.
A person seeking a personal loan can approach banks and other financial institutions like IIFL Finance, one of India's largest non-banking finance companies. IIFL Finance personal loan comes with attractive and affordable interest rates to help you meet your expenses easily.
When you apply to get an instant personal loan from IIFL Finance, it is processed in less than five minutes without any extensive documentation. Moreover, personal loan EMIs are flexible and allow for better liquidity and easy achievement of set personal goals.