Minimum CIBIL Score For Personal Or Business Loan
A certain minimum or ideal CIBIL score is necessary in order to avail personal or business loan. Get to know how much cibil score is required for your loan here!
29 Jul,2022
08:51 IST
363 Views
244 Likes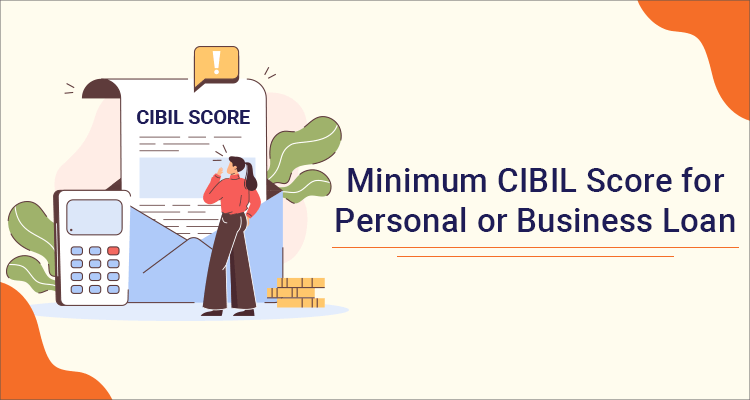 Access to finance allows an individual to meet his or her short-term personal or business needs that cannot be met by the monthly income. This can provide flexibility in managing expenses such as for meeting short-term cash requirements, purchases for a wedding, a medical exigency or for catering to certain business needs.
While one has numerous options these days for taking a personal loan or a business loan, one factor that is important to be kept in mind is the credit score.
What Is A Credit Score?
The credit score is also known as the CIBIL score, after the company which pioneered the concept in India—Credit Information Bureau (India) Limited, or CIBIL.
The credit score is a three-digit number compiled by independent private agencies based on the credit transactions and repayment history of a person. It is derived by assessing one's previous loans including ownership of credit cards and other loans and their repayments on time.
If one has missed payments, say of a credit card monthly due or any equated monthly installment (EMI) in the past, it lowers the score as lending to the person is seen as risky.
At the same time, if one has lots of existing loans, it lowers the score. Even if one has not taken a loan but has multiple credit cards in use, that is also deemed as credit, even if it is of a short duration and it affects the credit score.
The score typically ranges in the 300-900 range; the higher the score, better the creditworthiness and vice versa.
Why Credit Score Is Important
It is virtually impossible to have the maximum score and lenders do not seek those with a perfect score.
But the credit score is still a critical factor in availing both secured and unsecured loans. Secured loans are borrowings for purchasing a car or a house which is mortgaged. Unsecured loans are those that are made without a guarantee, such as a personal loan, which is typically given on the basis of the income profile of the borrower.
Lenders depend on the credit score as a filter to decide the creditworthiness of the borrower. The rate of interest charged and the actual quantum of loan disbursed is also dependent on the score.
Minimum Score For Personal Loan
Typically, a score of 600 is seen as the lower limit for availing a personal loan, which is a collateral-free debt. However, depending on the credit reporting agency, a credit score of 700-750 is considered as the threshold for having a 'good' score. A good score makes easy for loan processing, lower interest rates and higher sanctions amount.
One can still avail a personal loan below the 700-mark but it may mean a lower amount or a higher rate of interest to compensate for a riskier borrower's profile.
Minimum Score For Business Loan
A business loan can be taken by a business entity or a person. These could be for those having a small production unit or a service such as a travel agency and so on. Self-employed professionals such as a chartered accountant, a doctor or a consultant can also take such loans.
In the case of a business loan availed by a business entity, the business credit score of the entity in addition to the personal credit score of the owner(s) are taken into consideration.
If the business loan is being taken by an individual, the personal credit score comes into play. However, here one difference is whether the business loan is unsecured or comes with security. In the case of the former, similar to a personal loan, the threshold for a lender to get a comfort factor is 700 and above.
But if the business loan is secured, the lenders may sanction loans on similar terms, even with a relatively lower credit score in the range of 600-700.
Conclusion
The credit score is an important parameter that lenders consider while approving a loan. But the good news is that you don't necessarily need to have a very high score to get a personal or business loan. So even if you have a score under 700, you may get a lender to sanction a loan.
A higher credit score just tends to push down the likely rate of interest you would be charged for the loan and may also increase the size of the loan you can have.
But whether you are seeking a personal loan or a business loan, you should approach reputed banks or non-bank lenders such as IIFL Finance. NBFCs such as IIFL Finance offer greater flexibility, faster approvals and easier repayment terms than traditional banks.
IIFL Finance, in fact, offers swift approval for personal loans up to Rs 5 lakh and business loans up to Rs 30 lakh at attractive interest rates.