Get The Lowest Personal Loan Interest Rate With IIFL Finance
If you are planning to take a personal loan with low interest rates, then IIFL Finance's personal loan is the right choice for you! Read to find out more about the rate of interest here.
13 Jun,2022
07:34 IST
1910 Views
44 Likes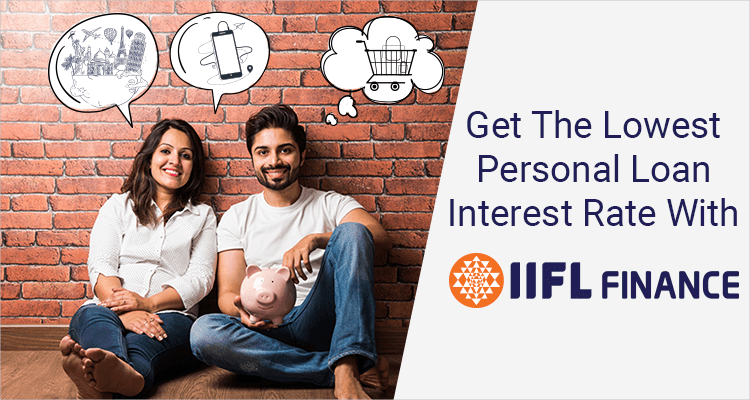 Personal loans are popular for many reasons, including quick disbursement and the freedom to use the money for any purpose. Moreover, such loans are unsecured, which means borrowers don't have to mortgage any asset.
Typically, banks charge lower interest rates on personal loans than non-banking finance companies such as IIFL Finance. This is because banks have the advantage of a huge deposit base from low-cost savings and current accounts that NBFCs usually don't.
Big established banks such as HDFC Bank and State Bank of India charge interest rates that currently vary from 10% to 21% or even higher. The interest rate charged by NBFCs is usually at least one or two percentage points higher. But within the NBFC segment, too, there is a wide range. So, while some NBFCs offer loans at a starting rate of 15% going up to 30%, IIFL Finance currently offers interest rates ranging from 11.75% to 28%.
There are several key factors that come into play to determine the interest rate on a personal loan. They are:
Age of the Borrower:
Borrowers close to retirement age are mostly charged a higher interest rate than a young borrower.
Credit Score:
A credit score of more than 750 is ideal to get a competitive interest rate.
Occupation:
Salaried professionals working with a reputed company and drawing a stable income are in a better position to bargain compared to self-employed professionals.
Repayment Capacity:
A high income alone is not enough for a better interest rate. What matters more is the debt-to-income ratio. A higher debt-to-income ratio implies greater debt burden on the borrower.
Relationship with the Lender:
A loyal relationship between a bank and a customer is built over years. Once the trust is moulded, it doubles the chances of a better interest rate.
Credit History:
A default at any time in the past is likely to attract more interest on personal loan.
One can get personal loans at low interest rates by playing smart. Here are some of the key aspects to keep in mind to bargain for a low interest rate on personal loans.
Good credit score
The credit score is the first criterion most lenders look at before granting a personal loan. The credit score is built over time depending on a person's borrowings and related repayments.
Score range – The credit score ranges from 300 to 900. A score closer to 750 will attract the attention of lenders and help the applicant bargain for low interest rates. The rates tend to get higher as the score goes lower.
• A good credit history goes a long way in ensuring a good financial health and keeping individuals away from loan sharks in times of sudden need of credit.
• Borrowers must not be highly leveraged. They must pay all the EMIs on time and there should be no records of dishonoured cheques.
• Also, if for some reason one misses an EMI, leading to a fall in credit score, there will be ample opportunities to make up for it over time. The easiest way to muscle up the score will be not to repeat such misadventure.
So, the straight equation is a high credit score equals a personal loan at a low interest rate.
Good work profile
Personal loan lenders tend to gravitate towards borrowers with a fixed source of income, including but not limited to salary or rental income.
• Those working with a stable employer get extra marks as the chances of losing the job or income become lesser. Hence, they also attract low interest rates on personal loans.
• Similarly, those with more years of work experience are in a better position to bargain for lower interest rates.
Comparing interest rates
The loan rates vary from lender to lender depending on how they measure a credit profile. Applicants should always look to bargain for a low rate of interest on personal loans, lesser paperwork and fastest disbursement.
• One can go to the websites of different lenders, submit papers and then find out who is offering better rates.
• One should also look at the profile of the lender when comparing the rates.
• If necessary, borrowers must take advantage of their credit history and job profile when comparing rates on personal loans. Any online marketplace of lenders would be a good place to start with for an indicative rate on personal loans.
• In particular, borrowers must be careful of any potential interest rate changes in the near future. If the chances of the central bank increasing the rates are higher, then one must try to lock in a low interest rate quickly. Conversely, if the chances of rates falling are more, then one can take time in bargaining.
Interest rate method
As the devil lies in the detail, every borrower should always check the method the lender is employing to calculate the interest and repayment amount.
Lenders calculate interest through the flat interest rate or reducing interest rate. Both the methods of calculation are different. Hence, the interest payable on the loan amount is also different.
The extras
The final amount that a borrower repays is a combination of the principal borrowed, interest paid, and the processing fees along with the Goods and Services Tax (GST) levied on such fees.
Some lenders may show low loan rates on the paper, but may charge high application processing fees. Higher the charges, more will be the tax paid on them. This eventually increased the overall repayment amount for the borrower.
Conclusion
Need for a personal loan may come suddenly. During such times, a person can secure credit in just 24 hours through a credit card or an instant personal loan application from banks and non-banking institutions like IIFL Finance.
The process followed for taking a personal loan and ensuring a smart deal usually starts with checking for the lowest interest rate. A good job profile, a high credit score and strong credit history will come in handy if one has to bargain for the best deal.
While banks may offer a lower interest rate, their approval process is generally longer and the eligibility conditions more stringent. NBFCs such as IIFL Finance offer an easier process for personal loans with minimum documentation. In fact, IIFL Finance processes a personal loan application within minutes and credits the money into the borrower's account within 24 hours. Moreover, it also offers competitive interest rates than other NBFCs.