Impact Of CIBIL Score On Personal Loans
Learn all about the impact of CIBIL Scores on personal loan applications, the minimum CIBIL score required, & how Can you improve your score!
4 Oct,2022
12:22 IST
24 views
17 Likes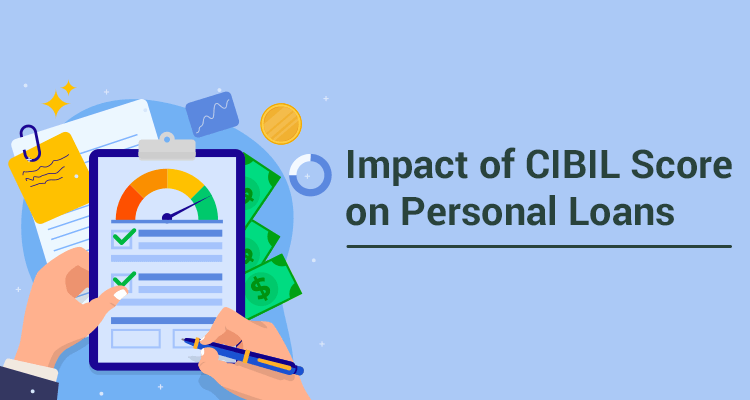 A personal loan is one of the easiest and quickest ways to get some ready money each time someone falls short and has to make some payments on an urgent basis.
A personal loan is basically uncollateralized credit that can be availed without pledging any asset as collateral with a lender and mainly on the basis of one's income levels and credit history.
Lenders keep in mind several factors to approve a personal loan and fix the interest rate. These factors include the borrower's age, occupation, income levels, and any existing or previous relationship with the lender.
Lenders also consider the prospective borrower's credit score and credit history before sanctioning a loan.
Banks and reputed non-banking finance companies (NBFCs) typically gauge a person's creditworthiness from their CIBIL score.
The CIBIL Score
A CIBIL score can range from 300 to 900, and gives lenders a good idea of the borrower's credit history, past repayment record and their outstanding loans. A high score makes it easier to take a loan, and can help one negotiate the best prevailing interest rates in the market.
Apart from the other general eligibility criteria like age, income and employment status, a CIBIL score is perhaps the most significant determinant in getting an unsecured personal loan.
While most good lenders consider a CIBIL score of 750 or more ideal, a borrower with a lower score too can get a loan, albeit at a higher rate of interest.
A lender that is giving out a loan without any collateral needs to be sure that the borrower has the capacity to repay the principal as well as the interest, and a CIBIL score helps determine precisely that.
A high CIBIL score indicates that a borrower has been extremely wise with his or her finances and has repaid all or most of their debt, including credit card debt, in time and in full, with zero or minimum defaults. Such people make for ideal borrowers for a lender.
A low CIBIL score, on the other hand, shows that the borrower has either delayed loan repayments or has even defaulted on some of them, indicating to the lender that lending to such a person is a highly risky proposition.
While most lenders will reject a personal loan application of the CIBIL score is less than 550, the ones that do lend to such borrowers, will charge significantly high rates of interest and will have other stringent terms and conditions, which the borrower should be aware of.
So, in short, while timely repayments help a person's credit score remain high, late repayments or defaults impact it negatively.
On top of this, borrowers should be mindful of the fact that while applying for a personal loan, their credit report should be up to date and free of any errors. Any errors or misreporting from the past could result in a lower credit score and unnecessarily hassle them.
Conclusion
Lenders like IIFL Finance lay significant emphasis on the credit histories of their borrowers. While applications of people with
lower CIBIL scores
may be considered and approved, an ideal CIBIL score is 750 or above.
A good lender can also offer the most competitive interest rates to their clients as long as they have a clean credit history and have had no past record of late repayments or defaults on their loans.
IIFL Finance, one of India's largest NBFCs, offers an easy, fully digital process for
personal loans with minimum documentation
and competitive interest rates. The company processes a personal loan application within minutes and deposits the money into the borrower's account within 24 hours.