How To Remove A Bad Repayment Track From CIBIL?
Lenders prefer to approve the borrower's application with a high CIBIL score. How can you remove a bad repayment track from CIBIL? Read to know here!
18 Oct,2022
11:01 IST
42 views
14 Likes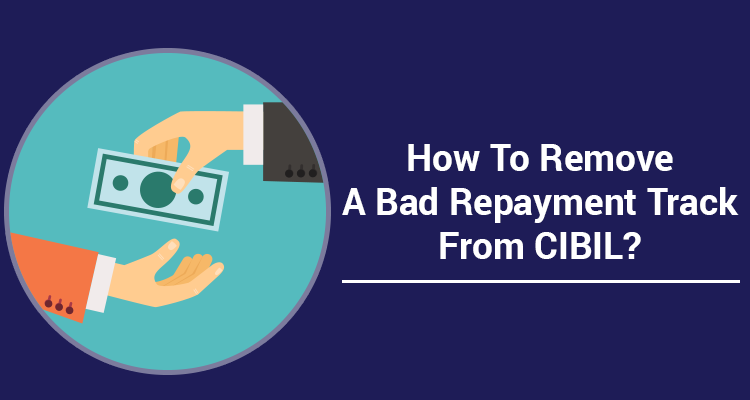 When lenders offer a loan to any borrower, they take on a high risk if the borrower defaults on the repayment of the loan. Borrowers are legally liable to repay the principal amount with interest to the lender within the loan tenure. However, sometimes borrowers default on the EMI repayment, forcing lenders to incur losses. Lenders mitigate such losses by analyzing the borrower's creditworthiness through a CIBIL score.
The CIBIL score is a three-digit score out of 900 that helps the lender check the borrower's creditworthiness before approving the loan. An individual with a score closer to 900 is more capable of repaying a loan than those with a lower credit score in India. Since personal loans are unsecured and do not require the pledging of any asset, lenders prefer to approve the borrower's application with a high CIBIL score.
However, what if you have a bad repayment track?
How to Remove Bad Repayment Track From CIBIL?
Calculating the CIBIL score is entirely based on past financial transactions. It analyses the past transactional history and whether the individual has made timely payments of financial liabilities such as bills or EMIs. However, sometimes individuals fail to repay their financial obligations for multiple reasons, which is reflected in their CIBIL score, resulting in decreasing their CIBIL score. Then,
how to remove a bad repayment history from a credit report
to ensure it remains above 750?
Here are the steps on how to remove negative accounts from CIBIL.
• Call For A Copy
The first step is to identify the exact bad repayment mentioned in the CIBIL report. You will have to get a copy of the credit report, which you can download from CIBIL's website for free. Go through all the mentioned payments, analyze, and determine the bad repayment.
• Negotiation
If the bad repayment mentioned in the CIBIL report is inaccurate, you can contact a credit rating agency such as CIBIL, and inform them that they have made a mistake. If you can prove it, the agency will remove the bad repayment.
However, if the bad repayment is not accurate, you will have to negotiate with the lender and request the removal of the bad repayment. You may be required to pay some penalties for the late payment.
• Follow Up
Such a request to remove a bad repayment from a borrower's report is unusual for a lender and may get the lowest priority. Hence, you must follow up with the bank and send multiple requests to remove the bad repayment from your financial history. Once done, you can download your updated credit report for applying for loans.
Avail Of An Ideal Personal Loan From IIFL Finance
Personal loans
are one of those loan products that require a good CIBIL or credit score for the loans to be approved. You can get instant personal loans from IIFL Finance. IIFL Finance is India's leading financial services company that provides comprehensive and customised personal loans to fulfil your capital requirement.
You can also use the personal loan calculator to determine your repayment obligations. The personal loan offers instant funds up to Rs 5 lakh with a quick disbursal process. You can apply for the loan online or offline by visiting IIFL Finance nearest branch and verifying your KYC details.
FAQs
Q.1: What is the rate of interest on the personal loan?
Ans: The interest rate ranges between 11.75%-33.75% per annum. It depends from one lender to the next.
Q.2: How much loan amount can I borrow?
Ans: Generally, you can borrow up to Rs 5 lakh through personal loans. However, it depends on the financial institution.