How To Get A Personal Loan Without Bank Statement
Lenders determine the loan eligibility with the help of Bank statement. Read on to know the 4 tips to get a personal loan without bank statement!
22 Oct,2022
17:57 IST
17 views
2 Likes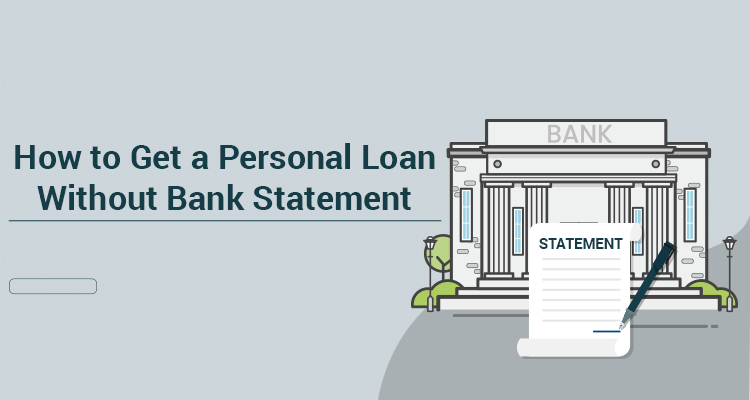 Personal loans are one of the most popular debt products in India. These are short-term loans that require no collateral. But precisely for that reason, banks and NBFCs follow a thorough verification process for approving a loan.
The process begins with the lenders initiating the document collection process. Most banks require a duly filled loan application form along with passport-size photographs and documents related to identity proof, income proof, etc. to process a personal loan.
The bank takes a couple of days to analyse the documents and complete the verification process. After the verification team gives a positive report, the loan agreement is drafted.
Although salary slips and income tax return forms can be provided as a proof of income, a bank statement is the most commonly used document considered as income proof.
What Is A Bank Statement?
A bank statement is a summary of all the transactions of a bank account during a month or a specified period. It contains important information like account number, address proof and a detailed list of deposits and withdrawals.
Why Is A Bank Statement Required?
Most lenders require borrowers to submit bank statements of the last few months while considering a
loan application
. The lending institutions use these statements to verify and assess the creditworthiness of the borrower.
Scrutinising the statements helps the lenders to know how much net income is credited to the account every month. It also gives them an idea about the monthly expenses and the saving habits of people. These are important factors that help lenders to determine loan eligibility.
But what if a borrower cannot provide any bank statements to prove the creditworthiness?
Here are some tips which can be followed in order to avail a personal loan without a bank statement:
• Maintain A High Credit Score:
A low CIBIL score can make it difficult to access credit in times of need. A good score ensures a higher chance of the loan getting approved. It comes with additional benefits like lower interest rate, longer repayment period, higher loan amount, etc. Borrowers with a good CIBIL score of 750 and above are identified as responsible borrowers by banks.
• Establish A Good Relationship With The Lender:
No matter how impersonal lending institutions appear, a good relationship with the lender helps to reap benefits in the future. It can be done by visiting the branch and interacting with officers to discuss the financial needs. It helps to build trust.
It is advised to approach banks and NBFCs from which borrowers have already availed loans in the past or have present bank accounts. Investing time to build a friendly relationship with the lender helps the borrower to understand their requirements.
• Submit Salary Slips:
A salary slip for salaried individuals can be a good alternative for income proof documents. It is a legal proof of income and reflects the borrower's ability to repay the loan on time. Usually, banks require salary slips of last three to six months. This may, however, vary from lender to lender.
• Apply The Loan With A Co-Applicant:
Applying the loan with a co-applicant significantly improves the chances of the loan being sanctioned. Since the co-applicant is someone who shares the responsibility of repayment of the debt, the co-applicant must be someone with a steady income and a good credit score.
Additionally, offering to pledge collateral, providing accurate details as asked by the lender and maintaining transparency helps to gain the trust of the lender.
Conclusion
Almost all lending institutions require the borrower to submit bank statements of the last few months as proof of income. Bank statements are mandatory requirements for the loan application process because they give the lender an overview of a client's spending habits and investment. They are also important because they contain personal information like name, address, etc. So, they are considered a valid document for identity verification.
Securing a loan without a bank statement can be a little difficult but not impossible. Simple steps like improving the credit score before applying for the loan with a lender may be helpful.
Also, before
applying for a personal loan
without a bank statement, borrowers must first clear all the existing debts without any delay. More than one active loan may mean that the borrower is overburdened with credit and may possibly default on payments.
IIFL Finance is a one-stop solution for all urgent cash requirements of borrowers. Its simple and fully online approval procedure for loans helps borrowers to get loans quicker at times of a crisis. For the convenience of customers, IIFL Finance offers flexible repayment options and competitive interest rates.