How Quickly Can You Get A Personal Loan?
Getting a quick & easy personal loan can be a saviour for you in case of an emergency. Here's how long it takes to get a personal loan. Visit to know more!
22 Jun,2022
11:30 IST
3332 Views
51 Likes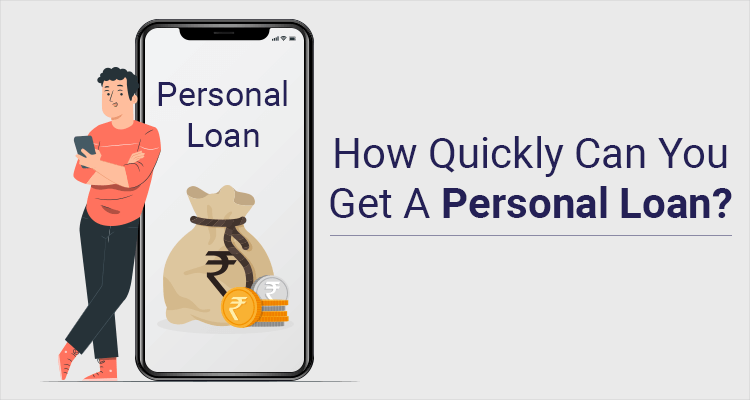 Whether there is an international trip, sudden hospital bills, unpaid utility bills or any other form of emergency that requires quick cash, a personal loan may be your saving grace. It is a better alternative than maxing out your credit card or trying to get loans from untrustworthy/illegal sources. But, how quickly can you get an instant personal loan application approved?
Here is a brief guide to the process of personal loan disbursal and the instant personal loan application to help you understand the time involved in the entire procedure.
What Is The Personal Loan Disbursal Timeline?
A personal loan is generally quick in terms of processing and final disbursal. The time involved in sanctioning a personal loan varies from a day to a week. The primary factors that dictate the time loan disbursal takes are:
• Lender type
• Verification timeline
• Documentation checks
If you decide to take a loan from a bank wherein you also hold an account, the loan disbursal can be quick. This is because the documentation and verification bits for an instant personal loan application are sorted for its existing bank customers. The bank will only need to work on calculating your income-based eligibility.
However, for non-customers who need to go through the three-fold verification process, the loan disbursal might even take up to five business days to a week.
NBFCs offer similar turnaround times for personal loan sanctions. The process involved and the steps for loan sanctions remain the same, or are often faster than traditional banks. There could be pre-approved offers for specific borrowers based on their credit scores. These offer-based personal loans are disbursed even in two days.
What Can You Do To Ensure Instant Personal Loan Application Sanction?
• Ensure that all information you enter into your application is genuine. Incorrect information leads to application rejections or even delays in personal loan verification.
• Provide the right identity, income and residence proof-related documentation.
• Check all KYC documents to ensure that none of these is missing or incomplete. Issues with such documents could lead to delays in loan sanctions or even approval.
Apply For A Personal Loan Online With IIFL
If you tap a personal loan offer from a reputed NBFC such as IIFL Finance, you can check your eligibility online. Submitting a loan application online is quicker and reduces the overall time taken to disburse a personal loan.
A personal loan is unsecured since it calls for no collateral. All you need to do is maintain a good track record for a stable income. This decides your loan eligibility and creates a positive impression on the lender.
Additionally, you need to ensure that your credit score is not lower than 750. This makes it easy for you to get a personal loan in your name. After all, this score is a go-to figure for lenders to judge your credit worthiness.
FAQs
Q1. Can I Get A Personal Loan Sanctioned Within A Day?
Ans. Yes, you can get instant personal loan application approval in less than a day if all your eligibility criteria are fulfilled. All your documentation, too, must be duly verified.
Q2. What Are The Terms Involved In Personal Loan Repayment?
Ans. Every lender has its own set of terms and conditions that regulate the repayment of a personal loan. It is best to check these out separately with your lender.
Q3. How Soon Can I Prepay My Loan?
Ans. You can repay the personal loan anytime in full, on approval of the lender and as per terms governing prepayment for the same before the tenure ends.