How A Personal Loan Can Help You Deal With Liquidity Crisis
Need to deal with a financial crisis? Here are ways how to deal with a financial crisis using personal loans online at IIFL Finance.
21 Oct,2022
16:54 IST
31 Views
6 Likes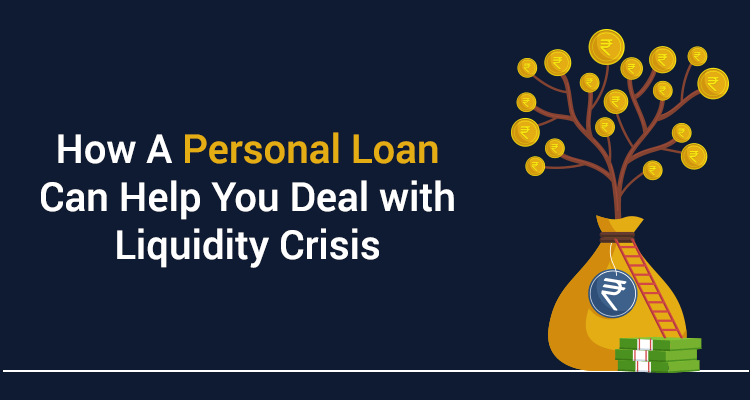 An individual has access to monthly salary or other professional or business income as also savings at any point of time. A person, typically, uses the monthly income, whatever be the usual source, to meet day to day expenses be it for food, conveyance, clothes and other fixed expenses to run a household such as utility bills, school fees and more.
Any surplus is saved for a rainy day. Experts say one should have two sets of savings, one for the short term to meet emergency needs and then for the long term. The money one saves for the long term should, ideally, also be goal-based.
So, while planning for old age and time after retirement one needs to create a kitty that one does not put their hands on in between as it could affect how they meet their expenses when they may not have any other source of income.
However, at times, even the money saved for emergency purposes may not be enough to meet some expenses that are unforeseen and way beyond the capacity of an individual or a family to meet from their regular source of income. This could lead to a liquidity crisis.
The good news is that there are options for a person to take care of the problem and come out of the situation. The simple solution at hand is in the form of a personal loan.
What Is A Personal Loan?
A personal loan is a short to medium-term loan that one can avail on the go, provided the lender sees the borrower as creditworthy, to meet cash requirements.
This is a type of unsecured loan, or a loan where the borrower does not have to furnish any collateral to avail the loan. It is usually taken for a few months to one-two years, though one can avail it for a bit longer too.
Since the loan is unsecured, lenders assess the eligibility of the borrower with their credit score, or CIBIL score. A higher score makes it easier to get the loan sanctioned and vice versa.
The loan is to repaid within the time period agreed, along with the interest dues and other charges, if any.
How It Can Help
Taking a personal loan allows one to meet the imbalance between cash sources available and cash expense at hand. Consider a situation where one has income of Rs 50,000 per month and almost the entire money is accounted for with utility bills, grocery and food expenses, and other routine expenses.
Suddenly, the price of fuel shoots up, as has happened in early 2022 and prices of food and other products also goes up. At the same time, the school fees of one or more children are hiked. To add to the problem, there could be a family wedding on the horizon for which one needs to plan for a pricier gift in the form of a gold ornament.
This creates a liquidity crisis as many of the expenses cannot be postponed. At the same time, one neither has enough salary or other income nor the required quantum of short-term savings to meet the cost of purchase or fees.
In such cases, a personal loan is often the best solution. It is readily available as almost every lender offers it and can be availed in a jiffy without a long-drawn process.
All that one needs to be careful about is that they are seen as creditworthy by the lenders. This is with respect to their credit score.
In fact, a personal loan is also a way to build a credit history for the future, especially if one has not taken any loan in the past nor use any credit cards. Credit scores are based on such credit usage behaviour. If one has a bad credit score, one can strive to improve it by taking a personal loan and paying it back on time to improve the score for availing a loan in the future.
The
process of taking a personal loan
is simple and one can do right from their home via a digital process.
Conclusion
Financial emergency can strike anyone and there is hardly anyone who does not experience it at some point in their life. This happens when one's expenses at any given time exceed their usual source of income.
While short-term savings can help mitigate the problem, it may not be enough at times to take some out of the woods. A personal loan comes in handy in such times.
IIFL Finance offers personal loans up to Rs 5 lakh with
flexible repayments
for a tenure of up to 3.5 years. It assures instant approvals and disbursals within just a few hours with minimal documentation that can be submitted online.