Home Loan Calculator
Calculate your EMI and choose the most suitable product for you
Get imporant advice from

legal and technical experts

Whether you are salaried or self-employed, you can get a home loan with competitive interest rates for the purchase of row houses, bungalows, flats and even plots.
Over 6 Million +

Happy Customers
I used to live in a rented accommodation along with my wife. However, the landlord used to ask us to increase the rent every few months. Thus we were compelled to move from one home to another. It was only after a few subsequent moves that we started looking out for some stability in our lives and began to explore our options to purchase a home. at a reasonable EMI.
I am working as a Pandit from the past many years, I earn good too but do not have any income proof and I don't file my tax returns. This increased my struggle for Home Loan and I ended up getting nothing. I applied in several Banks & finance companies but nobody was ready to finance me based on my income. While serving people there was no finance companies ready to serve a Pandit.
I could not have bought my first home without IIFL Home Loan. With limited source of income and earnings from a private job, I never imagined to buy a home which we could call our own. Though my father was aged, IIFL Home Loan considered his income & helped me purchase my dream house.
Hans Raj, could have hardly thought that his dream of buying a home can be fulfilled. He and his wife were fed-up of the daily nuances of dealing with the owner/landlord of the rented home they were living in. Every few months they were forced to move from one rented accommodation to another.
Jintendra Singh works at a local sweet shop in Jaipur. He lives with his mother, wife and 2 children. In order to make a tangible investment for the future of his children, he decided to move out of his rented accommodation and buy a home where his family can live.
Gagandeep, along with her Daljeet operates a small food stall in Mansarovar, Jaipur. They feed others to feed their own children. Always been a hardworking family, they always wanted to provide their children a roof of their 'own'. The surge in rents in the city made them search for housing finance schemes to buy their own home.
We are tailors by profession and we don't have any formal income proof which made us believe that we could never be able to buy our own house. After staying on rent for many years I decided to take a step ahead and buy a house of our own but when I visited the banks for home loan, they were not considering my daily income and shattered our dreams.
Every person has two dreams - One is to have a home of his own & second is to educate his children. IIFL Home Loan has helped us achieve both. An RTO consultant whose livelihood depends on mere income can only dream of buying his own house. But I dared & pushed myself to achieve something we only dreamt.
Belonging to a poor household, Sushil Singh from Delhi never thought that he will be able to buy a home for his family. All his life, he has just worked to fulfil the basic needs of his family, and his children's education. Buying a home was like a dream for Sunil and his family.
Working as a salesman, Mr. Narshe Sharma lives with his wife and 2 daughters. Constantly worried about the future of their kids, the wife & husband duo decided to buy a home for the future of their daughters. They started saving money and searching for properties.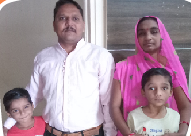 I am an auto driver and used to live in a rented home along with my wife and two sons. With great difficulty I managed to send my children to school. However, the constant sound from a nearby factory and our poor living conditions was a huge deterrent in their study and scoring a good grade always remained a challenge for them.
Vijaybhai Ashokbhai Vaghela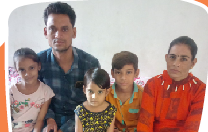 I am a salesman and have two daughters. Living in a rented accommodation in a low-class society always bothered me as it meant compromised safety for my daughters and a bad environment for raising them. For long, I wanted to move into a secured and permanent accommodation for my daughters.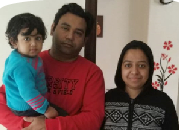 Wajahat Hussain works as an accountant in Chandigarh. He used to live in a rented accommodation with his wife. The location of the rented accommodation wasn't safe due to industrial sector surrounding the locality. It was also quite far from the city. It was only then that the family decided to move closer to the city and in a safe locality.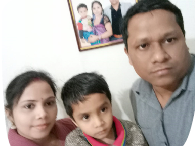 Himadri Singh was living in Chandigarh with her husband and son in a rented accommodation in dirty and unhygienic conditions. There was sewage and water problem that the family was facing. The electricity was also an issue due to transformer overloading in the nearby industrial area.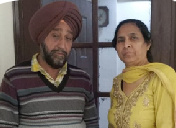 Avtar Singh works as an electrical contractor in Chandigarh. With both his children married and settled in their respective jobs, he wanted to finally settle down with his wife in a home which he could call his own. He wanted to build a home for his wife, who has supported him through thick and thin all his life.

I had moved from my village to a city in search of a better living for myself and my family. However, the rented accommodation where we stayed was very dirty and unhygienic. The poor living conditions, a regular surge in rentals and my yearning for having my own roof over my head encouraged me to contact IIFL Home Loans. Now, I own a home, where I live with my wife and daughter.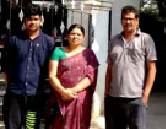 We lived in a rented accommodation that had a persistent problem of rodents and mosquitoes. The entire family was grappled by frequent bouts of sickness and we had no other option than to purchase a home and get rid of these problems. However, with limited earnings, we were looking out for some scheme that could help us reduce our EMI burden.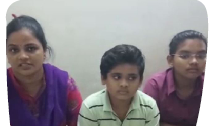 We are a simple family that wanted to purchase a home since long. However, we did not have many documents to prove our income or justify our capacity. This made buying a home very difficult for us. Though we approached many lending companies, our application was rejected every time on account of their complex documentation policy.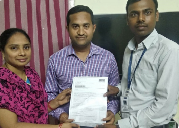 I was living in rented accommodation which was quite shabby and had seepages. Once I got married, I thought it best to change my home and adopt a better lifestyle along with my wife. So, we started saving some money every month and looking out for the best options to buy a home.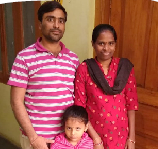 The locality that we lived in was having an adverse impact on my children. As a mother, I couldn't bear it and wanted to shift to a better locality. Though, we could barely make ends meet and owning a home with decent surroundings was like a distant dream for us.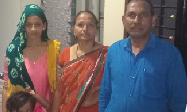 We had a big family comprising of three generations and a small rented house to live in. The congestion and lack of privacy was becoming a concern for all of us. It was after the birth of my granddaughter that I decided to change this and started looking out for a home of my own.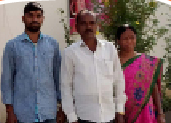 Throughout my life, I lived in homes with leakage issues. Rainy season always meant ill-health for the family. Though, with meagre earnings, this was all that we could manage. It was only after we heard about Pradhan Mantri Awas Yojana (Urban) in an advertisement and the subsidy that it was offering to people like us that we approached IIFL Home Loans.

We were living in a rented accommodation under very dirty and unhygienic conditions. Erratic supply of electricity had become a very huge problem for us, especially during the hot summer months. After much deliberation, we decided to explore our options of buying a home and were assisted by IIFL Home Loans executive in our journey.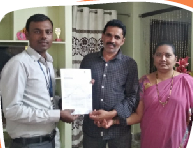 We were fed-up with the daily nuances of living in a rented accommodation which included dealing with our landlord and shifting our residence often. One day we heard of the Pradhan Mantri Awas Yojana and contacted IIFL Home Loans to explore our options. The verification was completed sooner than expected and we were able to avail a subsidy on our EMI through CLSS under PMAY.
I had applied for a loan against mortgage of ₹ 2.23 Crore at IIFL Finance. It was sanctioned and disbursed within 7 working days. IIFL's services are excellent.
‌