Personal Loan From An NBFC Is A Better Option—Know Why
NBFCs have fast emerged as an alternative to banks for a personal loan. Read on to know the 6 benefits of taking a personal loan from NBFC!
2 Nov,2022
07:30 IST
299 Views
3 Likes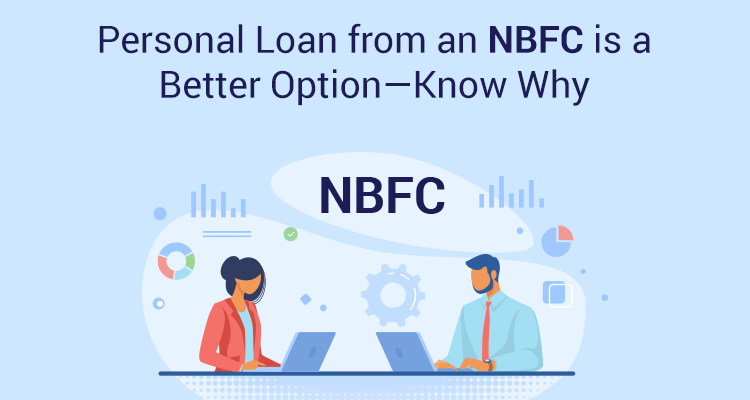 Gone are the days when banks or unofficial channels such as moneylenders were the only source of personal loans in India. The advent and growth of non-banking finance companies (NBFCs) have completely changed the way loans are offered now.
Those who would have visited banks in yesteryears would know how difficult it was to even apply for a loan. Banks were tied with lengthy legal processes, rules and regulatory norms. Even though norms have been made simpler, banks still grapple with some of them.
In contrast, NBFCs were not faced with such restraints in their initial years, allowing them to grow exponentially. As a result, NBFCs have made considerable progress in the way they offer personal loans.
Difference Between Personal Loans From NBFCs and Banks
Both banks and NBFCs offer personal loans, but the market share of NBFCs has risen exponentially over the past few years. But what really helped NBFCs grow faster?
NBFCs adopted simpler loan approval processes, in sharp contrast with stringent norms followed by banks. NBFCs and banks follow different benchmarking system for personal loans that help NBFCs offer competitive rates to borrowers. While bank rates would mostly be determined by the Reserve Bank of India's policy rates, NBFCs have greater flexibility over their interest rates because of internal benchmarking.
Why Opt For NBFC For Personal Loans
Online Application:
A borrower can apply for a
personal loan online
, helping them scan rates offered by various NBFCs for the best deal. With just a few basic details, a customer can complete the entire application process online.
Faster Processing:
NBFCs have more room to be flexible with norms, making them approve personal loans faster. A borrower can receive approval for personal loans in a very short time, compared with the time taken by banks. The bank loan process takes anywhere between a few days and a few weeks. On other hand, NBFCs can process a loan application within 24 hours after the approval. Thus, borrowers get to use the money for their urgent funding needs.
Less Stringent With Credit Score:
Banks are quite stringent when it comes to the credit score and would typically want to avoid a borrower with a credit score less than 700-750 for personal loans. On the other hand, NBFCs are not that strict with credit score and attach importance to other factors as well. Many NBFCs would offer personal loans even on score less than 700.
Better Use Of Data:
NBFCs do not base their lending decision only on the borrower's credit score. A lot of data points are considered when scrutinising the loan application, such as sources of income etc.
Competitive Rates:
The interest rate charged by NBFCs on personal loans is competitive and currently start from about 11% per annum. While banks benchmark their loan rates on external metrics, NBFCs have their internal benchmarks and are flexible in their interest rates.
Minimum Documentation:
NBFCs are not tied with the lengthy processes followed by banks. Hence, the documents required are also minimal. An NBFC would offer personal loans based on the basic KYC details, bank statement and salary slips. Also, a borrower may not even be needed to carry the extensive paperwork as applications are online.
Conclusion
While banks have traditionally been an important institution to meet credit requirements, NBFCs have covered a long mile in recent years. With a hassle-free application process, minimal documentation, flexibility with regard to credit scores and interest rates, NBFCs have fast emerged as an alternative to banks for a personal loan.
NBFCs are more flexible to adopt changes with regard to technology and other means to assess a borrower's credit profile. However, one must be careful while finalising an NBFC to take personal loans and choose only reputed lenders such as IIFL Finance.
IIFL Finance customises the personal loan around the requirement of the borrower with a hassle-free application process. Its instant personal loan comes with affordable and lowest interest rates. The application for the loans is processed within five minutes and without any extensive documentation. The
personal loan
EMIs are flexible and allow for better liquidity and easy achievement of set personal goals.