How Much Personal Loan Can I Get On Rs 60,000 Salary?
Wondering how much personal loan you can get on a monthly salary of Rs. 60,000? Our guide explores the factors that lenders consider when determining personal loan eligibility. Read Now!
1 Mar,2023
09:36 IST
2491 Views
587 Likes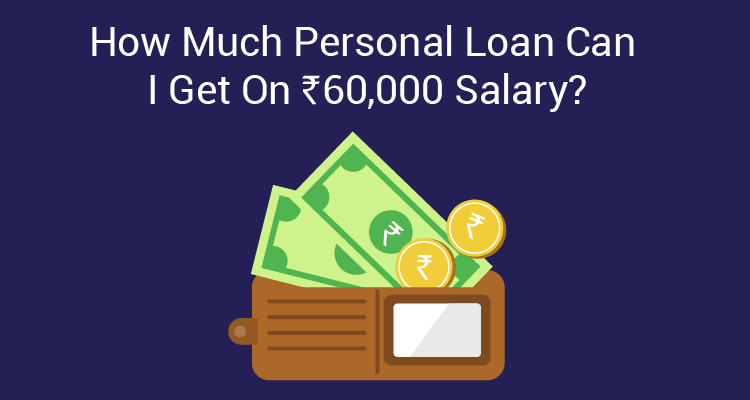 Personal loans are an easy way to fund your urgent personal needs like a wedding or home renovation. Since personal loans are unsecured, banks and non-banking finance companies are usually extra cautious on assessing the eligibility of the borrower to ensure that there is no default.
Lenders usually use a number of metrics including monthly income, credit score, and existing loans to assess the eligibility of a borrower. Lenders look at a stable income for sanctioning a personal loan so as to reduce the chance of a default. Banks and NBFCs tend to reject loan applications if the income is too low or if a substantial part of the income is going into repaying existing loans.
They also look at the credit score of the applicant before sanctioning a personal loan. The credit score is a measure used to assess creditworthiness of a borrower. The credit score ranges from 300 to 900, and a score of above 750 is considered good. The higher the credit score, the higher the chance of getting a loan at lower interest rates.
Usually, most lenders insist on a salary of at least Rs 15,000 per month to be eligible for a personal loan. But how does a bank or NBFC decide on how much loan to be given to a person with income of Rs 60,000?
Lenders usually follow two methods to calculate the amount they sanction to a personal loan applicant—the multiplier method and the Fixed Obligations to Income Ratio method.
Multiplier Method
In this, lenders sanction a multiple of the monthly income as loan. The multiple can range from 10 to 20 times, depending on the lender. Going by this metric, a person with a monthly income of Rs 60,000 can get a personal loan of Rs 6 lakh to Rs 12 lakh.
The multiple will be higher depending on the credit score. A person with a credit score of above 750 can expect to get 20 times of the monthly salary, that is, up to Rs 12 lakh, provider he or she doesn't have any existing loan.
Fixed Obligations to Income Ratio Method
In this method, banks look at total monthly obligations like EMI and rent as a percentage of monthly income of the borrower. Unlike the multiplier method, the lender will also consider the fixed expenses of the borrower.
The percentage is calculated by dividing the total fixed monthly expenses with the monthly salary and multiply it by 100. Banks want this ratio or percentage to be below 50%.
With a monthly income of Rs 60,000, the EMI and other fixed expenses should not exceed Rs 30,000. If a borrower's fixed obligations are about Rs 25,000 per month, that means the fixed obligations to income ratio is 42% (25,000/60,000*100=42). In other words, it means the disposable income of the borrower is Rs 35,000. The lender will decide the loan amount based on the disposable income.
The loan amount will be a multiple of the disposable income and can range from Rs 7 lakhs to Rs 14 lakh. If the disposable income is higher, the loan amount will be higher and vice versa.
Other Factors
It is not just the total loan amount that the lenders decide in each loan application. They also decide on the interest rate depending on the lender's assessment of the borrower's repaying capacity.
Interest rates on personal loans
generally range from 10% to 35%. So, if the borrower has a low income or a low credit score, the chances are that interest rate on the loan will be near the end of the range.
Conclusion
Lenders assess personal loan applications on a number of factors including total income, credit score, existing loans. Since personal loans are unsecured, lenders will do their due diligence before sanctioning the loans.
Those with monthly income of Rs 60,000 can get a loan of Rs 6-14 lakh provided they have a decent credit score and don't have too much debt already.
However, borrowers should consider several other factors before taking out a personal loan and should not make a decision based only on the maximum loan amount a lender is offering. Most importantly, one should approach only a well-established bank or a reputed non-banking lender like IIFL Finance to borrow money.
IIFL Finance offers personal loans starting at Rs 5,000 and up to Rs 5 lakh at attractive interest rates. The leading NBFC uses a fully digital system to make the loan approval process quick and hassle-free.