How Much Personal Loan Can I Get On Rs 30,000 Salary?
Find out how much you can borrow with a personal loan based on your Rs 30,000 salary. Compare loan options, interest rates, and repayment terms to find the perfect fit for your financial goals!
14 Mar,2023
12:38 IST
2370 Views
752 Likes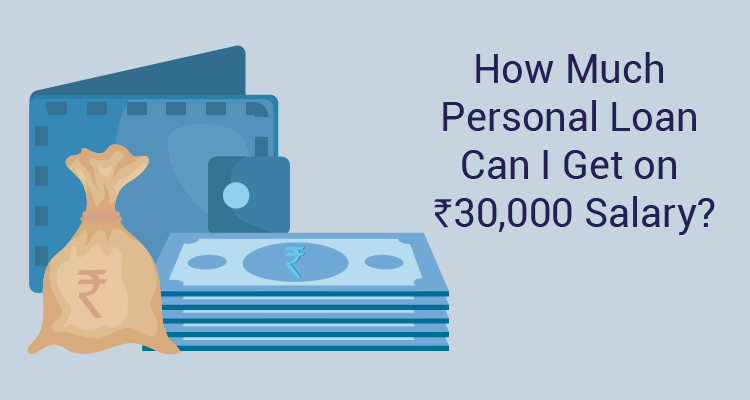 Many people often times splurge on new electronics, furniture, and clothing, and the shopping cost may exceed their budget or cash in hand. A personal loan may be helpful in these situations. Shopping is just one of the uses of a personal loan. It can also be used for home improvements, education costs, or wedding preparations.
A personal loan can be of great help in covering medical costs when unanticipated healthcare issues occur. Many people use personal loans to start and expand their businesses as well as to consolidate multiple loans into one.
So, how much personal loan can you get on a monthly salary of Rs 30,000?
Factors That Decide Personal Loan Amount
The amount one can borrow through personal loan depends on many factors such as one's credit score, income, expenses and other open loans that they may have.
• Credit Score –
The credit score of a borrower is used to evaluate their application for a loan based on their personal creditworthiness. This is often referred to as the CIBIL score, after the first company in the nation to launch credit information services. It is a three-digit number with a range of 300 to 900. The better the credit history, the higher the score, and vice versa. The score reflects the borrower's creditworthiness based on current or past loans, credit card usage, and timely repayments. It basically tracks this for the previous 36 months, and if an equated monthly installment (EMI) is missed, the credit score is affected.
• Income –
In general, banks and non-banking financing organisations employ two techniques to determine the amount they will give to a borrower looking for a personal loan – the multiplier approach and debt-income ratio.
In the multiplier approach, lenders approve a sum that is a multiple of the borrower's monthly income. This multiple may be 10-20 times, depending on several factors. In essence, this means that a person earning Rs 30,000 per month can qualify for a loan amount ranging from Rs 3 lakh to Rs 6 lakh. The multiplier usually rises with higher credit score. So, a person with salary or earnings of Rs 30,000 per month may get up to Rs 6 lakh if the credit score is high. But in case the CIBIL score is lower, the lender may decide to lower the multiple and give a loan of up to Rs 3 lakh or lesser.
The debt-to-income ratio takes into account the monthly payment's equivalence to the borrower's net monthly income. The ratio takes into account the borrower's expenses in addition to their income. The ratio, which shows the borrower's disposable income and ability to repay the loan, are crucial in determining the loan amount. All fixed monthly expenses, such as rent or home loan EMIs, other loan EMIs, credit card bills, and net monthly income after deducting statutory amounts, such as provident fund, are taken into consideration when calculating the ratio.
Most lenders prefer that these ratios not exceed 40% to 50%. Basically, this means that a prospective borrower's EMI, both for existing and new loans, should not be more than 40-50% of the net monthly income. So, with a monthly income of Rs 30,000, the EMI should not exceed Rs 15,000. Depending on other factors such as the interest rate, tenure and credit score, the loan amount could be anywhere between Rs 1.50 lakh and Rs 7 lakh.
Conclusion
The monthly income is one of the criteria that banks and NBFCs take into account when approving a personal loan. The loan amount and repayment terms, including the interest rate, are also influenced by the potential borrower's credit score, monthly expenses, other outstanding loans, and tenure.
While it is possible that borrowers with monthly incomes of up to Rs 30,000 won't always be considered high-risk, most lenders will conduct research before making a loan to this group of clients. If a person has a strong credit score, no outstanding EMIs, and meets all other requirements of lenders, they may often expect to receive a loan of between Rs 3 lakh and Rs 7 lakh. Nonetheless, consumers should examine the interest rates and other terms and conditions of the lenders before applying for a loan.
In order to avoid any problems, one should only borrow money from reputable banks or NBFCs such as IIFL Finance. For instance, IIFL Finance approves personal loans through a wholly digital process with little paperwork. One of the biggest NBFCs in India, the company offers personal loans with tenure ranging from three months to three and a half years and starting at Rs 5,000 up to Rs 5 lakh.