How Can Proprietorship Company Employees Avail A Personal Loan?
Are you employed with a Proprietorship Company? Need an instant personal loans? You can easily avail funds in the form of personal loan. Read Now!
18 Nov,2022
11:00 IST
24 views
4 Likes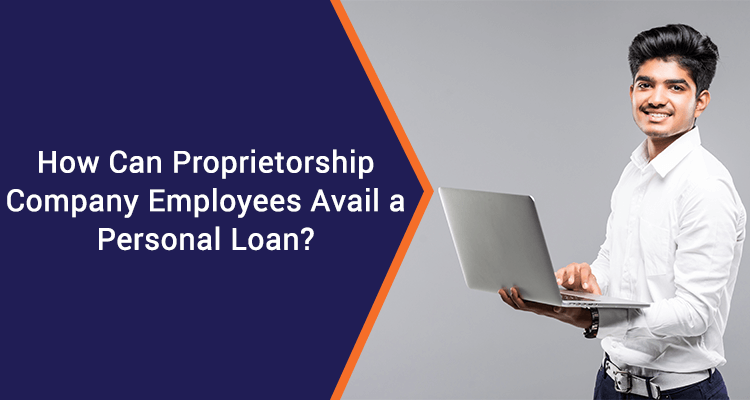 Among various ups and downs in life, you may need financial assistance to cover particular expenses. Whether you are a salaried employee or self-employed, the need for external funds is standard for various reasons. However, the company where you work may be registered or unregistered, considering the owner's decision.
Employees of unregistered firms hesitate to take a
personal loan
as they believe their application may get rejected. If you are a ​​proprietorship company employee, here's how to take a loan for your expenses.
What Are Personal Loans?
Banks and NBFCs offer personal loans to raise funds for personal expenses. The loan amount allows you to increase liquidity or avoid dipping into your savings to cover various expenditures. These expenses include paying for marriage, higher education, vacation, home renovation, etc.
Like other types of loans, personal loans include repaying the principal amount with interest within the loan tenure. Any Indian resident can take a personal loan if they fulfil the set eligibility criteria. Hence, proprietorship company employees can also take a personal loan by applying for a personal loan for proprietorship company employees.
Features And Benefits Of A Personal Loan For Proprietorship Company Employees
The Indian government allows firms like proprietorship companies to run legal businesses even if they are unregistered with the proper authorities. Although it is wise to register the company, lenders have designed a
personal loan for salaried employees in a proprietorship company
to cater to all the personal expenses needs of such employees. The benefits of this loan are listed below.
• Immediate Capital:
Proprietorship firm employees' can raise capital quickly as reputed lenders approve and disburse the loan amount in minutes.
• No End-Use Restrictions:
One of the best features of a personal loan is no restrictions on the end use of the loan amount. Proprietorship firm employees can utilise the amount to cover or satisfy any individual objective.
• No Collateral:
Personal loans
do not require the borrower to pledge collateral. This way, they can obtain a personal loan without owning a valuable asset.
• Quick Approval and Disbursal:
Reputed lenders approve the personal loan amount within five minutes of application. Once approved, they disburse the loan amount within 24 hours into the employees' bank account.
How Proprietorship Company Employees Can Avail A Personal Loan: Eligibility
Since lenders do not require collateral in a
personal loan for proprietorship company employees,
you must fulfil the set eligibility criteria. Here is the eligibility criterion for applying for a loan for personal expenses.
• Age:
The age of the applicant should be between 21 years-65 years.
• Employment:
The applicant should be a salaried employee of a proprietorship firm with a regular source of income.
• CIBIL Score:
The applicant should have a CIBIL or credit score of 750 or higher.
• Monthly Salary:
The monthly salary or income of the applicant must be Rs 22,000 or above, depending on the city of residence.
• Work Experience:
The proprietorship firm employee must have a minimum work experience of one year and should be working in the current proprietorship firm for at least six months.
How Proprietorship Company Employees Can Avail A Personal Loan: Documents Required
Lenders have designed
personal loans for salaried employees in proprietorship companies
to require minimal documentation. It ensures proprietorship firm employees can raise immediate capital by avoiding a time-consuming
loan application process
. Here are the documents needed to avail of the loan.
• Selfie:
The selfie of the applicant as photo proof.
• PAN Card:
The valid PAN Card of the applicant as ID proof.
• Aadhar Card:
The applicant's Aadhaar card or driving licence for address proof.
• Employment Proof:
Employment proof for salaried employees/ Proof of business existence for self-employed individuals.
• Bank Statements:
Bank statements of the applicant for the last 6-12 months for creditworthiness.
• e-Sign:
e-Sign or e-Stamp for quick personal loan disbursal.
Avail Of An Ideal Personal Loan With IIFL Finance
IIFL Finance provides comprehensive and customised personal loans with instant funds up to Rs 5 lakh with a quick disbursal process. The interest rates are attractive and nominal to ensure that the repayment does not create a financial burden on the employees. You can also use the personal loan calculator to determine your repayment obligations.
Apply for an IIFL Finance personal loan online
or offline by visiting IIFL Finance nearest branch and verifying your KYC details.
Frequently Asked Questions
Q.1: What is the loan tenure for IIFL Finance personal loan for employees of proprietorship firms?
Ans: Borrowers can choose from a loan tenure ranging from 3 - 42 months with IIFL Finance.
Q.2: What is the interest rate on IIFL Finance personal loans for employees working in a proprietorship firm?
Ans: The interest rate on IIFL Finance personal loan starts at 11.75%.
Q.3: Do I need collateral to take a personal loan from IIFL Finance if I am an employee of a proprietorship firm?
Ans: No, you do not need to pledge any asset as collateral to take a personal loan from IIFL Finance.