How A Personal Loan Can Help Fund Your Child's Education
An alternative to a student loan is personal loan to finance your child's education. Read on to know how a personal loan can fund your child's education at IIFL finance.
28 Nov,2022
08:45 IST
9 Views
1 Like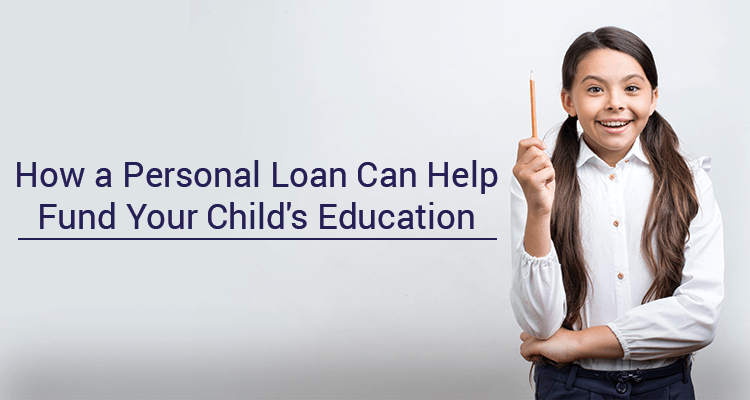 Children's education costs continue to soar every year. If you are concerned about your kid's educational expenses and savings gap, you may consider a student loan. However, there are instances when it may not be the best option. There are strict eligibility requirements for student loans, and you can only use them for a defined purpose. Furthermore, these loans may require you to co-pay some of the education costs.
An alternative to a student loan is
personal loans for education
to finance your child's education in India or abroad. It is easy to apply for these loans, and you can also use them to cover any expenses, not just education.
Benefits Of Taking A Personal Loan For Your Child's Education
1. No Specific Intent
Unlike education loans, you can use a personal loan for almost anything. Should you take out a student loan, the institution will deposit the loan proceeds into the school or college's bank account. On the other hand, the financial institution will deposit the personal loan amount into your checking account.
Therefore, you can use a personal loan for any expense, including living expenses and accommodation costs. On the other hand, you can only use a student loan to pay for school or college fees.
2. No Need For Collateral
Borrowers do not need to provide property or jewellery as collateral for personal loans. As this type of loan is unsecured, the borrower will retain their belongings or property if they miss repaying the loan.
Although unsecured loans require borrowers to pay higher interest rates, they reduce the stress of borrowing money. Personal loans also do not require that you own expensive assets. Furthermore, unlike other types of loans, the eligibility requirements are less strict.
3. High Loan Amount
Depending on the lender, a personal loan may be worth as much as Rs. 30 lakhs. With such a loan amount, you can ensure your child gets a good education within India. You may also have sufficient funds to cover expenses besides your college or school fees. A high loan amount without providing any collateral makes personal loans an attractive option for a child's education.
4. Flexible Tenures
You can repay a Personal Loan within five years (depending on your lender).
When you apply for a loan, you can choose the loan's tenure. You can pick a more flexible loan term to make smaller monthly payments depending on your needs. It ensures that a personal loan for your child's education doesn't become burdensome.
5. Quick Disbursal
Admissions to colleges and schools do not wait for anyone. You must deposit the appropriate fees for the year as soon as your child is accepted. Fast disbursals of personal loans can help in these situations.
You can complete the entire personal loan application procedure online. Upon applying, the loan officer checks your application to ensure it is in order and sanctions the loan within a few days of receiving it. Within 24 hours of receiving the loan approval, you will receive the funds in your authorised bank account.
6. Minimal Documentation
Borrowers need the loan application process to be as simple as possible. Thus, lenders only require the necessary documents from the borrower to get a
personal loan for a student's
education with minimal hassle.
How To Get The Right Personal Loan For Your Child's Education?
• Estimate Your Expenses:
Before applying, estimate your child's education expenses - tuition fees, travel costs, accommodation and food, and books. For more information about the cost of education, speak with your family, friends, and seniors. This way, you can determine how much you need to borrow through a personal loan for your child's education.
• Select The Right Lender:
Consider the lender's reputation, loan terms, application and approval process, repayment terms, and the fund's usage policy before selecting one.
• Check Your Eligibility:
You can contact the lender directly to determine your eligibility for the loan. You can also use the
personal loan calculator
to get an approximate estimate.
• Decide On The Loan Term And Repayment:
Choosing the proper loan term will depend on your financial situation. The duration of the loan impacts your EMIs (Equal Monthly Instalments). Make sure your EMIs are within your repayment capacity.
• Apply For The Loan:
Submit the necessary documentation - identification, address, and income proof - to the chosen institution to apply for the education loan. Visit your nearest branch or apply online. After approval, you will receive the loan amount in your account within hours.
Avail Of A Personal Loan With IIFL Finance
A leading provider of personal loans, IIFL Finance provides comprehensive and customised solutions to meet your capital requirements. Instant funds are available through a personal loan, and the disbursement process is quick. Apply for a
personal loan
online or at the nearest IIFL Finance branch by verifying your KYC information.
FAQs
Q1. Can personal loans be used for education?
Ans. You can use personal loans for various purposes, including education for yourself or a family member.
Q2. Why choose personal loans over education loans?
Ans. Unlike education loans, you can use personal loans for fees, transport, accommodation, and other expenses.