Golden Rules Of Personal Loan Repayment
Here is a list of 4 golden rules for personal loan repayment, which you must consider before choosing the loan scheme. Read to know more!
15 Dec,2022
09:01 IST
23 Views
1 Like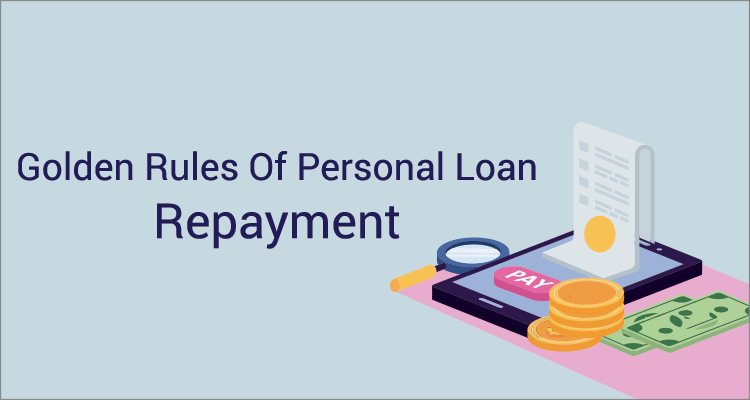 A personal loan can be a lifesaver during a financial emergency. It does not require collateral or guarantors for approval–only minimal documentation. Additionally, it is more affordable and manageable than high-interest credit cards.
The primary concern when availing of a personal loan is timely repayment. A thoughtfully constructed repayment plan will assist you in repaying your loan. Consider the following golden rules to ensure consistent EMI payments.
1. Decide The Appropriate EMI Amount
Choosing the EMI amount you can afford is vital since you must pay monthly to repay the loan. A lower EMI for your
personal loan repayment
is wise if you have been paying EMIs on other previous debts. Generally, EMIs shouldn't take up more than 40% of your total monthly income. The primary goal is that repaying your personal loan through EMIs should maintain your normal lifestyle and expenditures.
2. Pay Less Interest
Avoid high-interest rates by repaying your personal loan debt as quickly as possible. This repayment strategy requires paying fewer high-interest EMIs.
Though it might seem contradictory to the previous point, you must balance the EMIs with the total interest payable. Choosing the highest EMI possible, which you can comfortably repay each month, will reduce the total interest amount payable. However, opt for this strategy if you have enough monthly income to cover the extra payment.
3. Leverage Your Savings
The most effective and oldest way to repay your loan is through savings. When you are in debt, you should only spend extra money meaningfully. Ensure you have savings account for any income you receive, whether an incentive, bonus, tax return, or anything else. Ultimately, you will save a substantial amount over a few months, which you can use to repay your loan completely or in part.
4. Avoid Outstanding EMIs
Delaying EMI payments will affect your credit score and incur unavoidable fees. If you need more time to pay the EMI in full by the due date, explain your situation to your bank and ask for an extension. You can also ask the bank to reduce the EMI amount or pay off the existing loan by taking a new loan at a lower interest rate.
5. Prepay When You Have Money
After the lock-in period of your lending institution ends, you can choose to prepay the loan. You can pay the entire amount you owe once you have enough money to cover it. Alternatively, you can pay a portion of your borrowing in advance.
You will save interest by paying the lender a full prepayment and be relieved of debt stress.
You can reduce the principal amount by making a part prepayment. Your interest will be calculated based on your principal amount so that you will pay less. A part prepayment will also reduce your EMI or tenure by a certain amount.
6. Use EMI Calculator
With an EMI calculator, you can calculate the EMI you will pay for the amount and tenure of the loan you wish to acquire. This tool will help you make a repayment plan before you apply for a loan.
7. Repay All Existing Loans Before A New One
Prepaying one loan is difficult, but prepaying more than one loan at a time can be more burdensome. Hence, you should repay any existing loans before taking out any new ones.
Also, taking one personal loan after another without settling the previous one indicates a credit-hungry borrower and a lack of financial stability. As a result, the lender could reject the application, which can negatively affect the CIBIL score and make future borrowing more difficult.
Apply For A Personal Loan With IIFL Finance
Providing comprehensive and customised
personal loans
to meet your capital needs, IIFL Finance provides instant funds up to Rs 5 lakh with quick disbursement. Calculate your repayment obligations using the personal loan calculator. You can apply online or in person by visiting your nearest IIFL Finance branch and verifying your KYC details.
Frequently Asked Questions
Q1. Is it good to repay a personal loan early?
Ans. Repaying a personal loan early will benefit your loan amount. Furthermore, clearing your loan earlier will help you save and improve your credit score, enabling you to obtain another loan if needed.
Q2. What is the maximum repayment period for a personal loan?
Ans. Depending on the lender and the borrower, the maximum tenure of a personal loan varies to ensure the borrower can choose the loan that best fits their needs. Personal loans generally have a full repayment term of 42 months, allowing borrowers to pay off the loan in lower monthly payments.