Is It Possible To Get A Personal Loan via Mobile Apps?
Applying for personal loan through an app has now become popular with increase in demand for digital loans. Know how you can easily apply for loan through mobile app in a smarter way!
14 Jun,2022
09:37 IST
204 views
37 Likes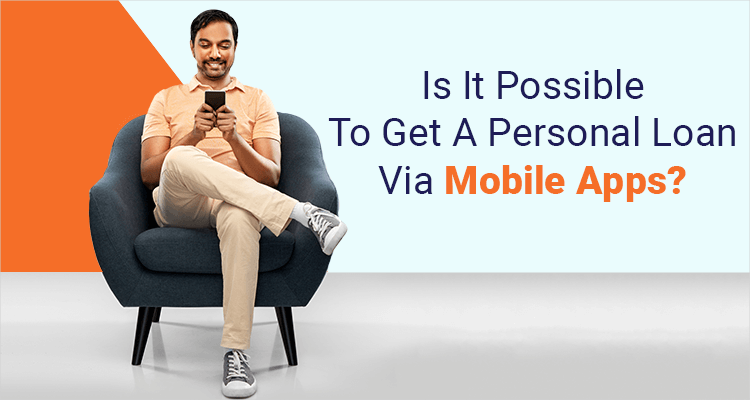 Falling short of budget for a wedding or need some extra cash for that long-planned holiday? Need for money may come up any time, surprising you when you least expect it.
To help tide over a cash crunch, a personal loan from a bank or any other financial institution is the best bet. All one needs to take on a personal loan is a mobile phone and a few minutes of their time.
What Is A Personal Loan?
A personal loan, also known as a signature loan, is a type of unsecured borrowing from a bank or non-banking financial institution without keeping any asset as collateral.
Personal loans
require very little documentation. The interest charged against personal loans can either be fixed or floating.
Why Take A Personal Loan
A personal loan can be used for any financial need of the borrower. It can be for home remodelling, wedding, vacation, medical treatment, debt consolidation and a plethora of reasons that one can think of. Fast approvals and almost no mortgage requirements make it one of the most viable financing options.
Who Offers Personal Loans?
Many banks and non-banking financial institutions offer personal loans. In addition, several new-age lenders have emerged over the past few years that offer you personal loans via their mobile apps. Banks and non-bank lenders are also catching up with this trend by launching their own loan apps.
Factors That Decide Personal Loan Approval
The loan amount approved by the bank and the lending companies depend on the income and the credit history of the borrower. Age, income-to-debt ratio, job stability and current employment status are some other important determinants of
personal loan
eligibility.
How Personal Loan Works?
Prospective borrowers must first apply for a loan from a bank or a non-bank lender and submit the required documents for approval. The lender then evaluates the creditworthiness of the borrowers and makes a loan offer.
The borrowed amount, along with the interest, is to be paid by the borrower in monthly instalments over time. The equated monthly instalments (EMI) depend on the loan amount, tenure and interest rate.
Getting Personal Loans Over Mobile Apps
Technology is changing and so is the mindset of people. To keep pace with this change, banks and online lending platforms have developed personal loan mobile apps to make instant cash more accessible. Borrowers just need to download these applications on their mobile devices, fill up the basic data and get the credit approved.
Still wondering why to download the personal loan apps on your mobile? Here's why you should:
Saves Time And Effort:
No matter where and when, users can just log in to the mobile app and apply for a personal loan. Mobile apps saves borrowers from the tedious loan application procedure where they have to make countless number of signatures on documents. Personal loan mobile apps from reputed lenders assure the convenience of electronic KYC. Not only is it environment-friendly, but also a great way to reduce the costs associated with normal KYC procedure.
Reduces Possible Fraud:
One of the biggest challenges faced by banks and their customers is potential data and money losses. By means of different digital tools like optical character recognition (OCR) and liveness detection functions, banking systems and mobile money lending platforms continuously monitor clients' accounts and keep a check on suspicious banking activities.
Keeps A Record Of All Transactions:
A personal loan app on mobile helps to track the loan summary and gives the borrower an idea about the outstanding debt. It is a faster and convenient way to access other banking services like transaction alerts through automated notifications, SMS reminders about payment due dates, and cheque-deposit facility.
Easy Access To Money:
Once the personal loan amount is approved, it is directly transferred from the bank to the borrower's bank account. Instant cash is a big support to borrowers, especially at times of emergency.
Covers Personal Expenses:
It is a quick and a powerful tool to help fulfill some lifestyle goals.
Conclusion
Personal loans are unsecured loans that can be borrowed for any small or big purpose. It is wise to borrow only as much as is needed because
the interest rate of a personal loan
is usually higher than a home loan or education loan.
Banks and non-banking financial institutions like IIFL Finance offer personal loans to borrowers facing liquidity issues. Mobile loan apps are the new-age digital solutions that make the banking experience a hassle-free affair.
There are many personal loan apps like IIFL Loans Mobile App, where you can get an instant loan on mobile via a paperless and hassle-free process. So, wipe out all your doubts about personal loan mobile apps and download one on your mobile phone now.