How Can I Get A Personal Loan In One Day?
Looking to avail personal loan in one day? Go no further! Here is the 6 step guide to help you avail loan easily in just one day. Read Now!
15 Nov,2022
11:22 IST
65 Views
17 Likes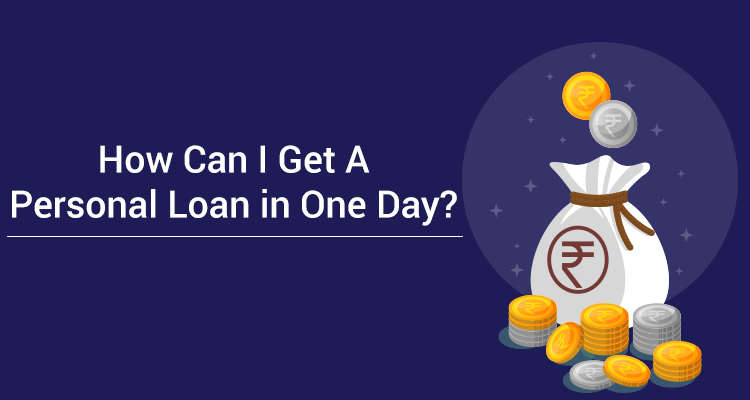 In the fast-paced life of today, time is money. People seek to maximize what they can do within a day and the faster the better. This also applies to personal finance management.
While investments have moved from signing long forms and cheques to a click of a few buttons on mobile apps, so has debt as a product. Borrowers these days do not have to queue up in the branch of their lender to submit forms and reams of documents as proofs to avail a loan.
This phenomenon has got additional push with the government making a pitch for a digital India.
As many processes move to a paperless form, it has also made them swifter. In many cases, automated clearance has become a part and parcel of the new world. Each step in the standard operating process of availing a loan, for instance, has been digitised.
The only thing that one needs to remember is that the process doing things online does not mean it has also led to lax risk assessment and management. One still has to submit documents but not physical papers but soft copies. This does take away the need for a person to travel to submit the paperwork and also the requirement at the lenders' end to pass it through several desks for verification, making it a quick process.
Fast Cash On The Go
The need for cash to meet short-term needs usually springs up unannounced and many a time one doesn't even have time to think long enough how to muster the resources. A personal loan, in such cases, is usually the swiftest and best option to consider.
A personal loan can be a saviour especially when doesn't have the option of pledging personal assets like a gold ornament and need money quickly without having the face the embarrassment of asking friends and family for money.
What's more, lenders these days offer the option of a fully paperless
personal loan application online
. This comes with minimal documentation, without having to step out of one's house and, most importantly, can be taken in a jiffy.
Personal Loan In A Day
For availing personal loan quickly, one needs to keep basic documents at hand. Other than that, one can easily use their mobile phone or a computer to apply and get approval quickly.
Here's a step-by-step guide to get a personal loan without the need to put up any collateral quickly.
1. Compare:
One should compare the personal loan terms for different lenders to get the best offer in terms of interest rate and other charges.
2. Clean Credit History:
The most significant factor in
availing a personal loan
and that too fast is to have high creditworthiness. This can be ensured by having a high credit score or CIBIL score. There are various ways to do that including by paying off past loans to make sure the score goes up or remains at a high level.
3. Visit The Site/App:
When one has zeroed in on a lender of choice, one can download its app or visit the company's website.
4. Apply:
After accessing it, one need to select the personal loan option and fill in the application form that requires basic details such as identity and income status besides loan amount needed and its tenure.
5. Submit Documents:
One can then upload basic identity and income related soft copies of document online as part of the application.
6. Agree To Terms:
Based on the application and the documents submitted, the lender would offer one or more options in terms of interest rates, repayments and more. Whatever suits the borrower can be selected and one can digitally sign and agree to the terms of the personal loan.
After the borrower submits the loan application with all the requisite documents, if their income status meets the lender's criteria and the applicant has a reasonable credit score, the lender quickly processes the application, sanctions the loan and even disburses the amount directly to the bank account of the borrower within hours.
Conclusion
A
personal loan
is often the best way to meet short-term requirements of cash, outside of one's monthly salary or other sources of income. Given that it is an unsecured or collateral-free form of finance, the process is largely dependent on a few basic documents and requirements.
If one has a reasonable monthly income and a high credit score, when one applies for a personal loan is by default pre-approved. As a result, one can avail a personal loan within hours if not within few minutes.
IIFL Finance offers personal loan of up to Rs 5 lakh without any collateral through a fully digital process. The non-banking finance company processes a personal loan application within minutes. If the documents are verified, it even transfers the cash into the borrower's account within 24 hours.