Pre-Approved Personal Loan Eligibility & Advantages
Want to know what is a pre-approved personal loan? Read the blog to know everything about a pre-approved personal loan, eligibility, advantages and how to get best out of it!
27 Sep,2022
08:48 IST
263 Views
10 Likes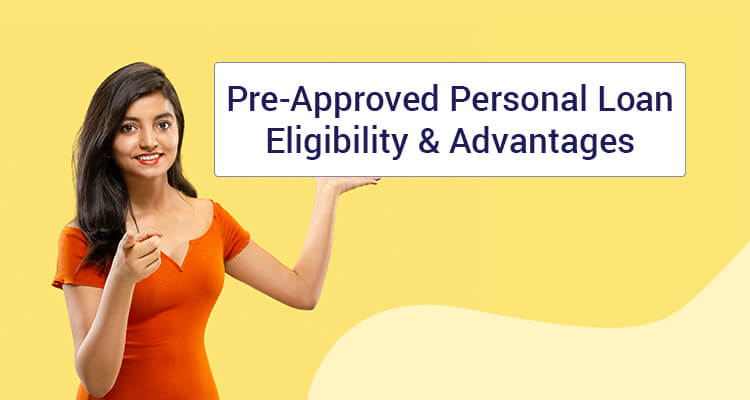 Have you ever received a call or a message telling you that you are eligible for a pre-approved personal loan? Likewise, you may receive an email inviting you to apply for this loan. If so, you may have wondered what exactly a pre-approved personal loan is and how you are eligible for it. This article answers all such questions you may have about pre-approved personal loans.
What Is A Pre-Approved Personal Loan?
Lenders offer a
pre-approved
personal loan when they find that a potential borrower has the creditworthiness to qualify for a loan. Simply put, if you receive this offer, it indicates that your creditworthiness has been assessed favourably. If you apply for a loan during the offer period, your application will likely be approved without a snag—sometimes even instantly.
Many banks and non-banking financial companies (NBFC) in India offer this type of loan facility to boost sales of their loan products, meet customers' urgent financial requirements, and reduce loan disbursement times.
What Are The Eligibility Criteria For A Pre-Approved Personal Loan?
Lenders often offer
pre-approved loans
to potential borrowers whose creditworthiness is suitable for a loan. For example, if you have a salary account with the bank, they will know your income and cash flow. Among the assessment methods is
• Credit Score:
If you have a
good credit score
, your bank might have pre-approved you for a personal loan.
• Transaction History:
Your bank may notice your bank balance and transaction rates after reviewing your transaction history and offer you a pre-approved loan.
• Previous Loans:
Your bank may pre-approve you for a loan if you've previously taken out loans and repaid them on time. Repaying your credit card bills on time is also essential. If you have substantial savings in your bank account and a steady source of income, you are also eligible for pre-approved loans even if you don't have a credit record or repayment history.
What Are The Benefits Of Pre-Approved Loans?
There are several benefits to pre-approval loans, including
• Instant Funding:
If you have an urgent financial need, pre-approved loans provide a safety net. A lender usually approves and disburses these loans within minutes of completing the verification process, and you can use them for any purpose. As you have already fulfilled the eligibility criteria for the loan, you can complete the verification process within a day.
• Usage Flexibility:
There is no restriction on how you can use the money from a pre-approved personal loan. You can use it for education, home improvement, vacations, gadget purchases, and more.
• Flexible Loan Period:
With a flexible repayment tenure, you can choose one that works for you. The term usually ranges from 12 to 60 months. Choose the loan tenure according to your repayment capability to avoid defaulting.
• Competitive Interest Rates:
You qualify for these loans due to a good credit rating, which means you can get competitive interest rates. This way, you can continue to make your loan payments on time and avoid defaulting.
• Minimum Documentation:
The bank will already have your KYC, bank account information, and other income details in their databases. Existing customers need not worry about documentation. Many financial institutions offer new customers loans as well. In such a case, you need to submit minimal documents like bank statements (generally six months' worth), salary slips from the last three months, PAN cards, and proof of residence (Driving License, Aadhaar Card, Passport, etc.).
• Online Process:
Many lenders offer pre-approved loans online, through which you can fill out and submit a form online to pre-approve a personal loan. A mobile app or website of the lender allows you to upload soft copies of the required documents.
• More Negotiating Power:
With pre-approved loans, the lender approaches you with their product rather than you asking for it. This way, you can negotiate a lower interest rate or a shorter repayment period with your lender at your convenience. However, if you apply for a loan online, this advantage is nullified since there is no human involvement.
• Better Financial Planning:
Applicants may not know their loan eligibility when applying for a loan and may be rejected. With pre-approving your loan, you know exactly how much you can borrow and can plan your finances accordingly.
• Special Discounts:
Pre-approved loans include benefits such as processing fee waivers, lower interest rates than for regular customers, and EMI leaves to make them more attractive. You can reduce your overall debt estimate by taking advantage of these perks.
What Is The Process For Applying For A Pre-Approval Loan?
Obtaining pre-approval for a loan is a straightforward process. Follow these steps below:
1. Check with your bank whether you qualify for a pre-approval loan. Call your branch or log into Net Banking to get this information.
2. Complete a duly-filled application form on the lenders' website, mobile app, or branch offices.
3. Pick a convenient repayment period and a loan amount that meets your needs.
4. Upon successfully verifying your details, the lender should credit your bank account.
Apply For A Personal Loan With IIFL Finance
With
IIFL Personal loans
of up to 5 lakh, you will receive an express disbursement into your account within just a few hours. Flexibility in EMI rates makes it easier for borrowers to meet their personal goals and achieve better liquidity. Apply now!
Frequently Asked Questions
Q1. Is a pre-approval guarantee of loan approval?
Ans. An offer of pre-approval for a loan does not guarantee that your application will be approved. A lender may reject your loan request despite being "pre-approved" if your credit score is too low or you don't meet an eligibility requirement.
Q2. How are pre-approved personal loans evaluated?
Ans. A lender examines your credit score, credit history, and bank account balance. If a borrower has a good credit score, extensive repayment history, a steady income, and a solid savings account, they are eligible for a pre-approved loan.