Check Eligibility to Transfer Personal Loan Balance Online
You can reduce your EMI's by transferring your existing personal loan. Know the eligibility criteria before transferring your personal loan here!
31 Oct,2022
11:24 IST
16 views
2 Likes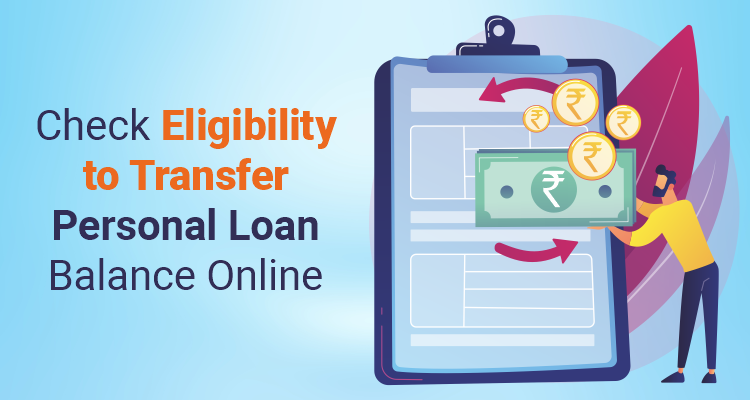 Personal loans are collateral-free lending products that help you manage unpredicted financial turbulences that need immediate solutions. While personal loans are convenient, they are a form of debt. Sometimes, due to time constraints, borrowers take personal loans at higher interest rates. Financial lenders provide Personal Loans Balance Transfer (PLBT) to ease the burden of such situations.
Under PLBT, you can
transfer personal loans
to another financial institution to leverage lower interest rates. The requirement for collateral security does not apply to personal loan balance transfers (PLBT). However, a few prerequisites are compulsory for borrowers to consider when using the PLBT facility.
Interest Rates For Personal Loan Balance Transfers
When you apply for a personal loan balance transfer, the interest rates provided by the new lenders are comparatively lower than those of your current lender. However, they depend on various factors, such as
1. Your current outstanding loan balance
2. Loan term
3. Credit score
4. Monthly income
5. Other vital elements of your credit profile
Personal Loan Bank Transfer Eligibility
The basic requirements for PLBT eligibility are listed below.
• PLBT is available for salaried and self-employed professionals.
• The age ceiling for the PLBT facility is 21 to 65 years.
• The amount of the current outstanding loan must be at least Rs. 50,000 or as determined by the lender.
• The borrower must have an impressive repayment history to benefit from the PLBT arrangement.
• In the case of employed individuals, a minimum of two years of employment is mandatory. The employee should also work for a particular employer for a minimum of one year to become eligible for personal loan bank transfers.
• The individual should earn a minimum of Rs. 15,000 as income.
• CIBIL score should be 750 or higher.
Documents Required For Personal Loan Bank Transfer
To obtain a
personal loan balance transfer
, the borrower must present the following documents.
• A duly filled application form and two passport-size photos
• PAN card
• Driver's license
• Passport
• Voter ID/ Aadhaar card
In the case of salaried and self-employed people, submission of a few additional documents is necessary.
For Those Who Receive A Salary
• Bank statement of the last six months
• Last three months' pay statements
• Statement providing the details of the personal loan from the existing lender
For Those Who Are Self-Employed
• PAN card for business entities
• Business address and related ID proofs
• Balance sheet and business profit and loss statement of the previous three years
• Individual and company bank statements of the last six months
• Statement providing the details of the personal loan from the existing lender
Transfer Your Loan Balance To IIFL Finance
If you are facing a financial problem, you can easily apply for a personal loan with a trusted financial lender. This lending product does not involve collateral or guarantors. Your satisfactory credit history can quickly fetch you a
personal loan at competitive interest rates
. While several NBFCs offer personal loans to borrowers, IIFL Finance leads the way with its user-friendly lending facilities.
FAQs:
Q1. Who is eligible to use the personal loan balance transfer option?
Ans. Any borrower can use the personal loan balance transfer (PLBT) facility. You must meet the new lender's eligibility guidelines to benefit from the PLBT arrangement.
Q2. What is the ideal repayment period of a personal loan balance transfer?
Ans. The period of payback depends on the repayment scheme you choose. Generally, financial institutions offer repayment options between 12 to 60 months.
Q3. Does the transfer of the balance of a personal loan affect credit score?
Ans. When you want to transfer the amount of a personal loan, the new lender will request your credit report. It helps to assess your creditworthiness. Even though lender-initiated loan inquiries are complicated, credit bureaus will deduct a few points from your credit score. However, applying for a personal loan balance transfer with many lenders in a short period can significantly reduce your credit score.